Archived News
Beyond words: WCU community overflows with gratitude for Belcher's leadership
Wednesday, December 06, 2017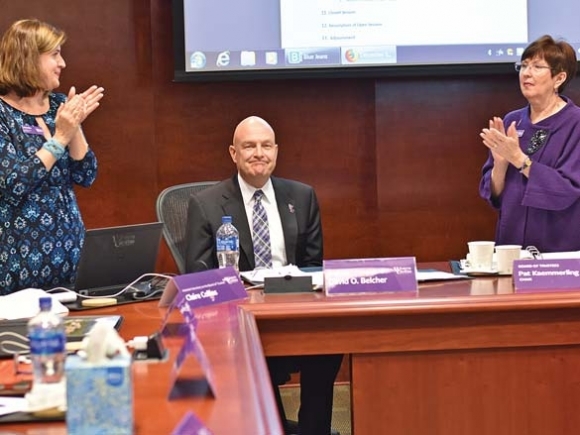 Business as usual was a difficult thing to achieve at the Western Carolina University Board of Trustees meeting Friday, Dec. 1.
Four days earlier, Chancellor David O. Belcher had announced that his fight with brain cancer was prompting him to step down from the position effective Dec. 31, and comments from trustees, faculty and staff alike made it clear that his departure would be an emotional one for all.
"Thank you," Chairwoman Pat Kaemmerling told Belcher, welling eyes forcing her to pause before continuing her comments.
"Chancellor Belcher has shown us extraordinary leadership for the last six-and-a-half years," she said a moment later. "He has changed the culture of our university in so many positive ways. And his leadership has enhanced not just Western Carolina, but our community and our region. He has led with strength and integrity and passion, and a wonderful sense of humor. And we will always be grateful for what he has brought to us and for us. He will leave an indelible mark on this space, and on all of us."
The chancellor's charge
Belcher first announced he'd been diagnosed with a small brain tumor on April 21, 2016, undergoing surgery the following month at Duke University Hospital. The procedure seemed to be a success, with Belcher beginning an 11-month round of radiation and chemotherapy treatments after he recovered from the surgery. However, he announced Aug. 1 that the cancer had returned and that he would embark on a new treatment regimen.
Last month, he informed the university community that the treatment was no longer working, and that he would step down as chancellor. Though he will continue to live at the chancellor's residence, Belcher will go on medical leave effective Dec. 31 and doesn't expect to return to the university when his leave expires.
"I have been honored beyond words to lead this university," Belcher said as the board came to the part of the agenda earmarked for the chancellor's report. "It's an incredible place, and for (my wife) Susan and for me it has just been a joy. We can't wait to see what you're going to do.
"However, it's time to pass the responsibility for WCU on to other people. But with your oversight and with the UNC system and campus leadership, I know that Western Carolina will be well cared for. I am confident in your collective ability to shepherd this university as it moves forward. Indeed, as I've said before, I trust you to do this.
"I trust you to do this," he repeated.
The tumor has affected parts of Belcher's brain that deal with speech and finding the right word for the right occasion. As he launched into his prepared remarks, he spoke slowly and sometimes struggled to phrase his thoughts, deferring to his staff to give the more in-depth reports on fundraising, enrollment and the like. But as he moved further into his reflections on leaving WCU and hopes for its future, his words crystallized into the same trademark conviction and optimism that have marked his time as chancellor.
Belcher expressed confidence in the leadership team he's put in place, charging them to continue enabling campus leaders to inspire the WCU community into the "excellence, integrity and passion" that makes the Catamount nation what it is. The university must also pay close attention to the shifting world of state and federal policies, he said, helping to create an environment that will "sustain Western Carolina University's ambitious and focused trajectory to long-term achievements and short-term milestones."
"I am truly sad that I can no longer walk this path with you, but know that I am relieved and glad that our university will be in such good hands. Your hands," he said. "I am so proud of the many wonderful things that we have accomplished together, and I am comforted by thoughts of the brighter future to come for Western Carolina University.
"Remember always that we — that you — are in the business of changing lives. And with your continued passion, support and commitment to this university, there is no limit to what you can accomplish."
That conclusion was met with a standing ovation from everyone crowded into the chancellor's boardroom, with Belcher remaining seated with a tight-lipped almost-smile in the midst of it all.
Across-the-board gratitude
In her comments, Kaemmerling to recognized Belcher's wife Susan, pointing out her immense contribution to the university alongside that of her husband.
Susan "has worked tirelessly for Western and found her own path and left her own mark on this university," Kaemmerling said. "There are not enough words to express our appreciation and admiration and affection for the two of them."
Kaemmerling's remarks were followed by a reading of a proclamation from the WCU Faculty Senate, presented by Senate Chairman Brian Railsback, who is an associate professor in the English Department.
The proclamation recognized the "amazing progress of the institution in terms of enrollment, retention, facilities, advancement and overall reputation," under Belcher's leadership, pointing out the $1.23 million scholarship pledge that the Belchers have made as a couple and the "untold hours as a team" that David and Susan Belcher have worked to "tirelessly advance the cause" of WCU, exemplifying "the best core values of the institution through their art, dedication, compassion, enthusiasm, humor and generosity."
"Now, therefore, be it proclaimed that the Faculty Senate applauds the vision, leadership and effectiveness of the Belcher administration and the wonderful team of David O. Belcher and Susan Brummel Belcher and the resulting inspirational legacy that they have created for Western Carolina University," Railsback read.
Staff Senate Chair Mandy Dockendorf, assistant director of fitness and wellness at WCU, echoed those sentiments.
"I think it's the theme of today, but Chancellor Belcher's leadership has really helped us grow," she said. "Staff members are really proud to be working at Western Carolina. They know they are valued in the work that they do on a daily basis. Thank you Chancellor Belcher for leading that."
"You're catalyzing a new generation. You're leaving a legacy. You are a legacy," added Robin Pate, president of the WCU Alumni Association Board of Directors.
Plans for new leadership
Provost Alison Morrison-Shetlar will lead the university as the new year begins, but she won't fill the role permanently.
UNC System President Margaret Spellings announced Morrison-Shetlar's appointment as acting chancellor Nov. 28, but Morrison-Shetlar has informed Spellings that she doesn't plan to apply for the permanent position.
"I will help her (Spellings) in any way to select the best possible successor for Chancellor Belcher," Morrison-Shetlar said. "My experience serving as primary officer-in-charge when Dr. Belcher is away for extended periods of time will help provide a natural and smooth transition during this difficult time. I know the campus and community join me in sending warm thoughts and prayers to David and Susan."
Spellings plans to work closely with Trustees Chair Kaemmerling to plan the search process for Belcher's replacement, with details of that search process to be shared soon. In the meantime, Belcher said, he's confident that Morrison-Shetlar will do an outstanding job in service of the Catamount community.
"I am very grateful to Alison (Morrison-Shetlar) for her willingness to act in my stead while I am on medical leave," he said. "I know that she shares my commitment to ensuring that students at Western Carolina University receive a high-quality education and a life-changing experience. She understands our institutional values and mission, and she has the passion necessary to keep this university focused on its primary purpose — our students and their success — during this time of transition."
Morrison-Shetlar arrived at WCU in January 2014 from Elon Universtiy, where she had served as dean of the College of Arts and Sciences since 2010. A native of Scotland, Morrison-Shetlar holds a doctorate in biomedical science from Dundee College of Technology, where she also earned her bachelor's degree in biology and chemistry. In the U.S., she received a management and leadership in higher education certificate from the Graduate School at Harvard University.
Carol Burton, associate provost for undergraduate studies, will serve as acting provost while Morrison-Shetlar takes over the chancellor's job — Burton will also serve as acting vice chancellor for academic affairs.
Burton holds bachelor's and master's degrees from WCU, with a doctorate from N.C. State, and has held her current position since 2007.
"I am proud and humbled to continue to support WCU's ongoing excellence, albeit in a more challenging role," she said. "Our community is a reflection of the strong leadership and participatory membership already in place, and I look forward to our continued success in serving our faculty, staff and students in my new capacity."
Write the chancellor a note
During his years as chancellor at Western Carolina University, David Belcher has touched countless lives in his pursuit of success for WCU and the region it serves.
As he prepares to step down, the university is collecting memories and well-wishes from the entire Catamount Nation to be bound into a book for Chancellor Belcher. Those wishing to contribute a note can do so at www.wcu.edu/discover/leadership/office-of-the-chancellor/personal-message.aspx.