Archived Arts & Entertainment
All American Made: A conversation with Margo Price
Tuesday, December 05, 2017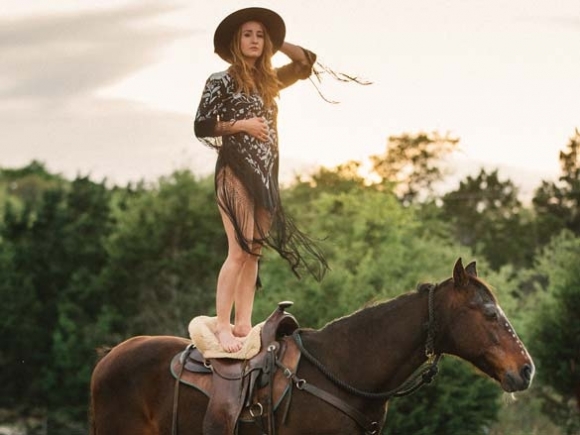 Catch her if you can.
In the last two or so years, the name "Margo Price" has overtaken brightly lit marquees across the country and late night television programs around the world.
It's no surprise, seeing as the singer-songwriter has brought the country music industry slowly to its knees, begging Price and her musical colleagues (Isbell, Cook, Stapleton, Lane, Simpson) forgiveness for the error of its sugar-coated ways, for ever doubting the original formula that made the genre so grand in the first place: great songwriting + intricate musicianship + a real, honest stage presence = country gold.
In her latest album, "All American Made" (Third Man Records), Price takes one step forward creatively, one giant leap ahead in terms of her purpose. Where she originally came to be nationally and internationally known for her backstory, a rollercoaster tale of heartbreak and ragged company she's somewhat tired of retracing, she has since shed that skin, though always keeping the memories on the shelves of her mind.
Now that's her critically acclaimed debut album, "Midwest Farmer's Daughter," has gathered a little dust, Price sees the importance of that initial foundation, and career path, the recording provided. But, for her at least, it's time to move on, where there's only so much midnight oil to burn until dawn, and each great lyric not written down and recorded is a moment quickly fleeting into the abyss — forever lost, or forever cherished if you were lucky enough to capture it.
It's not that the story of Margo Price is any different — or unique in nature — than that of what we each may face in our own personal and professional trials and tribulation. But, what stands out is the surreal magic and pure splendor of her ultimate intent and sonic tone, one which resides in that mere fact that her story is just like yours, and mine, and all y'all who think you might be alone in this all too big and mysterious universe, perhaps wallowing in your thoughts and questioning your journey.
It's what Margo Price does, and does with such brilliant ease — bringing hard to face truths and hard fought redemption into the light, out of the shadows of the tragic beauty that is the human condition.
Smoky Mountain News: You grew up in a small town in Illinois. I identify a lot with that. I grew up in a small town on the Canadian border. Whenever you go back, do you still identify with that place?
Margo Price: Yeah, I have a sweet spot in my heart for hometowns that are small. And I definitely enjoy going back to visit. But, I always felt I didn't fit in there. Even when I go back now, I feel like I don't fit in there. But, because I spent so much time there, it's romantic to go back and feel that angst to want to get out. It's surreal to go back and to see things change. I feel like it gets smaller and smaller, more and more people move away, businesses close down. It's always changing, but usually not for the better.
SMN: When you were there, was there a time you thought maybe would just blend into the landscape, or did you always have a plan to get out?
MP: I think I always knew I wasn't going to stay there. When I was real young, I told my mom I was going to live in the backyard in my little treehouse. She laughed, I think she always knew I would move. I didn't know what I wanted to do. I thought I'd be an actress or something, a dancer, I just knew I wanted to be onstage.
SMN: What is it about that style of music, singer-songwriters and country, that speaks to you?
MP: I just have always loved the stories of it. Country is blues, is gospel, all those things coming together, even rock-n-roll — the roots of it really isn't that far off. It's the ability to tell an entire story in three and a half minutes, that's something that's always been so appealing. You can write just between the lines without ever even having to say it.
SMN: What's the biggest misconception about Margo Price?
MP: I think, lately, and thank you for not doing this, is that everybody wants to talk about the narrative of my life. Obviously, that is kind of what attracted people to my story — I'm an underdog, I've been working at it for so long, all these things went bad, I turned my life around. It's a positive thing. While, yes, I think that's a huge part of my identity, sometimes the music gets overlooked.
SMN: What has this life in music taught you about what it means to be a human being?
MP: I think to be human is to feel pain, always wondering why we're here. The nice thing about music is you get a friend, all those feelings, and I get to experience those feelings with people every night. And hopefully they take something away from it. Even when I'm performing, it's like I'm going through a mini-therapy session with everybody, talking about my problems — they laugh and relate, and enjoy our company.
Warren Haynes Christmas Jam
Margo Price will perform during the 29th annual Warren Haynes Christmas Jam on Saturday, Dec. 9, at the U.S. Cellular Center in Asheville. Alongside performances by Haynes and his band Gov't Mule, there will also be appearances by Ann Wilson (of Heart), Trey Anastasio & Classic TAB, The Avett Brothers, Les Bros., Blackberry Smoke, Kevn Kinney, Marcus King, and many more. Though the event itself is sold out, those interested can subscribe to a live webcast of the event by going to www.nugs.tv. All proceeds from the event go to benefit the Asheville Area Habitat for Humanity. For more information, visit www.xmasjam.com.