Archived Opinion
Vision for 'Art of Music Festival' is attainable
Wednesday, November 29, 2017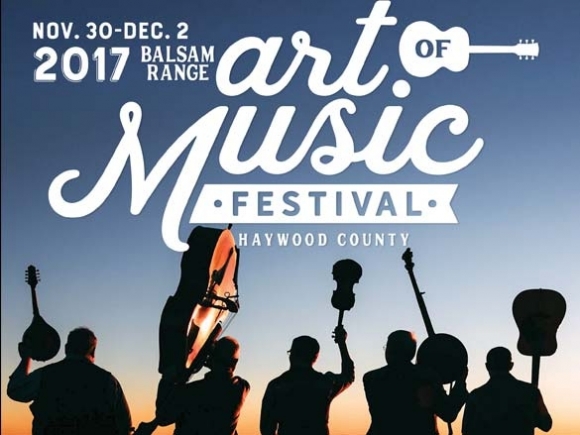 "It's exciting to think about what Haywood County could be. The desire is there."
— Buddy Melton, fiddler/singer, Balsam Range
It's inspiring when you come across people who have both a vision and the wherewithal to turn it into reality. It makes me want to climb on board with them and be a part of that success. That's what I see happening with local bluegrass supergroup Balsam Range and its "Art of Music Festival."
The second "Art of Music Festival" is this weekend in Haywood County, starting with a sold-out show Thursday at Cataloochee Ranch and then two nights of fantastic and diverse talent at Lake Junaluska's Stuart Auditorium. The shows feature everything from straight-up bluegrass to Americana singer-songwriters to the Atlanta Pops playing with Balsam Range.
Our newspaper is one of the sponsors of the "Art of Music Festival" and we are excited about its future. That initial spark was ignited in me after a conversation this past summer with Balsam Range fiddler Buddy Melton and mandolinist Darren Nicholson. That's when I first got wind of what the band and the festival's other supporters hope to turn this into.
In my eyes, it could be a game-changer for Haywood County if enough people visualize the potential and join in to get there.
One of the first strategic decisions was choosing a date for the festival. As Melton's quote at the top of this story shows, the band wanted to create something that would benefit Haywood County culturally and economically. The first weekend in December is traditionally one of the slowest of the year in terms of out-of-town visitors staying at local hotels and shopping in stores and eating out.
So to have the most economic impact, that was the weekend the band chose. And it worked.
"Last year, we had around 1,500 attendees Friday night and 1,700 Saturday night," Melton told The Smoky Mountain News. "Of those, a good 40 percent were from out of town. They stayed in lodging, ate out, had to get gas, all that plays into it — well over $400,000 of economic stimulus for the county."
Melton said people were here from such distant states as Michigan, California and Maine. That's exactly what this region needs in December.
But the band has set its sights even higher. The hope is to create the "Art of Music Institute," which would provide high-level instruction to musicians from beginners to touring professionals. It has started this year with master level workshops this Saturday from the likes of Aubrey Haynie, Noam Pikelny and Bryan Sutton. Also on Saturday are workshops for those not quite up to the master level classes.
Eventually, Melton and Nicholson explained, the band envisions a week-long "Art of Music Institute and Festival" where fledgling and professional musicians from across the country would come and stay in Haywood County to participate in workshops.
In addition, those top-notch musicians leading the workshops would perform throughout the week at some of the intimate venues around Haywood County, places like the Colonial Theater in Canton, the Strand and the HART Theatre in downtown Waynesville, and Cataloochee Ranch in Maggie Valley.
"The vision is to turn it into the type of festival that encompasses the entire county," said Melton. "The list could go on and on of the facilities in Haywood County that could be part of this. This is an opportunity to showcase Haywood County as a whole …."
Imagine world-class musicians, setting up camp in the region for close to a week, sharing their talent with other musicians from around the country, performing nightly at local venues. When not working on their music, there is plenty of outdoor adventure and beauty to take in, lots of great restaurants and breweries to visit, a plethora of galleries and craftspeople who would love to share their wares with the visitors.
I've spent a lot of time over the years listening to people talk about the great things they want to do to help this region economically. In this case, I think Balsam Range is onto to something. An already fantastic festival like this could become huge if the right pieces and players come together.
(Scott McLeod can be reached at This email address is being protected from spambots. You need JavaScript enabled to view it.)