Archived Mountain Voices
Blue jays arouse mixed feelings among humans
Wednesday, November 29, 2017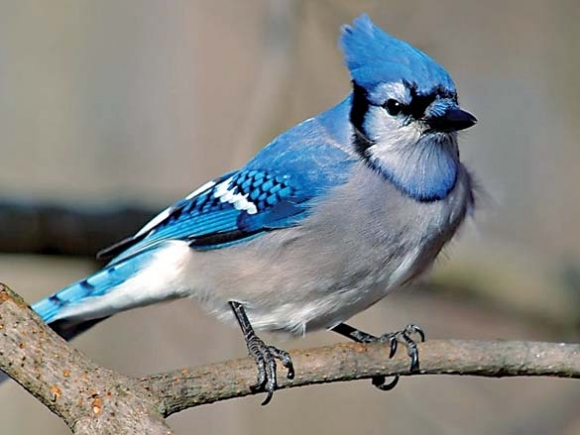 Everyone knows what a blue jay looks and sounds like in a general sort of way. Their incandescent blue plumage and raucous "thief! thief! thief!" calls are a vibrant part of everyday life. It is a stunningly beautiful bird with a bag full of attitudes and postures.
Some years ago, a flock of several hundred blue jays pillaged the nests in the woodlands around our home, while the parent birds screamed in dismay. I fired my shotgun in the air many times in the futile hope that the noise would scare them away. They went on with their gory business until the woodlands finally quieted down 20 minutes or so later as they passed over a far ridge. This nest-robbing habit was recorded as long ago as the early 19th century when Audubon observed that:
"Everywhere the blue jay manifests the same mischievous disposition. It imitates the cry of the sparrow [i.e., American kestrel] hawk so perfectly that the little birds in the neighborhood hurry into thick coverts, to avoid what they believe to be the attack of that marauder. It robs every nest it can find, sucks the eggs like the crow, or tears to pieces and devours the young birds." (Audubon's painting of blue jays feeding on bird eggs is online at: http://graphics8.nytimes.com/images/2005/03/13/nyregion/13audu.large1.jpg.)
The fragmentation of the eastern forests in this century have given blue jays direct access to the nests of woodland species like the wood thrush, vireos, warblers, scarlet tanagers, Arcadian flycatchers, and others. Their role in the decline of some of these species cannot be denied.
"But aren't blue jays simply doing what they have done doing for countless centuries?" many wonder. "Their nest-robbing forays are as innate an instinct with them as are the annual migratory flights of ruby-throated hummingbirds?"
Many years ago in an article written for Audubon magazine, naturalist Hal Borland noted that "critics call the blue jays brigands, nest-robbers, and murderers. Aside from judging them by human standards — and, don't forget, we raise birds whose eggs we eat and whose plucked carcasses we broil or roast for the table — aside from that, research has shown that the blue jay's average diet is 76 percent vegetable matter such as nuts and seeds, 23 percent insects, and only 1 percent eggs, birdlings, salamanders, snails, and such animal life."
As mad as I sometimes get with blue jays (read "eye-bulging rage"), I can't help admiring their bold antics. They have calls that mimic a variety of hawk species. And they have a distinctive "pair bonding" call that consists of a series of three crystal-clear notes that sound like small bells ringing in the wind.
In his Birds of the Smokies, Ornithologist Fred Alsop is always careful to note that the bright blues of the jay's feather are caused by structural elements within the feathers rather than "rich pigmentation." This allows the jay to emit a more luminous blue than would otherwise be possible.
Frozen Music
The earth must be resonant, if bare, and you
hear the lisping tinkle of chickadees from time
to time and the unrelenting steel cold scream
of a jay [which] never flows into a song; a sort
of wintry trumpet, screaming cold; hard, tense,
frozen music, like the winter sky itself; in the
blue livery of winter's band. It's like a flourish
of trumpets in the winter sky.
— Henry David Thoreau, journal entry for Feb. 12, 1854
(George Ellison is a naturalist and writer. He can be reached at This email address is being protected from spambots. You need JavaScript enabled to view it..)