Archived News
New book chronicles African American history in WNC
Wednesday, November 29, 2017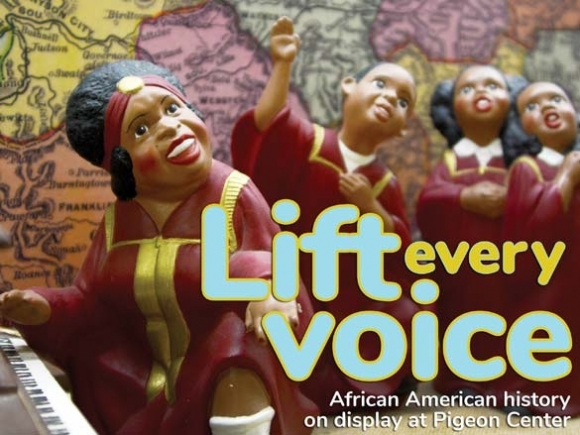 An oral history project documenting African American history in the far western reaches of North Carolina is now a book, thanks to Waynesville's Pigeon Community Multicultural Development Center.
"I guess the motivation was because Haywood County just doesn't have very much documented history of African Americans," said Lyn Forney, the director of the Pigeon Center.
Indeed, the history of African Americans in this region — where chattel-style slavery never really took hold — is sparse. That's primarily due to small population sizes historically and the low post-Civil War educational attainment of African Americans in a segregated South where public education was separate, but far from equal.
"But the more important reason, to me, is that we're losing all the elders in our community, without having that in place for them," Forney said. "I just wanted to hear their stories, and get their stories in a way that would really honor them."
Forney said that there's a twofold purpose behind Lift Every Voice!, a 90-page full-color book recently published by the Pigeon Center and printed by the Western Carolina University Print Shop.
"I wanted the elders to know and realize that number one, what they have to say is important for everybody else to hear, but number two, it was going to be used and passed on so that generations beyond them would have it," Forney said. "We're losing all of their wisdom, and the young people don't know from whence they came, so they're not going anywhere positive."
The initial run of the book cost around $10,000, according to Forney, and was partially supported by wealthy developer William Elmer Harmon's Harmon Foundation, the nearly 100-year-old nonprofit that became a crucial part of the Harlem Renaissance by encouraging African Americans in the arts and in business. Harmon died in 1928.
The Pigeon Center used the funding to pay for the technology that made the book possible — microphones, recorders, computers and the like. All other work in the book was unpaid volunteer work, including design by Katherine Bartel and writing by Sara Jenkins.
Money generated from book sales will go right back into the project.
"When we started, we were not clear on what all of our raw material would end up being, other than we wanted to share it with the public library so that they would have it for people to see and use and research," Forney said. "So we have the first book that honors the elders, and that's not even all of them. Those are the ones that felt safe enough to talk to us, and now that the other ones have seen it, they're eager to talk to us."
Indeed the subtitle of the book denotes the fact that it's only volume one; based on the results stemming from the book's release, there will likely be several more.
"We're going to continue with the elders, and then just keep going through the generations," said Forney. "So we don't know how many books that will end up being. But the impact has, already from what we can see, made people feel like yes, their life has made a difference, their life has mattered, their life has meant something."
Recorded within the pages of Lift Every Voice! are almost 20 first-person accounts by some of the area's oldest residents, all of whom lived through some of the country's most trying racial times, including the Jim Crow era, segregation, the civil rights movement of the 1960s and the black power movement of the 1970s.
Each of these powerful testimonials is lavishly adorned with a plethora of photographs, and in turn mentions dozens of other figures prominent in Haywood County's African American legacy.
Names well-known to generations of locals — names like Bryson, Forney, Gibbs, Logan and Love — permeate the book as well as a travelling Lift Every Voice! exhibit now on display at the Pigeon Center through mid-December.
Those families, along many with others, have existed in the county as long as the county has, and possibly longer; although they in most cases lived side-by-side with their white contemporaries, their history, according to Forney, is everyone's history.
"It kind of opens their eyes, where people say, 'Oh, they had the same kind of upbringing I did.' We lived in parallel. But nobody looks at it that way. We're all struggling, and all trying to live."
Lift Every Voice is available for purchase at Blue Ridge Books, 428 Hazelwood Ave., and at the Pigeon Center, 450 Pigeon St. For more information on the book, call the Pigeon Center at 828.452.7232.
'Lift Every Voice' book reading
• Time: 4 p.m.
• Date: Friday, Dec. 15
• Location: Blue Ridge Books, 428 Hazelwood Ave., Waynesville
NOTE: Blue Ridge Books is no longer operating its South Main Street location; the address listed is for the store's new location in Hazelwood.