Archived News
Every Day is Veterans Day at the Pigeon Center
Wednesday, November 29, 2017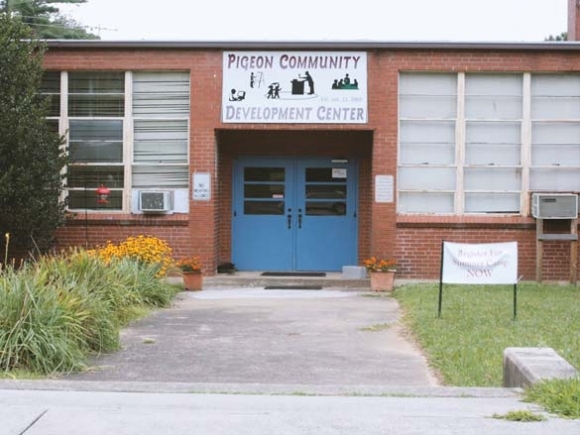 Although honoring veterans each Nov. 11 is a substantial gesture by the grateful citizens of this country, a new program at the Pigeon Community Multicultural Development Center seeks to recognize that the rest of the year is just as important as well.
"I've been in and out of a bunch of VA hospitals, and they determined I needed long-term care, so I spent 6 months to a year in different hospitals," said Lewis Oates, an Army veteran with a 100 percent disability diagnosis due to PTSD. "Every hospital I'd been in, different organizations like the VFW had taken veterans out. We don't have that here."
That realization led Oates, who also serves on the board of the Pigeon Center, to create a quarterly program called Every Day is Veterans Day.
"He's been in and out of the facility over at the VA in Ashville and he saw the need," said Lyn Forney, Director of the Pigeon Center. "The veterans that are in the programs there are just kind of stuck. They don't get recognized, don't get to go out and do a whole lot of things, and he saw they needed that. They need to feel wanted and loved just like everybody else."
Last September, the Pigeon Center held the inaugural event, where veterans were escorted around Waynesville.
"They came over, they went to the Christian Ministry, went shopping, came [to the Pigeon Center] and got haircuts, a free meal, those kind of things," said Forney, who explained that the next such event will take place Saturday, Dec. 9.
"People can help by of course donating, because we like to give them care packages to take back," Forney said, noting that there's a need for personal care items, ready-made snacks, reading materials and the like. "I just heard about a local organization that gave veterans a free oil change. Anything like that is just perfect."
Oates also said that some of the veterans need legal services they can't afford, part of the reason he's so adamant about giving back.
"I'm just giving back what was done for me," Oates said. "I've been wanting to do this for years and I haven't gotten myself together enough to do it, but I finally said, 'This is going to be the year.'"
To contact the Pigeon Multicultural Development Center, located at 450 Pigeon Street in Waynesville, call 828.452.7232 or email Director Lyn Forney at This email address is being protected from spambots. You need JavaScript enabled to view it..