Archived News
Lake Junaluska decorates for Christmas
Wednesday, November 29, 2017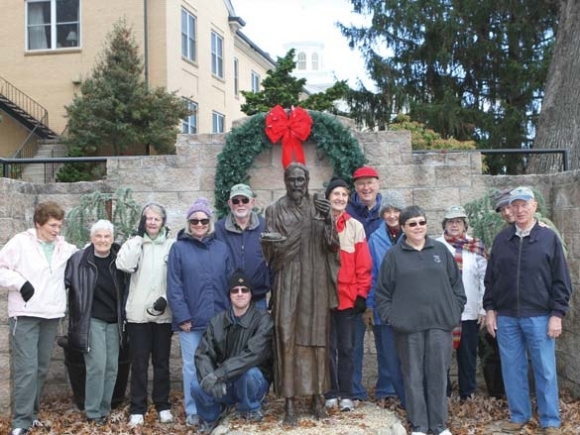 A crew of more than 50 volunteers from the community decorated Lake Junaluska for the holiday season, including the Rose Walk, the Bethea Welcome Center, the gazebos along the walking trail, the Inspiration Point garden and more.
The decorating efforts were a collaboration between volunteers with the Junaluskans, a service and fundraising group at the lake, and Lake Junaluska staff.
"The volunteers are amazing and they do so much work," said Roddy Ray, grounds and landscape manager. "It's a time of year when staff and volunteers come together, and I love to see it because that's what Christmas is all about — coming together."
The Lake Junaluska maintenance and landscaping crews played a big part in decorating by providing the electrical needs for lights, and they add garlands and wreaths in hard-to-reach places like the light posts on the Rose Walk. Meanwhile, the entire landscaping department volunteered to help Suzanne Milner, who works in housekeeping and has been decorating Lake Junaluska's interior spaces for the past six years. The community volunteers and staff members started coordinating decorating efforts as early as October so staff had time to schedule workers.
Community members said a key part of why they decorate the lake each year is for the visitors who experience them. Every December more than a thousand visitors come to Lake Junaluska for the annual Appalachian Christmas event, which includes three concerts — Handel's Messiah, The Cockman Family and the Lake Junaluska Singers. Thousands more come for the Balsam Range Art of Music Festival the first weekend of December.
"I think it brightens up Christmas for people we don't even know about, because people come to the lake that aren't part of any other event," said Nancy Coghill, a Lake Junaluska resident and volunteer for the past seven years. "Even if they just come to walk, I think seeing the decorations makes them feel like they are part of the celebration."
Another volunteer pointed out the bonding effect Christmas decorating has on the community.
"I think a lot of people who move to the lake are looking to connect with other people and to have a strong sense of community," said Debbie Stanton, a newly retired Lake Junaluska resident. "If they get involved in these types of things, they feel that they are contributing to the wider community and beautifying this already beautiful place."
Phyllis Capponi is another Lake Junaluska resident who has been volunteering to help decorate at Christmas for 13 years. She said it has become an important tradition for her.
"I got involved with decorating before I even lived here," said Capponi. "It's really special to see people come together during this time of year and when all the decorations are up, it's just gorgeous. We want more and more people to come enjoy them every year."
Everyone is invited to come to Lake Junaluska for Appalachian Christmas Dec. 8-9.
Appalachian Christmas at Lake Junaluska
All concerts are in Stuart Auditorium at Lake Junaluska.
• Handel's Messiah, featuring The Lake Junaluska Singers, a local choir and orchestra — 7:30 p.m. Friday, Dec. 8
• Appalachian Christmas Craft Show — 9 a.m. to 4 p.m. Saturday, Dec. 9, Harrell Center Auditorium
• The Cockman Family in Concert — 2 p.m. Saturday, Dec. 9
• The Lake Junaluska Singers Christmas Concert — 7:30 p.m. Saturday, Dec. 9
For more information about Lake Junaluska, visit www.lakejunaluska.com.