Archived News
Cancer battle causes WCU chancellor to step down
Monday, November 27, 2017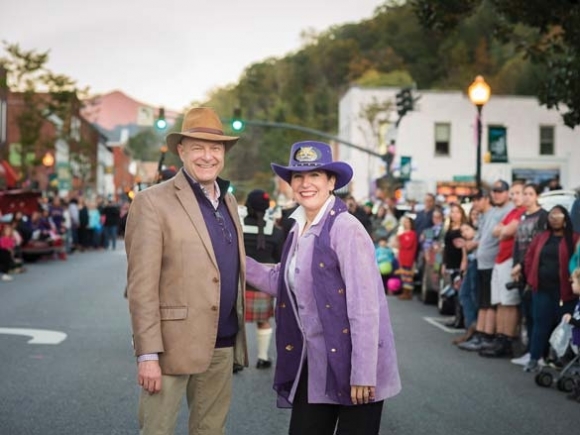 After battling brain cancer since April 2016, Western Carolina University Chancellor David O. Belcher announced Nov. 27 that his treatment is no longer working. He will go on medical leave and does not expect to return to his position.
"Despite the best efforts of my medical team, the effects of my glioblastoma brain tumor have continued to worsen in recent months, and the aphasic impact of the disease on my speech and communicative skills has become more pronounced. My medical team has concluded that the latest treatment regimen is not working as hoped," he said in a statement. "Although I fully intend to explore additional options in my fight against this disease, I do not expect to resume my duties upon completion of leave."
Belcher's medical leave will begin Sunday, Dec. 31. He'll retain his title as chancellor while University of North Carolina System President Margaret Spellings selects someone to serve as acting chancellor. Belcher and his wife Susan will continue living in the Chancellor's Residence on the WCU campus and remain active and engaged with the university community, though on a limited basis.
Belcher first announced that he'd been diagnosed with a small brain tumor on April 21, 2016, undergoing surgery the following month at Duke University Hospital. The procedure seemed to be a success, with Belcher beginning an 11-month round of radiation and chemotherapy treatments after he recovered from the surgery. However, he announced Aug. 1 that the cancer had returned and that he would embark on a new treatment regimen.
The university community and the region as a whole have rallied around Belcher during his fight against cancer, a testament to the chancellor's popularity with students, staff and regional leaders alike.
"David is rightly beloved by the Catamount community for his kindness, integrity, passion, energy, sense of humor and leadership," Spellings said. "I am profoundly grateful to David for his tireless work at WCU — his legacy and impact at WCU will continue for many years to come."
"I speak for all members of the Board of Trustees when I say that our thoughts and prayers are with David and Susan at this difficult time," added Patricia B. Kaemmerling, chair of the board. "They have been an exceptional leadership team for Western Carolina University, and they have our sincere appreciation for all that they have done for this institution and the region that it serves."
News of Belcher's impending departure came hours before the Jackson County Board of Commissioners gathered for a special-called meeting Monday, Nov. 27, and as Chairman Brian McMahan called the meeting to order he delayed the business at hand to give each commissioner a chance to comment on Belcher's announcement.
"He has been a tremendous leader in our community, and I think we all — through this time of the holiday season especially — remember them and encourage him to keep fighting the fight," McMahan said.
Commissioner Charles Elders said Belcher was a "mighty fine man," while Commissioner Boyce Deitz described him as someone with an "immense vision" for what Western Carolina University might become. Commissioner Ron Mau said that his thoughts and prayers would be with both David and Susan Belcher.
"He's definitely been a visionary, a leader that I just feel like has taken us to a whole new level in this county and this region," said Commissioner Mickey Luker, recounting the many times that he and his kids have cheered alongside the Belchers at basketball games.
"It always amazed me, the guy's memory," Luker said. "Every time we went, he would ask them (the kids) about the last time we were there — the sport they were playing, what they're doing in school — and he would remember some type of activity out of that at the next ball game."
Rep. Mark Meadows, R-Asheville, was also quick to express his appreciation for the Belchers and well-wishes going forward, sending a statement out the afternoon of Nov. 27.
"The Belchers are beloved in Western North Carolina and have had a timeless impact upon the WCU community during their years of service," Meadows said. "I know Dr. Belcher's leadership will certainly be missed, and we will continue praying for him and his family during this road ahead."
Belcher came to WCU in July 2011 after the UNC Board of Governors chose him to succeed John W. Bardo as university chancellor. A native of Barnwell, South Carolina, Belcher began his career on the faculty of Missouri State University and came to Cullowhee from his post as provost and vice chancellor for academic affairs at the University of Arkansas at Little Rock.
As WCU's chancellor, he is the head of a UNC institution enrolling more than 11,000 students and employing more than 1,500 full-time faculty and staff.
Belcher's initial year as chancellor was focused on completing a strategic plan, which is now in the midst of an update. Under Belcher's leadership, the university has achieved many of the goals outlined in that plan, such as steady increases in enrollment, an 80 percent freshman-to-sophomore retention rate achieved five years ahead of the target and improved offerings at WCU's Asheville campus.
The plan also had a heavy focus on increasing scholarship offerings for students, and WCU has added more than 200 new endowed scholarships since March 2012 — including a $1.23 million pledge that David and Susan Belcher announced in October, part of the Lead the Way campaign to raise $50 million for endowed scholarships.
Belcher has worked to improve WCU's physical amenities as well, with recent upgrades including the new mixed-use facility Noble Hall, renovations to Brown Cafeteria and plans for two new residence halls, a medical office building near the Health and Human Sciences Building and the university's first parking garage.
Belcher has been active in the community as well, a fixture at university events and a member of multiple boards of directors outside the university. He serves on boards for the N.C. Arboretum, the Asheville Chamber of Commerce and NCAA Division I and was previously a member of the boards for Duke LifePoint Harris Regional Hospital and Duke Lifepoint Swain County Hospital.
"Western Carolina University has been a blessing for us both, and we love this place," Belcher said, speaking for himself and his wife. "I have been honored to lead this fine institution. The university has fed my soul and fulfilled me in immeasurable ways, and Susan has found a true home here amongst friends and avenues of service. However, we agree that we must now concentrate on my health, each other and our families, and living life," Belcher said.