Archived News
WCU seeks waiver on tower regulations
Wednesday, November 22, 2017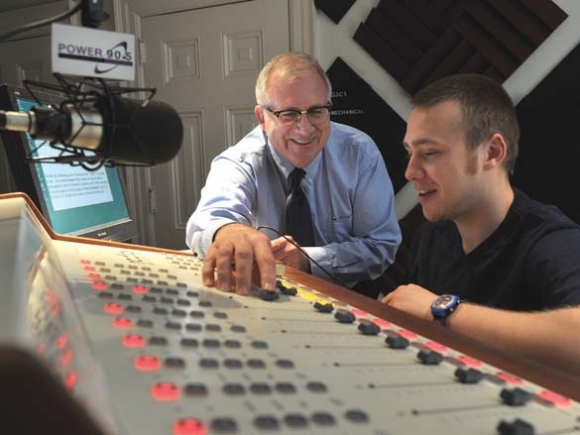 What began as an effort to give Western Carolina University's campus radio station broader coverage could end with construction of a 185-foot tower capable of expanding coverage for emergency communications, broadband and cell service in the Cullowhee area.
"I guess the best way to describe why I'm here is to tell you a story," Mike Byers, WCU's vice chancellor for administration and finance, told Jackson County commissioners when he explained the situation in a Nov. 14 work session.
More than a decade ago, Byers said, WCU applied with the Federal Communications Commission to change the frequency of the campus radio station from 90.5 FM to the broader-ranging 95.3.
"Years elapsed, and over that time the folks who started that process got gone, and about this time last year we got notice from the FCC that your request has been granted," Byers said. "And the first thing was, what request?"
A greater good
University leadership began to look into what it would take to change the frequency, and the university's board of trustees voted in September 2016 to lease 9 acres of university property on Brown Mountain to the WCU Endowment Fund, with the goal of building a transmitting tower there.
But it soon became apparent that building a tower would be a costly undertaking. WCU won't have a firm estimated cost for the project until design is complete, but Byers expects that the whole endeavor will cost north of $500,000.
"That was the first time that I said, 'We're not doing this,'" Byers said. "We're just going to stop with this tower idea."
WCU did later take the step of submitting preliminary designs to the county planning department, which is when it discovered that the tower would be subject to the county's protected ridge ordinance, yet another finding to solidify the decision to axe construction plans.
But then, WCU started hearing from organizations that were disappointed that plans for tower construction had stopped. The site is located in a dark area for emergency services, and for WLOS broadcast. There's need for cell coverage in that area, and for broadband internet — all issues that could be addressed by services co-locating on the tower.
"The greater good of this tower might outweigh the other issues that come with this tower," Byers said. "I'm here today to present to you the notion that it might be in all of our best interests to consider a waiver on the tower height at Brown Mountain so we can take care of that dark area."
Requests for waiver
Commissioners seemed amenable to the request, even though construction plans call for a tower significantly taller than what would normally be allowed under the ridgetop development ordinance. The tower will be 180 feet tall with a 5-foot lightning rod; the ridgetop development ordinance allows a maximum height of 20 feet above the average canopy tree height, which would put the limit in the neighborhood of 100 feet, depending on exact measurements at the site.
The ridgetop ordinance also requires that towers not be visible from a public road within 0.5 miles of the site and that towers use a monopole construction. The proposed tower would likely be visible from the road and would use a lattice structure, not a monopole, Planning Director Michael Poston told commissioners.
Byers asked commissioners to waive these requirements, as well as the $5,000 application fee and the conditional use process that would typically apply.
In a follow-up interview Byers said that the university could have planned for a smaller tower that would fit within the parameters of the ridgetop ordinance, but such a tower would have a smaller coverage area and wouldn't allow for other uses, like EMS and cell service. And because WCU had already decided that expanded FM coverage alone wasn't worth the cost of tower construction, it would choose to cancel the project before building a smaller tower.
County Manager Don Adams pointed out that, were the tower intended for EMS alone, it would be automatically exempt from the ordinance. Similarly, if WCU had applied for the tower through the state rather than running the project through the nonprofit Western Carolina University Endowment Fund, which is subject to county jurisdiction, no conditional use process would be necessary, though the tower would still have to meet the standards found in county ordinance.
Commissioners expressed their support for the project, citing the need for communications infrastructure in that area and echoing the "greater good" argument in Byers' remarks.
"There is a big concern safety-wise in that part of the county with emergency services having very limited communication abilities, so that would be a big plus," Commissioner Ron Mau said in a follow-up interview. "There's some greater good that could come out of a tower at that location."
"Radio is like any other kind of news media," added Chairman Brian McMahan, also in a follow-up interview. "It's a broadcast which informs citizens and sends out emergency warnings. If the tower could also accommodate emergency communication equipment for our local EMS departments and make access to communication easier all the way around, I think it's a win for everybody and it's worth considering."
Deadline looming
But the clock is ticking for WCU. It's taken time to research options and chart the path forward to take advantage of the opportunity. Now, the deadline to begin broadcasting — or lose the frequency — is approaching. WCU is required to start using the frequency by the end of May 2018.
"My facilities guy is freaking out right now, just thinking about having that thing done by May 28 broadcasting," Byers said. "We don't have a lot of time to make a decision."
Commissioners aren't required to hold a public hearing in order to waive the CUP process or any of the conditions in the ordinance. However, they have scheduled one for 3 p.m. Monday, Nov. 27, at the Jackson County Justice Center.
Because it couldn't be advertised until Thursday, Nov. 16, the Nov. 27 date doesn't comply with the 10-day notice requirement that applies to all mandated public hearings. However, because the hearing itself isn't required, the 10-day notice period isn't either.
"In this case I think one week is sufficient," McMahan said Nov. 14.
Commissioners assured Byers that they are in favor of the project and didn't want to set back the timeline too much by waiting on a public hearing to take a vote, with McMahan suggesting that WCU move forward with the project in the meantime.
"It's not saying that it's a slam dunk done deal no matter what the public says, but unless there's something out there that I don't know about that would put the brakes on it, I think it's wise to say go ahead," he said in a follow-up interview.
Byers seemed agreeable to that plan, saying that construction of the access road would come before that of the tower itself.
"If something happens and we can't get the tower built in time, at least we have a road in there and somebody else might have the opportunity," he said. "If we don't have a tower maybe we can allow someone else to do it."
Be heard
A public hearing at 3 p.m. Monday, Nov. 27 in room A201 of the Jackson County Justice Center will take public comment on Western Carolina University's request to waive requirements in the county's Wireless Communications Ordinance so that the WCU Endowment Fund can build a 185-foot communications tower.
The tower's primary purpose would be to broadcast WCU's campus radio station, but EMS, cell phone and broadband services could also co-locate there.
Anybody is able to come and speak on the issue for three minutes or less. A special-called meeting will follow the public hearing, during which commissioners will vote on WCU's request.
A letter from the university to the county listing the items requested to be waived is online at http://bit.ly/2zUPgwM.