Archived News
New plan for Walnut Street met with satisfaction
Wednesday, November 22, 2017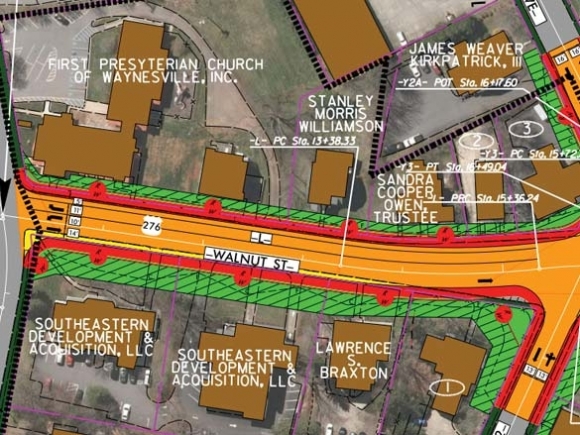 After a series of contentious public hearings almost a year ago resulted in outcry from nearly all quarters of Waynesville, the North Carolina Department of Transportation has officially backed off designs that would have changed the character of one of the town's most historic and aesthetically significant streets.
"This is the new, responsive NCDOT," said Waynesville Mayor Gavin Brown. "I've worked with them for a number of years, and it appears the DOT has a heart and soul now."
A public hearing held by the DOT Nov. 14 to discuss the new plans for Russ Avenue and Walnut Street for the first time confirmed verbal assertions made earlier this year that the wishes of property owners, preservationists and town officials would be given no small amount of consideration.
Brown said that only in the last 10 to 15 years has the DOT been more responsive to community input of the kind received when he took the uncommon step of calling for a period of public comment at a Dec. 13 board meeting and then called for a special meeting Jan. 5.
That meeting saw a room packed with detractors of the plan, which would have removed a century-old retaining wall on Walnut Street and forever altered an important access point to downtown Waynesville through the Spread Out Historic District by expanding the width of the street.
"That was our goal, to retain the existing footprint," said Charles McDarris, who owns two historic properties on Walnut Street and has been at the forefront of the opposition since last December.
Joined in that opposition with McDarris was the Historic Preservation Commission as well as the Waynesville Board of Aldermen, who on Jan. 10 by a unanimous vote passed a resolution asking DOT to limit widening of the street.
Plans on placards presented by the DOT Nov. 14 show just that.
"As far as Walnut Street and the [Spread Out] Historic District, I was pleased," McDarris said. "It looks as though they have listened to the thoughts of the community."
The only remaining changes to Walnut Street could end up being positive ones; repaving will take place, and the possibility of burying the utilities is also on the table.
"I support the general concept," McDarris said, noting that the amount of disruption to homeowners — and their lawns — still needs to be ascertained.
Brown, too, likes the idea.
"That's fine with me," he said, adding that he'd heard a lot of support for the new plan and had already been approached about the possibility of installing decorative street lighting in the area.
The Walnut Street corridor is but a small part of a larger $18 million effort to improve Waynesvillle's Russ Avenue from the Great Smoky Mountains Expressway through the town's busy commercial district. The project is still slated for groundbreaking in 2020 and completion in 2022.