Archived News
New development gets the green light in Cullowhee
Wednesday, November 15, 2017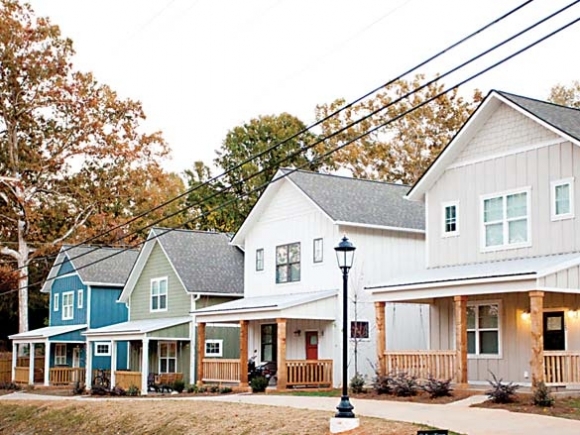 After receiving approval from two separate boards, a proposed 80-bedroom development along Little Savannah Road in Cullowhee has the green light to move forward.
During its Nov. 6 meeting, the Cullowhee Community Planning Council found that the development met planning standards outlined in the Cullowhee zoning ordinance, and the Jackson County Planning Board determined that plans met the county's subdivision standards during its Nov. 9 meeting. No public comment was received, either for or against the development.
The development is planned as a multi-family development featuring 19 two-story houses, each 25 feet high with three to four bedrooms. Each bedroom would have its own adjoining bathroom, with a kitchen, porch and living space on the bottom floor. The homes would be built on a 2.86-acre lot sitting on the corner of Little Savannah Road and Blackhawk Road, adjacent to the Rabbit Ridge of Cullowhee student housing development. The site would also include an outdoor recreation center.
The property has an average slope of 8 percent, meaning that the steep slope ordinance — which kicks in with grades of 35 percent or more — does not apply.
The developer for this project is Greenville, South Carolina-based Broadstreet Partners.
With the economy rebounding and enrollment continuing to increase at Western Carolina University, Jackson County has been seeing increased interest from developers wanting to build in Cullowhee. The Cullowhee zoning ordinance, completed in 2015, anticipated that eventuality and put some parameters on how and where such developments could occur. The Little Savannah development is located in an area where such developments are expressly allowed, so no conditional use permit or other such permission was required.
The planning board dealt with one other development issue Nov. 9, a request from the developer of a soon-to-exist apartment complex along Speedwell Acres Road to do away with plans for a 20-foot retaining wall.
J.R. Johnson of Gainesville, Georgia, developer of the Highlands at Cullowhee, has come to an agreement with the adjacent property owner that will allow him to use benching instead, negating the need for a wall.
The Speedwell Acres development had met strong opposition from area residents when it was initially approved in February, with neighbors saying that it would spur an increase in traffic and change the character of the community. However, the plans satisfied the requirements of the Cullowhee Community Planning Ordinance, and the development was approved.