Archived News
Young business owner joins Bryson City board: Voters approve alcohol referendum
Wednesday, November 15, 2017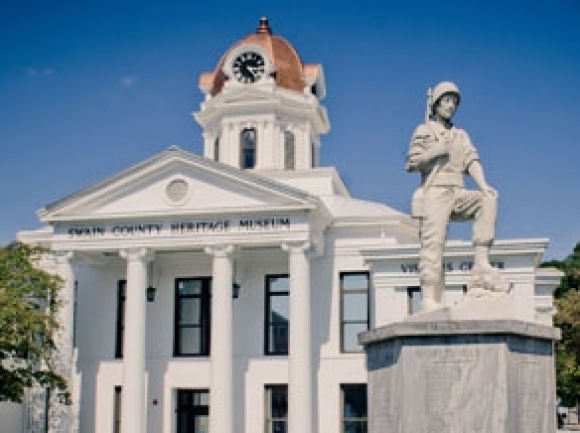 Ben King, the 28-year-old co-owner of Bryson City Outdoors, was not only elected to the Bryson City Board of Aldermen, but the young challenger was the top vote-getter among five candidates with 154 votes.
"I am very thankful to have a community that has such trust in my capabilities to make decisions for the town of Bryson City going into the future. 253 residents showed up to vote and 154 of those supported me as one of their choices, having so much support from those voters gives me that much more drive to work hard for Bryson City," King said. "I'm excited to get started by getting brought up to speed on all that Bryson City has in the pipeline, how we can use the extra funds that we have available to improve upon town services, and addressing the unavoidable hot button issues that will arise with a level-headed approach."
Voters also re-elected incumbent Janine Crisp for a second term with 99 votes.
"I would like to say how honored and grateful I am that they have put their confidence in me to be their representative for another term," Crisp said. "I will do my very best to be deserving of that confidence and continue to work on their behalf to promote what they feel is in the best interests of our community."
Incumbent Alderman Rick Bryson fell about 10 votes short of reclaiming his seat on the board. He said he was a bit surprised by the results — he and Crisp had somewhat aligned themselves together by campaigning on the successes that the current board has had over the last four years.
"I have to say that I did not read the public opinion well," Bryson said following the election results. "This is an election where perception trumped performance."
While the town board has been making progress on improving sidewalks, roads and water and sewer infrastructure, the incumbents did catch some flack from the local business community for not supporting their interests.
Despite local merchants' request for approval, Bryson and Crisp were both opposed to passing a local brunch bill that would have allowed local restaurants and grocers to begin selling alcohol at 10 a.m. Sundays instead of noon. With such a religious community, the incumbents didn't feel like expanding alcohol sales fit the community standards of Bryson City.
Crisp and Bryson were also pegged as being against the business community's interests after voting against closing Fry Street to vehicles to make the area into a pedestrian-friendly plaza. The project, which was supported by the Chamber of Commerce and the Tourism Development Authority, would have benefitted the Great Smoky Mountain Railroad and the many tourists that mill around that area before and after train excursions.
The alcohol referendum that appeared on the ballot this year was also controversial. Crisp voted against even having the referendum to allow on-premise and off-premise sales of beer and wine, but the referendum passed with 62 percent approval among voters.
Those who opposed the referendum saw it as an expansion of alcohol sales, but really it only changed the town's permitting process for on-premise and off-premise sales.
Under the old ordinance, retail stores wanting to sell and serve beer on premises had to obtain an ABC permit and operate as a private club with a membership fee. With the passage of the referendum, retailers now only have to obtain a license to sell beer, which would save business owners $600 a year. The cost of an on-premise beer license is $400 a year compared to $1,000 a year for a mixed beverage license. While King is happy he was elected, he was not happy about the low voter turnout since he pushed hard to get people out to vote. Out of 1,081 registered voters, only 253 cast a ballot — about 23 percent. The turnout during the 2015 municipal election was about the same.
Bryson City Board of Aldermen
Ben King 154 votes, 32.84%
Janine Barker Crisp 99, 21.11%
Rick Bryson 93, 19.83%
Lisa Anthony 83, 17.70%
Robert Brian Duplak 40, 8.53%