Archived News
Mission tightlipped about negotiations with BCBS
Wednesday, November 08, 2017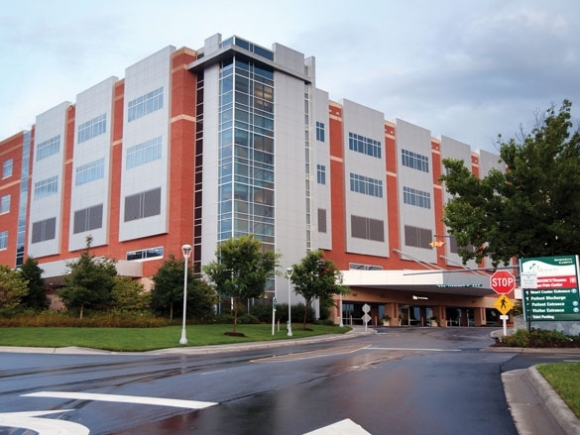 It's been a month since the contract between Mission Health and Blue Cross Blue Shield of North Carolina expired, leaving thousands of people in Western North Carolina to pay higher out-of-network prices to stay with Mission providers.
Mission Health announced in July it wouldn't be renewing its contract with BCBS unless the nonprofit health system could get more favorable reimbursement rates from the largest health insurance provider in the state.
Mission CEO Dr. Ron Paulus said he was stuck between a rock and a hard place after six months of negotiations — Mission would either have to accept a new contract with a reduction in payments for the next three years or just let its contract renew automatically Oct. 5 and accept a zero increase in payments for the next several years.
Mission officials were probably hoping the termination notice would pressure BCBS into further negotiations, but it didn't work. The insurance provider, according to Paulus, would not continue negotiations at all after Mission gave notice of terminating its contract. And because of a BCBS "corporate policy," Paulus said all negotiations and conversations with the insurance provider ceased and would not resume until after the Oct. 5 termination date.
"We will continue to reach out to Blue Cross just has we have for nearly a year now and we're hopeful conversations can now begin since they forced us out of network," Paulus said during a video on Mission's Facebook page on Oct. 5.
Now the Oct. 5 deadline has come and gone. Mission providers are now out-of-network for BCBS insurance carriers and there's no word on whether the two parties are any closer to reaching a deal. When contacted for an interview on the current situation, Paulus declined The Smoky Mountain News' request, and emailed questions to Mission's public relations team also went unanswered. The main question was whether negotiations with BCBS had resumed after Oct. 5, but no clear answer has been provided.
"Mission Health has always been and will always be interested in any deal with Blue Cross and Blue Shield of North Carolina that enables us to effectively meet the important healthcare needs of the citizens of Western North Carolina. We don't have any further comment on any negotiations," said Mission spokesperson Rowena Buffett Timms in an emailed statement. "Should a contract be reached between Mission and BCBSNC, we will announce it immediately. Until then, we will focus exclusively on our patients and people who are trying to figure out which insurance to buy."
The Smoky Mountain News also requested Mission's patient census numbers from October 2016 and October 2017 to see if the BCBS decision had impacted patient numbers, but Mission hasn't provided those numbers either.
Timms did provide a couple of statistics to show how Mission is working to make the transition easier for its patients. She said Mission has helped 3,009 patients apply for Blue Cross continuity of care, which allows patients already receiving special treatments through Mission to remain in-network with BCBS. However, that's the number of patients who've applied for continuity of care — not the number of patients approved for it.
Timms said Mission also aided 47 patients with requests to access specialty services at Mission Health through the Reasonable Access statute, which allows patients to receive in-network costs for services with Mission providers if no other health care system in the region provides that specialized service.
While Mission isn't interested in speaking to the press, the health care system has utilized social media to get its message out to patients with the "Mission stands with you" and "The care you need. No matter what" slogans and regular Facebook live Q&A's with Paulus and other Mission providers.
In the meantime, Mission is pushing its virtual clinic capability that allows patients with acute illnesses to get diagnosed without leaving their home for a $25 fee. Mission is also taking this opportunity to spread the word about Healthy State, Mission Health's own health insurance plan for self-insured small employers.
"Healthy State provides health benefit products and services to self-insured employers utilizing the Mission Health Partners network of about 1,100 physicians, eight hospitals — a collaborative of Mission, community hospitals and independent doctors," Jon Yeatman, chief strategy officer for Mission Health, said in an interview with The Smoky Mountain News back in August.
Despite all of Mission's efforts to not look like the bad guy in the battle with BCBS, the backlash against Mission has continued.
"Yes, adding 'No matter what' to your mantra makes it so much more believable. Please don't insult anyone's intelligence. My insurance will change but you will remain the provider of last resort," Tony Grooms wrote on Mission's Facebook post. "Had a procedure this week in a non-Mission facility and did just fine. That was a conscious choice on my part and it will remain the rule rather than the exception."
The backlash against Mission goes deeper than the BCBS contract. The blowback started earlier this year when Paulus announced the closure of labor and delivery services at Angel Medical Center in Franklin and Blue Ridge Regional Hospital in Spruce Pine. The closure of labor and delivery in Franklin means women will have to make a 25-40 minute drive over the mountain to deliver at Harris Regional in Sylva or more than an hour drive to Asheville if they want to stay with their Mission provider. The communities felt caught off guard and their organized efforts to keep the department open were in vain.
Paulus said the decision to close labor and delivery at the two rural hospitals was a financial decision, claiming the costs of the services weren't breaking even. He said Mission couldn't continue to make up a $1 million to $2 million shortfall for Angel Medical every year. Then just a few weeks later, Mission announced it would be closing its women and children practices in Sylva and consolidating those services and providers in Franklin.
This year's tough financial decisions for Mission have wreaked havoc on its reputation in the region and have presented a huge opportunity for growth among the other health care systems covering Western North Carolina counties. Just as Mission made its labor and delivery closure announcement at Angel Medical, Harris Regional was completing an expansion to its delivery wing of the hospital in Sylva and started making plans to expand women and children's services in Franklin and Bryson City in preparation for more women choosing to deliver at Harris.
Harris and Haywood Regional Medical Center — both Duke LifePoint hospitals — were able to renew a contract with BCBS and are actively promoting the fact they are still in network.
BCBS is one of the largest providers in the state on the open market and also the main provider on the Healthcare.gov marketplace set up by the Affordable Care Act. Those with private insurance or those that have a plan through the Marketplace still have time to change providers during this year's open enrollment period, which ends Dec. 15.
Those who are staying with BCBS still have in-network options at Haywood Regional Medical Center, Harris Regional Hospital and Swain Community Hospital. Highlands Cashiers Hospital and Angel Medical Center in Franklin are both Mission affiliates.
Ways Mission Health is helping patients with BCBS insurance
• Background details regarding this situation and other relevant concerns related to patient care can be found at www.StandwithMission.org.
• Emergency department care and subsequent admission (if necessary) are always covered as an in-network benefit.
• Patients have only until Nov. 19 at the latest to complete a Continuity of Care form at www.standwithmission.org/resources/. An approved COC form is required for those with ongoing medical conditions (including second or third trimester of pregnancy, active cancer care, certain chronic conditions, etc.) to continue to receive in-network benefits.
• Help completing COC forms is available by calling 828.412.6052 or by meeting with counselors at Mission Health SECU Cancer Center, Room 115.
• Continuity of Care request forms will also be used to request provision of outpatient services for which travel elsewhere would create an undue delay or excessive burden on the patient.
• Discount payments are being arranged for those who incur out-of-network expenses. Patients can call 828.412.6052, Option 1, to learn specifics about how they may benefit from this program.