Archived News
Patient counts up at Harris, Swain
Wednesday, November 08, 2017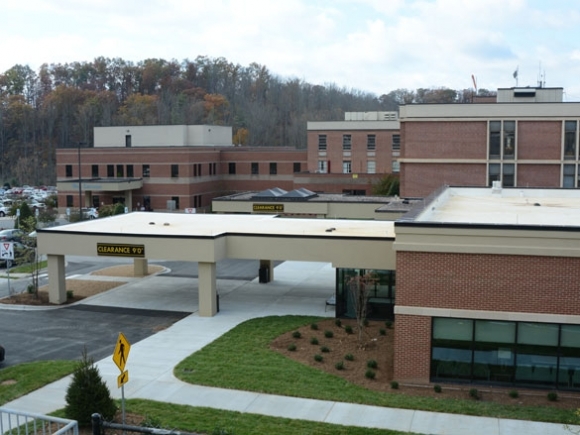 Mission Hospital's decision to let its contract with Blue Cross Blue Shield expire has resulted in increased business for Harris Regional Hospital, with patient admissions this October up about 20 percent over numbers from October 2016.
"We've certainly seen an increase in the number of Blue Cross Blue Shield patients we're treating," said Steve Heatherly, CEO of Harris and Swain Community Hospital. "We've seen an increase in inquiries from patients with Blue Cross Blue Shield understanding what services we offer and what their treatment options may be."
The uptick in admissions is even more noticeable when it comes to labor and delivery, an area of medical care that's been in the news ever since Mission announced in May that it would stop offering labor and delivery services at Angel Medical Center in Franklin, effective July 12. This October, Harris saw about 45 percent more deliveries than it did in October 2016 — and that number is still increasing.
"When that announcement was made, there was a subset of women who were pregnant. Mission and Angel I think did a really good job of connecting those folks with resources throughout their system," Heatherly said. "We have seen those numbers steadily climbing as we make our way through that transition period. I think by the end of the year we'll be fully through that and we would expect our delivery numbers to normalize."
Haywood Regional Medical Center and Swain Community Hospital are seeing increased volumes as well. Patient volumes at Swain have quadrupled over this time last year, Heatherly said, and a prepared statement from Rod Harkleroad, CEO of Haywood Regional, noted a "steady increase" in outpatient services over the last month. The hospital has seen 200 more emergency department cases in October 2017 compared to October 2016 and 30 more obstetric clinic visits. Primary care has seen the biggest growth, with more than 250 new patients.
"Currently, all the measures we have put in place to absorb this volume have worked well and we are prepared for continued growth and support. We are dedicated to this community and our mission of Making Communities Healthier," Harkleroad said in his statement. He declined requests for an interview in this story.
Heatherly said that Harris began fielding phone calls from Blue Cross Blue Shield patients soon after Mission announced the possibility of pulling its contract in June, with some patients changing health care providers before the contract officially lapsed Oct. 5.
"I would say that we certainly saw that pick up more as the Oct. 5 (contract end) date approached," Heatherly said. "But the interest in the ability of local services started pretty quickly after that initial (June) announcement was made."
While recent developments at Mission surrounding Blue Cross Blue Shield and labor/delivery services in Franklin have certainly had an effect on patient volume at Harris, those aren't the only reasons that the hospital has been so busy lately, Heatherly said.
"Honestly, it's at times hard for us to distinguish between the event of Mission and Blue Cross Blue Shield coming to an impasse versus the service line development and integration we've done," Heatherly said. "We were experiencing increased volumes across the board before that happened."
Since spring of this year, Harris has added three midwives and a nurse practitioner to its labor and delivery unit as well as a pediatrician, two cardiologists and an orthopedist. Some of those hires were spurred by the need to respond to developments at Mission — Harris hadn't planned to hire the new midwives and nurse practitioner until later, but moved the timeline up when the closure of labor and delivery at Angel was announced — but by and large they're part of a general push to expand services at Harris that began before Mission announced any of the changes that have made headlines this year.
These additions are mostly changes that Harris has had on the horizon for years, but they're going into effect now because the acquisition by Duke LifePoint, which took place in 2014, provided the resources to bring them to fruition.
"We have resources that we didn't have back then, so we can execute in many respects the very same plans we had at that time with the confidence that we can get to the finish line on completing those plans," Heatherly said.
Harris celebrated the opening of its new emergency department Monday and is in the midst of a $6 million renovation and expansion of its labor and delivery unit, set to be complete by the end of the year.
Women's and children's services are also getting a boost in Macon County, with Harris adding a full-time pediatric office and full-time OB/GYN office to the 25,000-square-foot building it's long held in Franklin.
"We are really the women's and children's service provider for the western end of the state on an almost exclusive basis at this point," Heatherly said.
Meanwhile, over at Swain Community — which is integrated with Harris to operate as a single system — three new primary care providers and a pediatric doctor have been added over the last 18 months. A new CT scanner means that patients no longer have to travel to Sylva to get scans done, a walk-in clinic has been added, a consolidated pain management service will soon open and expanded inpatient services provide swing beds for patients who still need supervision but would rather not recuperate far away from home in Asheville. Those swing beds are likely responsible for much of the increase in patient volume Swain has seen this year.
"This is a really important service we can offer to our region," Heatherly said.
While issues at Mission have certainly made Harris the default option for many who may have previously gotten their healthcare elsewhere, Heatherly stressed that Harris intends to earn its place as the best choice for health care services rather than take patient migration for granted. If Harris doesn't offer the services that people need, then patients can't choose them, regardless of their insurance situation — therefore, developing services will take precedence over addressing any momentary relationship between another hospital and an insurance company.
"With respect to the Mission-Blue Cross thing, presumably at some point they'll come to an agreement," Heatherly said. "Here in the interim we don't take for granted that because they're not in network and we are that people are going to choose us. But quite frankly, right after that is resolved we don't take for granted that people will choose them and not choose us."