Archived News
Harris opens new emergency department
Wednesday, November 08, 2017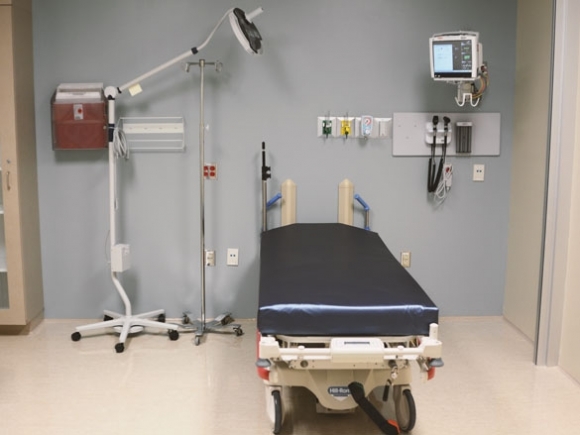 A brand new emergency department at Harris Regional Hospital in Sylva received its first patients Monday, Nov. 6, marking the end of a project that's been more than a decade in the making.
"Our staff and physicians do such a great job with patients that we've long wanted to give them an environment that matches their skill and expertise, and we want to give patients and families a more comfortable, private environment in which to receive care," said Harris CEO Steve Heatherly. "We're really excited to get that project completed and be operational."
With more than 16,000 square feet and 15 treatment rooms, the new emergency department is more than quadruple the size of the old emergency department and accommodates twice the number of patients.
The change in patient capacity isn't an apples-to-apples comparison. The old emergency department didn't have actual patient rooms, instead using a ward-type setup in which curtains could be moved to add or subtract patient areas. The new facility offers individual patient rooms that are designed to be easily expandable for procedures requiring more space.
Another notable feature of the new facility is its ability to accommodate behavioral health patients. Four of the rooms have pull-down walls that can cover items in the room that could be dangerous to a behavioral health patient, with other equipment in those rooms, such as sinks, curtains and TVs, designed to prevent patients from hurting themselves.
Because there was no overlap in operations between the new and old emergency department — patients were moved from one to the other at 7 a.m. Nov. 6 — all the equipment contained in the new facility is new as well.
No decisions have been made as to what will happen to the old emergency department, though it's possible a catheterization laboratory will eventually go in there. The hospital has recently begun doing cardiac catheterizations but uses a mobile service to perform them.
"As our volume builds we anticipate putting in a fixed cath lab sometime in the next year or two," Heatherly said.
Prior to Duke LifePoint's acquisition of Harris Regional, the hospital's foundation had been working for years to raise funds in support of the new emergency department. The agreement with Duke LifePoint during the acquisition included $11 million to kick off construction and complete the facility.