Archived News
Waynesville 'nudged' toward gambling zoning
Wednesday, November 08, 2017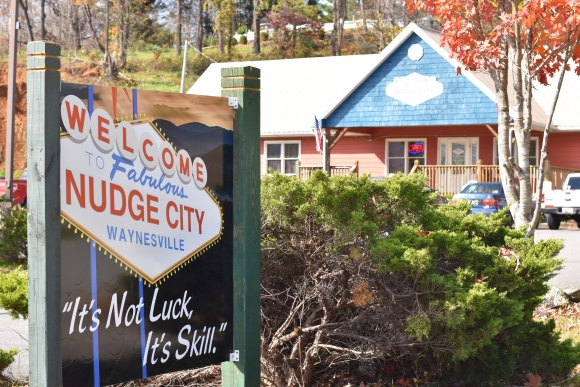 When the Nudge City video gaming parlor popped up in an old auto dealer's lot on Dellwood City Road earlier this year, it quickly caught Elizabeth Teague's eye.
"I saw the sign, and then I came back inside, and said, 'What is that?'"
It's an unusual question for the Town of Waynesville's development services director to ask; as such, Teague's business is to know the whats, wheres and whens of land use within the town.
"We have to maintain the integrity of the zoning ordinance in order to be fair to everybody," Teague said.
Teague was caught unaware because the owner of Nudge City hadn't applied for a zoning permit, and therefore shouldn't have been allowed to open.
But even if Tami Nicholson had applied, the business — classified as retail — wouldn't have received one for the current location, and the town's table of permitted uses doesn't anywhere include an entry for video gaming parlors such as hers.
Current and pending state statutes, however, make clear that this type of business isn't going away, and will likely continue to expand in communities across the state, meaning town officials must now consider where, exactly, these types of businesses belong, as well as the ultimate fate of the nonconforming Nudge City.
Not an issue, still an issue
All involved freely admit that the issue has almost nothing to do with the existence of gambling in the community; such decisions are routinely made at levels of government far higher than town planning boards, and those decisions are routinely modified at that same level. Municipalities can do little but comply.
A few years ago, the N.C. Supreme Court ended sweepstakes-style gambling — a token effort that has resulted in business owners like Nicholson chasing the seemingly endless legal loopholes that make some machines legal.
Right now, General Statute 14–306.1A bans video gaming machines including all card games, bingo, craps, keno, auto or any other game not dependent on skill or dexterity.
Nudge City's games apparently require dexterity, and thus the state's ban on "games of chance" doesn't apply; indeed, the sign Teague referred to — a rebranding of the classic "Welcome to Fabulous Las Vegas Nevada" sign located on Las Vegas Boulevard South — boldly asserts "It's not luck, it's skill."
In addition, House Bill 750, sponsored by Rep. Harry Warren, R-Salisbury, and Rep. Jon Hardister, R-Greensboro, would allow "video lottery terminals" to which the definition in the General Statute would not apply.
"That's on the table now, but that has not passed," Teague said; the bill was referred to a judiciary committee in April, but could still see reincarnation in upcoming sessions.
Thus it's clear that towns in North Carolina must make accommodations for such operations both now and in the future, and Teague is being proactive in planning for the future.
But Teague admits town staff is being reactive in dealing with Nudge City itself.
"We tried to react as quickly as we could, but making decisions from a reactive mode is not the best way to make decisions," she said.
Teague attributes Nudge City's opening to a miscommunication.
"They didn't go through all the steps you have to when opening a business," she said. "There may have been some miscommunication in that it seems like the business owner had the impression that they were allowed to go in because they'd gotten a building inspection over the summer."
The application for an occupancy use inspection listed the property as a "retail" business. No zoning permit was ever issued. Teague immediately contacted the property owner, issued a notice of violation, and took the issue to the planning board.
"This is going to be allowed in our community," she told the Waynesville Planning Board Oct. 16. "Where and how should we consider it according to our land use plan? What do we call it? Where does it go?"
The plan
Teague told the planning board that the owner of the 479 Dellwood Road property, Tim Welch, "had inquired about pursuing a zoning text or map amendment to allow additional types of commercial uses along Dellwood Road, but the town did not receive a text or map amendment application."
It wouldn't have really done Welch much good, anyway — the property sits squarely in a mixed-use overlay of the Love Lane Residential District.
"Right behind it, up on that hill, are historic bed-and-breakfasts, so we do want to be careful in land uses that might impact those businesses, which are really an important economic driver for Waynesville," Teague said.
Waynesville's description of the Love Lane area says it's "one of the oldest neighborhoods in the town" containing "excellent stock of smaller bungalow-style homes on small lots."
Retail isn't allowed in the district — only personal and professional services — but after "much discussion" according to meeting minutes, the planning board decided to allow Nudge City to remain in operation until the town could establish proper zoning regulations.
"The business is operating in violation of zoning, however since there's no actual existing zoning for that type of business, [the planning board] is proposing a new zoning for those types of businesses and allowing the business to operate until it can apply for a zoning permit under the proper type of zoning," said Teague.
But that grace period is not open-ended; the planning board directed staff to propose a solution, and set up a public hearing to resolve the issue.
The proposal, first heard before the planning board last month, would add a new definition to the town's land development standards — video gaming parlor.
"Any use or structure intended to provide access to video games in which customers purchase retail gift cards or gain access to electronic games of skill or dexterity or other electronically simulated games approved and regulated by the state of North Carolina."
With that, Teague suggested Regional Center or Commercial-Industrial zoning as an appropriate place for such businesses.
"Patrons of these businesses tend to remain for extended periods of time," Teague said; that generates greater parking needs than, say, a sub shop or a furniture store, and makes areas like busy downtowns a poor choice for such businesses.
The planning board settled on Regional Center districts — Dellwood-Junaluska, Hyatt Creek, and Russ Avenue — which are hubs for retail and mixed-use developments like shopping centers, drive-throughs and big-box stores.
"It's the Russ Avenue corridor, the area down by Walmart and then Dellwood Road where Bojangles is," Teague said.
Nudge City would be right at home among them; Nicholson's 3,000 square-foot business has 18 machines, 50 parking spots and is open 10 a.m. to 10 p.m. except on Sundays, when it opens at noon. No food or alcohol is served, but snacks and soft drinks are available.
In such districts, video gaming parlors would be permitted, subject to supplemental standards including a buffer or a 6-foot privacy fence or wall between the use and any residential or mixed-use district. Alcohol use could come only by special use permit of the town's planning board, but language in the proposed H.B. 750 seems to prohibit it.
When the planning board conducted a public hearing on the proposed definition and classification Nov. 6, only attorney Adam Melrose spoke up, on behalf of Nicholson.
Melrose didn't contest the definition and said that the supplemental standards sounded "reasonable," but he did try to make his case for allowing Nudge City to remain where it is, on Dellwood City Road.
"The current location is a good location," Melrose said to the board.
Teague said that during previous discussions, the planning board had little appetite for allowing Love Lane to acquire retail characteristics, a position the board then made clear to Melrose.
The board then found the proposal to be in agreement with Waynesville's comprehensive plan, and voted to recommend it to Waynesville aldermen.
A public hearing is expected before the Waynesville Board of Aldermen after which the new zoning classification would take effect if approved, but for now it looks like Nicholson's video gaming parlor is about to be 'nudged' out of its Dellwood City Road digs.