Archived News
Veteran portraits on display in Macon
Wednesday, November 08, 2017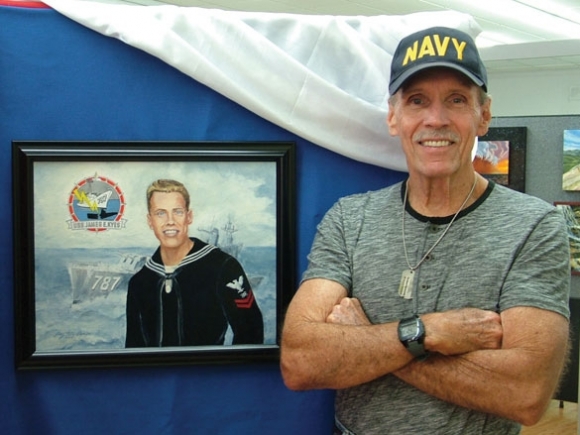 By Kurt J. Volker • Contributing writer
In recognition of Veterans Day 2017, the Macon County Art Association will conduct its sixth annual Veterans Portrait Presentation Ceremony at noon Saturday, Nov. 11, at the Uptown Gallery on Main St. in downtown Franklin. The portraits have been on display at the gallery since Nov. 1.
According to project chair Karen Albig Smith, the association issues a call each Memorial Day for local veterans to submit their service photos along with a concise, service focused biography. From these submissions, a group of 10 veterans, selected at random, are chosen to have their portraits painted by the association's artist members.
This summer, seven men and three women representing the Army, Navy and Air Force were selected and then matched with their corresponding volunteer artists. Typically, the pairs meet to discuss the project and the artist's approach to the portrait.
Artist Fay Teller Panico was one of the volunteers to work on the project. She has been painting seriously since 2007 after a successful career in the skin care/beauty service industry.
"I've always had the ability to draw and loved color and throughout my childhood and young adulthood, creating art became my comfortable place," she said.
With no formal training and eager to renew her long-delayed interest in creating art, Panico had enrolled in the art school at the Boca Raton Museum of Art. Now in her 60s, Panico has entered a number of juried art shows, won a best in show award, painted commission portraits and landscapes, and started experimenting with abstract expressionism.
"I want to thank all of the artists, our contributors, sponsors, friends and veterans for contributing to the success of this event," said Smith. "Without their hard work and dedication, none of this could have happened."
The Uptown Gallery is open to the public from 10 a.m. to 5 p.m. Tuesday through Saturday. Visit www.franklinuptowngallery.com or call 828.349.4607.
Kurt J. Volker is a writer/photographer who lives in Otto. He may be contacted at This email address is being protected from spambots. You need JavaScript enabled to view it..