Archived Reading Room
Masterful work by one of our great writers
Wednesday, November 08, 2017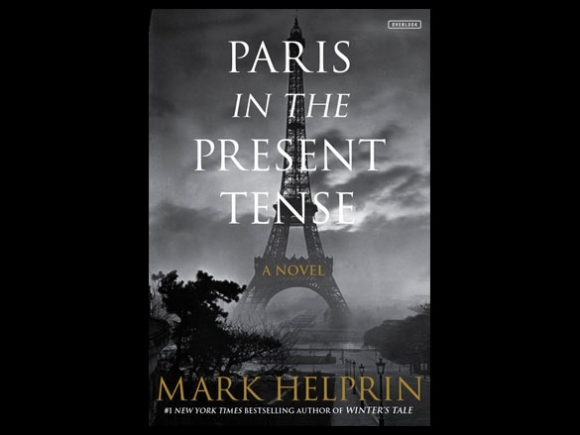 A number of Mark Helprin's works — Winter's Tale, Memoir From Antproof Case, and more — have appeared on the New York Times Bestseller List. Helprin's A Soldier of the Great War, his story of an Italian army officer and his struggles for survival during the First World War, is a thick novel which I have read twice and to which I return on a regular basis, rereading favorite scenes, always astonished by the beauty of writing and touched again and again by certain passages. His Freddy and Fredericka, a story whose characters are loosely modeled on Prince Charles and Princess Diana, stands alongside John Kennedy Toole's New Orleans novel, A Confederacy Of Dunces, as perhaps the two funniest novels I have ever read.
Now comes Helprin's Paris In The Present Tense (The Overlook Press, 2017, 394 pages), a tale centered on 74-year-old Jules Lacour, a master of the cello, a widower who ardently loved his wife Jacqueline, an oarsman, a veteran, a survivor of the Holocaust, and a Parisian. LaCour has arrived at that time of his life when a man still yearns for achievement but also treasures peace, when he reflects on the joys and sorrows of his past but still finds himself caught up in the turmoil and heartache of the present.
Unfortunately for Jules LaCour — that last name translates into English as court or courtyard, but is surely as well a play on the French le coeur, which means heart — life has stacked up a mountain of troubles for him. He needs money to send his terminally ill grandson to a hospital in the United States, where he hopes American doctors may find a cure for the boy. Luc's mother, LaCour's daughter, is half-convinced her father has gone mad. An international corporation has promised LaCour a fabulous sum of money for composing a tune that will serve as the company's theme song, but when he goes to America to be paid, he finds the his benefactors have lied to him. He becomes involved with a fraudulent insurance scheme. He falls in love with a young cello student, Elodi. He defends a Jewish teenager being beaten by three Muslims, and as a result of the carnage that ensues, the French police begin an investigation of him.
In addition to its sweeping story, a Helprin trademark, Paris In The Present Tense offers all those wonderful gifts that Helprin brings to the best of his novels and stories. Though too numerous to enumerate in this short review, some of the treasures readers will find in these pages are Helprin's exquisite portrait of a man nearing the end of his life, his blend of past and present and how each plays on the other, and his vivid examination and description of the large-scale ideas and virtues so often avoided by our post-modern minimalists.
Let's look first at Helprin's take on ideas and abstract concepts. His protagonists may sometimes indulge in irony, but are never cynics. They behave nobly, and words like honor, duty, love, and romance have deep meaning for them. Here, for instance, is Jules LaCour in the aftermath of his first kiss with his young cellist:
"Although he knew it would never happen, Jules wanted to return with Elodi to her tiny apartment and forget everything that had kept him from her. He felt and imagined this so strongly it was as if he were with her in a new life that other than in dreams was impossible. And on the train, numb all the way home, hardly turning her head, Elodi would feel intense pleasure echoing through her entire body, with sadness following insistently in its wake."
As in some of this other works, particularly A Soldier Of The Great War and Memoir From Antproof Case, Helprin in Paris In The Present Tense also adroitly demonstrates the interplay between the past and the present. Jules LaCour is haunted by the murder of his parents and his guardians by the Nazis, laments some of the actions he took as a soldier during the French conflict in Algeria, mourns his dead wife Jacqueline, and regrets, mostly for reasons regarding his grandson, his lack of acuity in finance when he was younger. Yet as the story progresses, we see that all these experiences of the past equip LaCour with the resources to face the obstacles he must overcome in the present.
Finally, in Jules LaCour Helprin creates a portrait of a man in his seventies who has led a full and adventurous life. Twice before in his novels Helprin has employed this same tactic with brilliance and verve. In A Soldier Of The Great War, the aged Alessandro Giulani tells a young Italian man the story of his life and what he has learned from his struggles during the war, his search for a lost love, and his deep attachment to art and beauty. In Memoir From An Antproof Case, an elderly American living in Brazil also casts an eye over his shoulder to review his long history: his time as a boy in a mental institution; his attempts at love; his battles as an investment banker; his lifelong hatred of coffee. Like these two men, Jules LaCour brings his rich history to the table, and as usual, Helprin creates a believable elderly man, another in a line of Helprin characters who bring to mind the closing lines of Tennyson's "Ulysses": "One equal temper of heroic hearts,/Made weak by time and fate, but strong in will/To strive, to seek, to find, and not to yield."
Alessandro Giulani, the mystery man from Memoir, and now Jules LaCour: these men are more than protagonists. Like Ulysses, they are heroes.