Archived Arts & Entertainment
Only here for your love: Futurebirds to rock Highlands Food & Wine Fest
Tuesday, November 07, 2017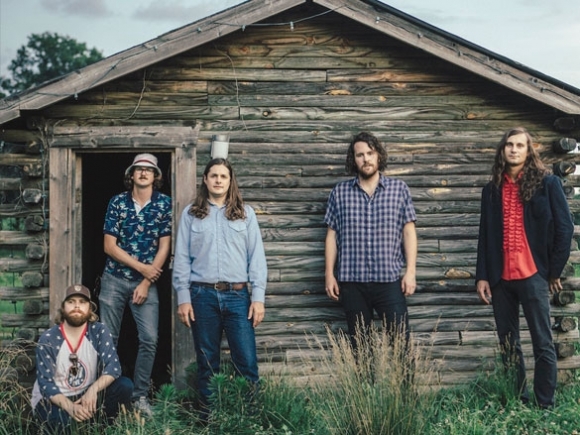 It's about finding a balance between your creative soul and your sanity.
"When you feel you're doing what you're supposed to be doing, and things aren't going well at the same time, and you still believe in what you're doing, but there's no relief," said Thomas Johnson. "It makes you feel crazy, because you believe in what you're doing, and you think it's important and good, and it's not connecting. Am I crazy? Am I too close to it?"
Lead guitarist for Futurebirds — an Athens, Georgia-based rock bastion — Johnson stands tall these days, as do his other bandmates. Partly, because the quintet is nearing their 10-year anniversary after endless hardscrabble miles and countless sleepless nights, all in pursuit of dreams held high since adolescence. Partly, because the band itself is seemingly running on all cylinders, a muscle car engine of sound and attitude that's only getting better with age.
"We've kind of taken a different approach to a lot of stuff — let's do things that make sense," Johnson said. "If there's not good shows out there to be had, then let's spend the time to be creative, then play shows when it makes sense. We feel strongly about the material and the vibes, it feels like we're cresting at a really tough time — we're back in a better spot."
Those tough times were numerous. From having a record ready to release and no label to release it, to their van breaking down in the middle-of-nowhere, to the usual ups-and-downs of a band on the run, trying to make it — hell or high water — all while plate-spinning the daily interactions of friends, family and those strangers soon-to-become friends and family.
"The duality of everything, there is just so much yin and yang. Everything felt like they were polar-opposites," Johnson said. "There was no middle ground with anything we were doing — relationship-wise, label-wise, music-wise, band-wise. It was like band bipolar disorder, manic depressive waves we were riding — it was really exhausting."
But, as with growing up itself, the answers soon reveal themselves. Instead of retreating into their own separate corners — physically and emotionally — the Futurebirds realized the sum total of their talents was (and remains) too important to simply let it crumble over differences, frustrations and a blurry vision for the next step. They took a bird's-eye-view of themselves, ultimately seeing the beauty in what they're doing, and also who they're reaching, night in and night out.
"Then, we'll be feeling [frustrated] and play a house party, people going nuts, it's real people and it's connecting with somebody — it's a real human experience," Johnson said. "When we first started, we were like, 'Man, if all ended tomorrow, we're just happy to have been able to do it,' but I don't want it to end tomorrow."
And with that "do it yourself" attitude — recording, promoting, touring — currently permeating through the group's ethos, it's no wonder there's a new sense of self radiating from their songs and energized live shows.
"Not being with a label right now, we just want to continue the cycle of recording, touring, recording, touring, and always be creating, engaging. When we want to record something, find the time and do it — having that freedom has definitely rejuvenated us,' Johnson said. "That vibe is so integral to what we like about being musicians, and what we like about being in music. It's part of the process, you have to have the performance aspect and the creation aspect, and if the creativity gets stifled, the live show suffers."
With their recent EP releases, "Portico I" and "Portico II," the Futurebirds have solidified what their fans have already known for the better part of a decade — they are one of the great rock bands of the modern era. Just in terms of their music stylings and round-robin stage presence, one could easily argue they are The Band of the 21st century, a spectrum of tone as wide as it is captivating.
"It's just about making good music now. We've tried for so long to have a bigger presence, to do this or do that, but I can't control how people receive the music or whether or not we get played on the radio," Johnson said. "What I measure [success] by is, are we progressing somewhere musically? Am I stimulated and engaged? It's about getting back to basics — that's what we got into this for."
Want to go?
The Highlands Food & Wine festival will be held Nov. 9-12 around downtown.
• Thursday, Nov. 9: "Grand Tasting" at 7 p.m. at Kelsey Hutchinson Park.
• Friday, Nov. 10: "Truckin'" food truck gathering with live music by Dawes (indie/rock) and Futurebirds (rock/folk) from noon to 4 p.m. at Old Creek Circle. Food trucks include: Automatic Taco, Farm to Fender, Brined & Cured, Backwood Bakery, Bun Intended, and The Velvet Cup, alongside James Beard nominee Elliot Moss with Buxton Hall Barbecue. Sip & Shop will run from 11 a.m. to 4 p.m. on and around Main Street. Wine Dinners & Small Bite Experiences beginning at 5 p.m.
• Saturday, Nov. 11: "Main Event" from 11 a.m. to 3 p.m. on Main Street, live music by JJ Grey & Mofro (rock/soul). Sip & Shop will run from 11 a.m. to 4 p.m. on and around Main Street. Wine Dinners & Small Bite Experiences beginning at 5 p.m. "A Generous Pour" with the Preservation Hall Jazz Band at 8 p.m. at Kelsey Hutchinson Park.
• Sunday, Nov. 12: "Gospel Brunch" at noon at Kelsey Hutchinson Park.
For more information, a full schedule of events or to purchase tickets, visit www.highlandsfoodandwine.com.