Archived Opinion
Welcome to a rising tide of young candidates
Thursday, November 02, 2017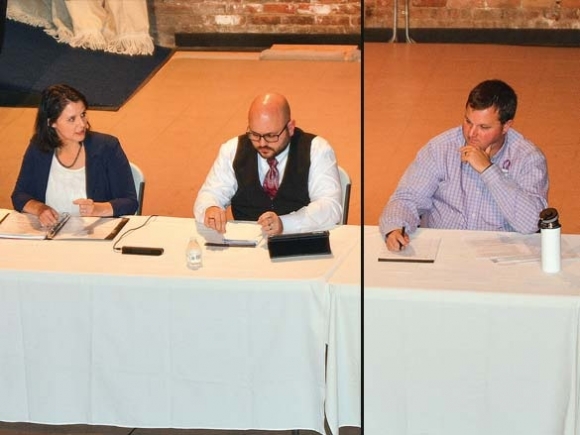 Local politics in Western North Carolina have long been dominated by the good ole boys. But like they say about winter in "The Game of Thrones," change is coming.
I've spent much of my career as a journalist — the past 25 years — covering the towns and counties west of Buncombe County, watching as local civic leaders made decisions that have had lasting effects on the region. Aside from Sylva — which has a long tradition of female leaders in politics and business — it's been a game dominated by old white guys.
First, let me say I'm comfortable using that phrase because, well, I'm part of that crowd. And even at 57, I am at times still one of the pups on some of the boards on which I serve.
Don't get me wrong. I'm not saying we have had poor leadership. In fact, I could make a strong argument that they've done an above-average job. Our region has its challenges, but it's doing well on many fronts and I believe we are relatively well positioned and well aware of how to meet future needs.
And to be fair, it's not just been old white men leading the way. As mentioned, Sylva has had some fine women mayors in Brenda Oliver and Linda Sossamon. And of course Jackson County's own Gertrude Dills McKee was the first woman ever to serve in the N.C. Senate in the 1930s. And there have been other notable female leaders who have served this region.
But I've heard a similar refrain many times over the past 25 years: where are the young people of the next generation who are going to be our future leaders?
To combat that challenge, several counties — Haywood in particular — have initiated leadership programs designed to teach early- and mid-career professionals about the different aspects of their communities. The goal, of course, is to show these people how important it is to take part in civic life and perhaps stoke an ember that could lead to a leadership role.
It seemed for years, though, that much of the talk about encouraging young leaders was in vain with too few people taking up the challenge. Well things are changing, and you can look no further than this municipal election to see how fast.
A few numbers to show what I'm talking about: 39, 41, 36 — Franklin; 24, 28 — Bryson City; 33, 34, 38, 43 — Canton. Those are the ages of some of the candidates running for office in their respective towns. That's the youngest slate of candidates for towns in this region that I've ever witnessed.
Here's something else going on in Canton that is very rare in this region: three of the four candidates aren't locals. So they are young and bring ideas from different parts of the country.
Our newspaper hosted a candidate forum at the Colonial Theater in Canton for the alderman candidates, and I can promise you that these hopefuls have more than youth going for them. The three who took part in the question-and-answer session (see the story at www.smokymountainnews.com/news/item/21037) were informed, intelligent and well spoken.
But here's what struck me about that forum and those three candidates — Kristina Smith, James Markey, and Carl Cortright — who will be on the ballot in Canton: they all placed a very high priority on the sense of place that comes with living in a small town in a relatively rural area.
Now, that may not seem unusual when you have the usual slate of candidates who have roots going back generations in these the mountains. But, for transplants in their 30s, I was pleasantly surprised.
Perhaps I shouldn't have been. It seems plenty of people who move here and those who have been here for generations want to protect a similar lifestyle. Let's keep roads unclogged, let's not build houses on every hillside, let's take steps to encourage entrepreneurship and sustainable small businesses, let's invest in education for our children, and let's promote a civic life that encourages open dialogue.
It's not time yet to ship the old white guys off to the nursing home just yet, but there's little doubt we're finally seeing that new wave of young leaders. Welcome.
(Scott McLeod can be reached at This email address is being protected from spambots. You need JavaScript enabled to view it.)