Archived Arts & Entertainment
Brewing success: Two WNC craft breweries win national medals
Thursday, November 02, 2017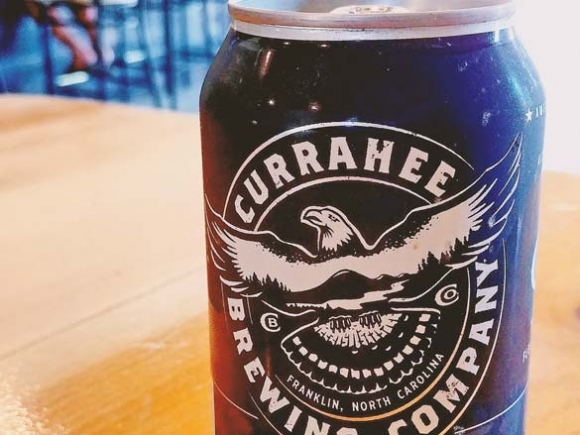 With sunshine spilling into the taproom of Currahee Brewing Company in Franklin one recent afternoon, brewmaster Taylor Yates is all smiles. A hearty beverage raised high, the sun's rays are a cherry on top of the big news currently floating around the facility.
"For us being so new, this is a huge thing," he said. "We're still trying to get established. Something like this on a national level just does wonders for us. When you're new, it really gets you that exposure and notoriety you hope for."
What happened was the announcement that Currahee's "Kawi" won a bronze medal for "Coffee Stout or Porter" at The Great American Beer Festival held in early October in Denver, Colorado. With over 800 breweries and around 4,000 craft beer entries, the GABF is one of the premier competitions anywhere in the world.
"It's validation. It's your life's work, your career, what you hope to achieve since you started home-brewing," Yates said. "You kind of hit the big time, your hard work is paying off in spades. [With Currahee] being open for 18 months is the biggest thing, I think. It shows a lot of character — the key word is consistency."
A coffee milk stout, "Kawi" uses farmer-direct coffee beans from Thrive Farmers (Roswell, Georgia), with the mindset being a double-whammy in terms of taste and potency.
"The beer sells itself," said Currahee co-owner Brandon Hintz. "[The beans are from] co-op farming, [where the farmers] could tell you where exactly on the mountain in Guatemala [the beans] came from."
Yates is no stranger to the national spotlight. In 2014, he also won a gold medal with Moon River Brewing (Savannah, Georgia) at the World Beer Cup for "Dry Irish Stout." With his tenure at Currahee, Yates has already proven himself as one of the top-tier brewmasters in Western North Carolina.
"We were always hungry, but GABF really lit a fire under us," he said.
Canton comeback
Two counties over in Haywood, Kevin Sandefur, co-owner/brewer at BearWaters Brewing Company in Canton, also "struck gold" at the GABF with a bronze medal in the "Belgian-Style Strong Specialty Ale" category.
"I was home having leftovers for lunch and my phone started going crazy," Sandefur said of finding out about the win. "I thought, 'Well, this is either a really good thing or a really bad thing.' Something is either blowing up at the brewery or something good just happened. I couldn't believe it, I was shaking, freaking out."
A fun play-on-words in regards to the nearby paper mill in downtown Canton, "Smells Like Money" is an ode to the pride that permeates the blue-collar mountain town, one built on industry and innovation.
"[This is a] bronze medal in a very competitive category. It gives us the foundation to build on, something to strive for, a great segue for developing better beers, a perfect foundation for us to go into the future with," he said. "We feel incredibly fortunate that everything seems to be falling into place. [The] new location has been so incredibly welcomed by folks in the community coming here every day."
Clocking in at 9-percent alcohol, "Smells Like Money" packs a punch as winter is now knocking on our door.
"It's a really nice, complex Belgian strong ale," Sandefur noted. "Traditional esters that you would find in a Belgian, great balance of malt body and high alcohol, plum and raisin notes. Smooth, robust mouth feel — warms you head-to-toe."
Sandefur looks at the medal as a milestone — an important one — for a brewery that is finally finding solid ground after two years of uncertainty that eventually led to its relocation from Waynesville to Canton, an action that has already proven a successful one.
"Basically, it's just confirmation for us that we've surrounded ourselves with the right people. We're moving in the right direction," he said. "This has always been a goal of ours since we've opened, to accomplish this level of quality with the product. It's just putting the right people in place finally, and knowing that the team that you have is able to deliver — it just feels really good."