Archived Arts & Entertainment
This must be the place: 'Take me out to the ball game…'
Thursday, November 02, 2017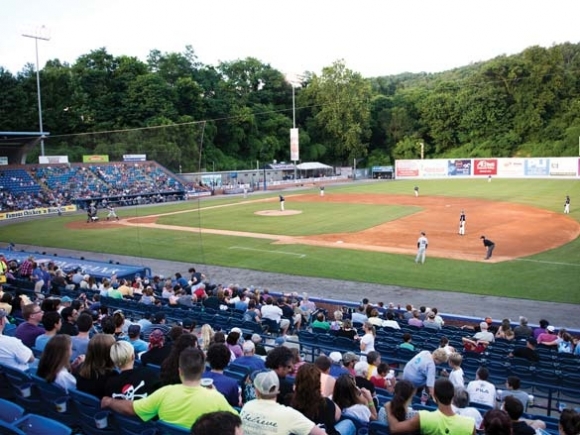 My first love. Baseball.
The quintessential American pastime. The thing of which childhood dreams are made. The playing grounds of heroes, either ready to be made or already part of the centuries-old lore surrounding a game that knows no bounds in its depths of imagination and sheer ability to capture yours.
When I was a kid, baseball ruled my entire life. It's all I thought about, talked about, even dreamt about. I not only wanted to be a professional baseball player, I also wanted to be a professional baseball card collector.
To this day, there's easily tens of thousands of baseball cards still packed away in the attic of my parents' tin-roof barn in Upstate New York. And those players of my 1990s youth always had the best names: Andy Van Slyke, Oil Can Boyd, Nomar Garciaparra, Moises Alou, Mickey Morandini, and so forth.
Beyond the fact summer meant a couple months of vacation from school, I was more excited about maybe catching a major and minor league game, atop my summer duties at left field for the Rouses Point youth team.
Not long after school would release us into the curious abyss that is summer vacation, I'd find myself running around the large little league baseball diamond behind my hometown recreational center, a stone's throw from Lake Champlain. My buddies and I, mostly kids from down my street, would ride our bicycles together from the southern end of town to the field in the northeast corner. Sporting our uniforms, stirrups and cleats, we'd cruise along Lake Street, en route to a battle against the town likes Mooers Forks, Chazy or Champlain.
At some point during our season, it would come time for me to disappear for a couple weeks. My family's annual trip to the coast of Maine, a tradition that stills remains at the heart of my parents, sister and niece (and myself when I can get up there). This wasn't any "10 T-shirts for $10" packed full of tourists Kennebunkport kind of thing. This was the real deal, way up the coast, past Portland, past Bar Harbor, pushing into the tranquil coves and white sand beaches of New Harbor.
And amid those peaceful, restful views and succulent caught-that-day lobster were the sounds of Boston Red Sox baseball on radio station WEEI 850 AM. It's not summer in New England without the voice of broadcaster Joe Castiglione narrating our beloved Red Sox, the life and times of a kid growing up. Whenever I hear Castiglione's iconic voice, it's as if time itself doesn't exist, where everything is one moment, and for that one moment I can connect with that kid I once was, amid those summers so long ago, but never forgotten.
I swear, there is nothing — and I mean nothing — like a night game at Fenway Park in the heart of Boston. The great thing about being a Red Sox fan before 2004 (when they ended an 86-year World Series championship drought) was that it was pretty easy to get tickets. My dad and I would wander down to Lansdowne Street and try to scalp a couple cheap seats. My old man is the king of haggling, and we'd usually end up along the third base line, hot dogs and sodas in-hand, all under $50 total.
Ah, Fenway. I get chills just even thinking about those epic battles I witnessed on the most sacred parcel of grass in all of New England. Two moments stick out vividly: Jose Canseco hitting a line-drive home run over the Green Monster in left field (though we know why now), and Red Sox star Carl Everett hitting a game-winning homer.
The last time I was at a game in Fenway was October 2004, right before the Red Sox won the title. While attending college at Quinnipiac University in Connecticut, a couple friends of mine piled into my bench-seat pickup truck as we bolted up Interstate 91 to I-84 to I-90 to scalp some last-minute tickets for the game against the Baltimore Orioles.
And though that game was some 13 years ago, baseball has never left my soul. I try to catch as many minor league Asheville Tourists games as I can each season (especially "Thirsty Thursday"). Whenever I'm driving to-and-from home in New York during the spring or summer I spin the radio dial in search of a game, sometimes even trying to listen to WEEI online, the sights and smells of Maine immediately flooding my field of vision.
So, it's no wonder how giddy I've become lately with this current World Series between the Houston Astros and Los Angeles Dodgers. Sure, my cherished Red Sox blew it in the playoffs, but at least those darn New York Yankees did the same, too.
This 2017 World Series has already been the stuff of legends. Pitching duels, late-game heroic home runs, wild base stealing and attacks at home plate. I've definitely been losing a lot of sleep this week staying up each night trying to catch all the action. Heck, Game 5 started at 8:20 p.m. Sunday evening and ended at 1:38 a.m. Monday morning, an absolutely incredible 13-12 extra-innings win by the Astros, where baseball freaks far-and-wide rejoiced in one of the all-time great "instant classics" of the World Series.
I might not have a dog in this fight (Red Sox in 2018, y'all), but I sure do have a grin ear-to-ear each time I flick on the World Series, perhaps a tip-of-the-cap to that inner child who never grew up, never once giving up on someday playing left field in Fenway.
Life is beautiful, grasp for it, y'all.
Hot picks
1 The Highlands Food & Wine festival will be held Nov. 9-12 around downtown.
2 The WNC Pottery Festival will be held from 10 a.m. to 4 p.m. Saturday, Nov. 4, in downtown Dillsboro.
3 Bluegrass icons Dailey & Vincent will perform at 7:30 p.m. Saturday, Nov. 4, at the Smoky Mountain Center for the Performing Arts in Franklin.
4 The John C. Campbell Folk School's Blacksmith and Fine Craft Auction from 1 to 4 p.m. Saturday, Nov. 4, on the campus in Brasstown.
5 No Name Sports Pub (Sylva) will host Johnny Monster Band (rock/blues) at 9:30 p.m. Friday, Nov. 3.