Archived Opinion
Embracing the wicked vibe of Halloween
Wednesday, October 25, 2017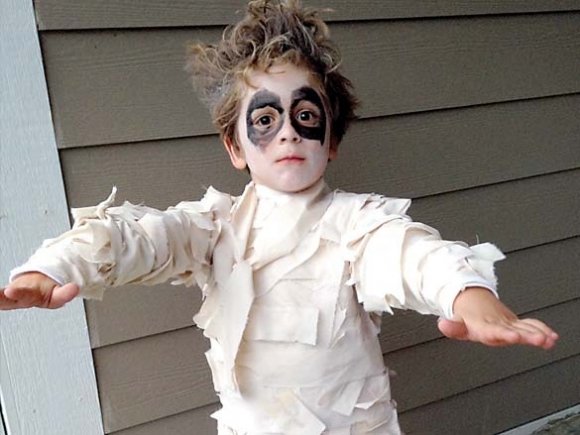 In less than a week, I'll spend Tuesday evening traipsing the streets of Waynesville watching two little boys knock on doors and end the night with bags full of sugary candy and gum. I'm a bit of a health nut and try to keep yucky ingredients and coloring out of my children's diets, but on Halloween, I push my additive/preservative paranoia aside to be a spirited parent and embrace the evening's wicked vibe.
I loved trick-or-treating when I was a kid. My sister and I are both October babies, so I'm not sure if the spooky stars were aligned just right or what, but she and I both enjoy Halloween. I've written before about growing up in Weaverville. As little girls, we visited the same houses and businesses year after year, which offered a level of fun and comfort only small towns can know and understand.
Our childhood costumes spanned the gamut, from ghosts to clowns to punk rockers. One year I dressed as the white cat from the Broadway musical "Cats." I wore a long-sleeve white unitard (a full-body leotard) with pink fur glued around the neckline, cuffs and ankles. I had a tail, ears and we teased my waist-length hair with so much hair spray, it stuck out like a lion's mane. Top that off with a black nose and painted whiskers and voila, I was transformed into the cat I'd watched on stage in New York City the year before.
In fifth grade, I dressed up as the plant from "Little Shop of Horrors." I know, seems like a bizarre choice, but then again, I wasn't a completely typical kid. We had a dance that year called the Boo Bash and were encouraged to wear our costumes. My friends were dressed as Madonna, Ariel from The Little Mermaid and Miss America. Meanwhile, my entire body was painted green and my limbs were speckled with leaves, as I attempted to mimic the carnivorous plant named Audrey II. I won best costume at that dance.
When I became a parent myself, I couldn't wait to dress up my baby boy for his first Halloween. I was so excited, I bought his monkey costume in August. Fast forward and now I've been buying and creating costumes for eight years. These days, I'm hot gluing and visiting Walmart the night before to make sure the costumes are ready the day of.
It's interesting how each child develops his different thoughts and desires when it comes to Halloween costumes. My little one is "all boy" and year after year asks to be a super hero or Ninja Turtle or Power Ranger. My older son, on the total flipside, always requests a scary or classic costume. He's been a vampire, hobo clown, pirate, mummy, Frankenstein and a grumpy old man, among a few other things.
My eldest also has this thing about being different than everyone else. He doesn't want to walk through Auburn Park and pass a clone of himself, so for the past four years, I've hand made his costumes. The most-involved DIY costume thus far was a mummy costume I created when he was five. It involved ripping an old sheet to shreds, dying them with tea bags, then hot gluing the brownish pieces onto an old jogging suit. It was pretty fun to make and even more fun to watch the heads turn as he walked down the street.
This year, my little one wants to be Ben Tennyson, who is a character from an animated TV series. We stumbled upon the show one day, and he became enamored with it. Ben 10 (short for Ben Tennyson) is a boy who acquires a watch-like alien device (the Omnitrix). This device allows the wearer to transform into 10 different alien creatures who then battle the bad guys. Low and behold, Amazon nor Walmart nor anyone sell a Ben 10 costume in its entirety, so I visited Michaels the other day and purchased the needed materials to make it myself.
Thankfully, my older son plans to dress as a pilot which is an easy costume to assemble. After flying several times over the past two years, he's grown interested in all types of planes as well as the art and skill of flying itself.
While I no longer buy or make the costumes in August, the conversations start then. The ride to school each morning is our favorite time to talk, before their little minds get tired and clogged from a day full of stimulation, so ever since school started this year, we've been banging around costume ideas and finally settled a couple weeks ago on Ben 10 and a pilot.
After a rough month personally, I'm excited about a night of frivolous ghoulish fun. Let's hope the Ben 10 costume works out. I've yet to start making it. And even though I'm not a huge fan of candy in general, I've certainly been caught stealing bubble gum or a Snickers bar from the boys' treat bags.
So, whether you'll be holding the hand of a tiny Superman or attending an adult-only soiree, I hope you have a good time. Here's to a wickedly fun evening, indeed.
(Susanna Barbee can be reached at This email address is being protected from spambots. You need JavaScript enabled to view it..)