Archived Reading Room
New book delves into 'Death of Europe'
Wednesday, October 25, 2017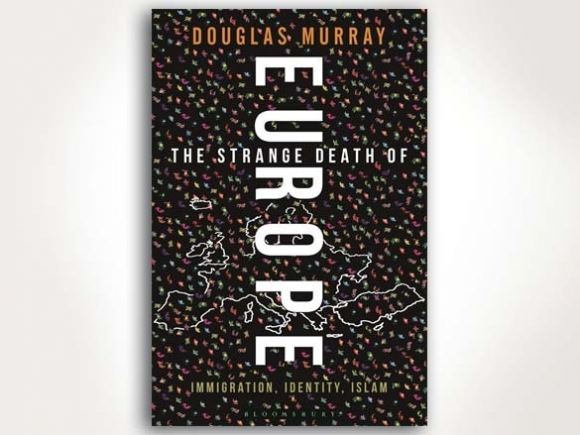 Recently I came across an online article on Powerline regarding French president Emmanuel Macron. I knew little of President Macron, only that as a youth he married his high school teacher, 24 years his senior, and that during his first three months in office he spent $31,000 paying his make-up artist. To call him a fop might serve as a prime example of litotes.
And yet ….
In a recent interview in Der Spiegel — Powerline added the bold print — Macron made this statement:
I am a strong believer that modern political life must rediscover a sense for symbolism. We need to develop a kind of political heroism. I don't mean that I want to play the hero. But we need to be amenable once again to creating grand narratives. If you like, post-modernism was the worst thing that could have happened to our democracy. The idea that you have to deconstruct and destroy all grand narratives is not a good one. Since then, trust has evaporated in everything and everyone. I am sometimes surprised that it is the media that are the first ones to exhibit a lack of trust in grand narratives. They believe that destroying something is part of their journalistic purpose because something grand must inevitably contain an element of evil … where does this hate for the so-called grand narrative come from? ... Why can't there be such a thing as democratic heroism? Perhaps exactly that is our task: rediscovering something like that together for the 21st century.
For those unfamiliar with deconstructionism, I offer you the first definition that pops up online: "a method of critical analysis of philosophical and literary language that emphasizes the internal workings of language and conceptual systems, the relational quality of meaning, and the assumptions implicit in forms of expression."
Quite a mouthful, yes?
What Emmanuel Macron means by deconstruction are the practices derived from this philosophy. Deconstruction means taking apart any narrative: a Hemingway novel, the reputation of Robert E. Lee or Abraham Lincoln, a presidential speech, or the history of an entire country, all the while searching for evidence of racism, sexism, capitalism, and all the other isms by which we live today. Deconstructionists, as Macron points out, tear apart a narrative, and then, like some child who has dismantled a clock, toddle off, leaving the wreckage on the carpet.
Nothing replaces the clock.
In The Strange Death Of Europe: Immigration, Identity, Islam (Bloomsbury, 2017, 343 pages), veteran editor and reporter Douglas Murray delves into the ongoing clash of cultures in Western Europe. For years, Murray traveled across the continent, compiling data not just on the crisis of Muslim immigration, but also on the attitudes of Europeans toward their past, their future, and the ongoing influx of foreigners from Africa and the Middle East. In digging for an answer as to why so many Europeans, especially among the elite, have lost the will to control their borders and their destiny, Murray examines such phenomena as the deconstruction of European history, European fatigue with religion and ideology, declining birth rates, guilt over their colonial past, and a widespread sense among the elite that European culture and values no longer matter.
It is this detailed exploration of European attitudes and beliefs that sets Murray's work apart from other books dealing with immigration and the sweeping changes it is bringing to so many European countries. In what the reviewer from London's Sunday Times called a "brilliant, important and profoundly depressing book," Murray takes us to the heart of European ennui and reveals that this culture, in so many ways an empty vessel, simply lacks the will to resist what amounts to an invasion from the South.
In his chapter "Tiredness," for instance, Murray lays out the consequences of the decline of Christianity in Europe. The deconstruction of the Bible by 19th century German scholastics combined with Darwinian theory and philosophy irreparably damaged Christianity. The Europeans tried to replace this thousand-year-old foundation of their culture with ideologies: Darwinism, Marxism, Fascism, Existentialism, and Socialism. None worked as a replacement for religion, and Marxism and Fascism killed tens of millions of people.
As a result, according to Murray, Europeans have lost faith in their "beliefs, traditions and legitimacy." They have forgotten what their ancestors knew: "… that everything you love, even the greatest and most cultured civilizations in history, can be swept away by people who are unworthy of them." Today this soulless European civilization finds itself confronted by millions of migrants who are religious believers, who practice their faith, and who all too often regard their hosts as infidels deserving destruction. In the last 10 years, for example, hundreds of attacks — bombings, shootings, stabbings, rapes — have left their mark on countries like Germany, Britain, and France.
A chasm has also grown between European politicians and the man in the street. In poll after poll cited by Murray, majorities of people want immigration eliminated or vastly reduced, and many of those polled believe that Muslim immigrants in particular reject European liberal values. Meanwhile, European mucky-mucks — the politicians, the academics, many in the media — ignore the polls and blithely continue their policies of immigration without integration.
The Strange Death Of Europe confirms Flannery O'Connor's observation — here I paraphrase — that in the absence of faith, we govern by tenderness, and tenderness leads to the gas chamber. Compassion without a moral framework of justice or truth, or even of commonsense, brings dire consequences. European compassion toward refugees without regard to the preservation of their own culture has brought on this catastrophe. The Strange Death Of Europe constitutes an elegy to that dying European civilization and issues a warning about the failures of multiculturalism.
We are witnessing the death of Europe as we think of Europe, where without radical change the sounds above its cities and towns will not be the bells of churches but of calls to prayer from mosques.
(Jeff Minick is a writer and teacher. This email address is being protected from spambots. You need JavaScript enabled to view it..)