Archived Arts & Entertainment
This must be the place: 'It's times like these you learn to live again'
Wednesday, October 25, 2017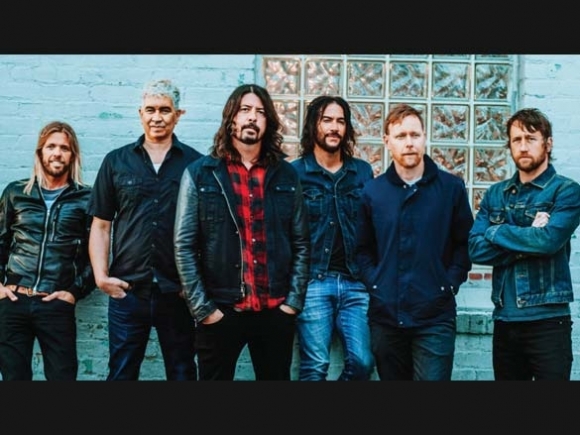 It was right around the third song or so that the goosebumps kept appearing.
Up and down my arms, the raised hair and skin resulting from the massive sound and stage presence of the Foo Fighters, the saviors of rock-n-roll in the modern era, one could easily surmise.
When I was growing up, there was no bigger band, to me at least, than the Foo Fighters. They, alongside Stone Temple Pilots and The Tragically Hip. That trio made up the vast majority of music in my handheld CD player while I wandered the hallways of middle school and high school during the late 1990s/early 2000s on the Canadian border of Upstate New York.
Sadly enough, that Foos show in Knoxville, Tennessee, last Wednesday was the same day the world learned of the untimely death of T-Hip front man Gord Downie from a short and highly-publicized battle with brain cancer. And it was only a couple years ago that STP frontman Scott Weiland unexpectedly passed away, with my interview with him being one of his last. So, there I was, my soul hurting from the cornerstones of my musical life — first Scott, then Gord — now gone, and yet, there's Foos front man Dave Grohl onstage bellowing out song after song that made up my childhood and adolescence.
The funny thing with music is its uncanny ability to be a real-life time capsule. You hear a song you loved from your past, and you're immediately transported back to the exact moment you either first heard it, or whatever key interaction happened in your life as that song was playing overhead or in front of you. Within those songs immortal, the hard-earned wrinkles on our faces magically disappear, the kick in your step returning with ease, as your body feels years younger, your soul never aging a day in your heart-of-hearts.
Standing there, watching the Foos tear down the enormous Thompson-Boling Arena on the University of Tennessee campus, I couldn't help think of where I was, and what I was doing, or wanting to ultimately do, when those radio hits and beloved deep catalog melodies first radiated out of my stereo.
I don't think there was a teenager in the late 1990s that didn't own the Foos sophomore album, "The Colour And The Shape." Many of those unforgettable songs ("Monkey Wrench," "My Hero," "Everlong") were staples of MTV. They were tunes that soaked into the pop culture of America at that time. From teen films like "Varsity Blues" to their force-of-nature late night TV appearances or the Foos rollickingly hilarious interviews and cleaver music videos.
That album, and the next one, "There Is Nothing Left To Lose" (1999), filled my ears throughout middle school, a melodic protection from the ills of walking the plank of social hierarchy — locker rooms, cafeterias, hallways, awkward dances in the gymnasium, birthday parties, and Saturday night gatherings, many of which I never found out about until I overheard recaps in Monday morning homeroom. I vividly remember "Breakout" and "Learning to Fly" in my headphones during those long bus trips to cross-country invitationals, wondering if high school or college would be any different than what I had experienced, or was currently experiencing.
When the Foos launched into "Times Like These," it really hit home for me, just how far away those days were, let alone my physical hometown, from where I was that night in Knoxville, still trying to make sense of life itself, but, this time, more aware and confident, maybe even trusting, in the cosmos: "I'm a new day rising / I'm a brand new sky / To hang the stars upon tonight / I am a little divided / Do I stay or run away / And leave it all behind?"
They say the older you get, the more you start to circle back to the music of your youth. Partly, because as time goes along, and the faces and spaces change, the only real familiar, linear and constant thing to you is the music of your youth. It comforts you when you're far from home — physically and emotionally — where you're just trying to get through the night, holding onto the first light of tomorrow spilling through your bedroom window.
And it's also that same music that gives you the strength and courage to keep moving forward, that we're all the same, and we'll all get through whatever it is that is bothering us, because at the end of the day, you're alive, and that's all that matters.
It's a sentiment — and core philosophy — that Dave Grohl and the Foo Fighters have waved high and proudly since their inception those many years ago, something I felt, so damn deeply, when they ended the Knoxville show with "Everlong," an iconic anthem of my generation: "If everything could ever feel this real forever / If anything could ever be this good again / The only thing I'll ever ask of you / You've got to promise not to stop when I say when…"
Life is beautiful, grasp for it, y'all.
Hot picks
1 Brett Young and Carly Pearce are the artists scheduled to perform at Western Carolina University's Homecoming Concert at 8 p.m. Thursday, Oct. 26, in the Ramsey Regional Activity Center.
2 The Cherokee Bonfire & Storytelling will be held from 7 to 9 p.m. Oct. 27-28 at the Oconaluftee Islands Park.
3 The immensely popular WNC Pottery Festival will be held from 10 a.m. to 4 p.m. Saturday, Nov. 4, in downtown Dillsboro.
4 Mountain Layers Brewing (Bryson City) will host Frank & Allie (bluegrass/Americana) at 6 p.m. Saturday, Oct. 28.
5 No Name Sports Pub (Sylva) will host Humps & The Blackouts (psychobilly) at 9:30 p.m. Friday Oct. 27 and 10 p.m. Saturday, Oct. 28, at The Water'n Hole in Waynesville.