Archived News
Details emerge surrounding Jacob Ray's death
Wednesday, October 18, 2017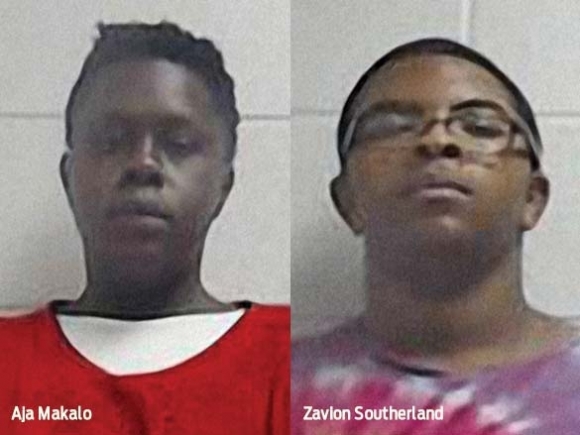 Charges against two Charlotte teens arrested following the shooting of 21-year-old Jacob Alexander Ray, of Hendersonville, have been upgraded from attempted murder to first-degree murder as of Monday, Oct. 16.
Aja Makalo, 19, and Zavion Southerland, 17, are accused of shooting Ray just before midnight Friday, Oct. 6, near Tuck's Tap & Grille in Cullowhee. Initial charges of attempted murder were upgraded after Ray succumbed to his injuries and died Monday, Oct. 9.
Law enforcement arrived at the scene in response to a call about what the caller initially believed to be a car wreck.
"I'm right across from Tuck's, there's a car that looks like it just wrecked right across from Tuck's on Old Cullowhee and I'm hearing somebody yell, 'Get off of me' over there, so I need a deputy deployed, please," the caller said.
"Can you tell what kind of vehicle it is?" asked the dispatcher.
"No, but where the old sign is," the caller said. "You need to send someone now — Oh my God there was a gunshot."
That's the moment that Ray was allegedly shot, in the back of the head according to a GoFundMe page set up by his family.
According to court records, it appears that Ray and Makalo were riding in the same car before the shooting occurred, indicating that they knew each other beforehand. Investigating officers got a vehicle description and partial registration plate number from interviews with witnesses, but Makalo, the vehicle's owner, fled when officers arrived on the scene.
"While attempting to investigate further, a subject in the immediate location fled the scene in what appears to be an attempt to flee from authorities," a search warrant reads. "The Charlotte-Mecklenberg officer was able to identify the owner of the vehicle and noted that she had what appears to be blood on her shoes."
Ray, who was a junior computer information science major at Western Carolina University, was immediately taken to Mission Hospital in Asheville but never overcame his injuries. He was removed from life support Monday, Oct. 9.
"My heart is forever scarred," his father Victor wrote on social media that night. "How it will heal I cannot ever fathom, but God's Grace is sufficient. Thank you all for the prayers, but Jesus wants him home."
In the days following the shooting, police executed a total of 10 search warrants in Cullowhee and Charlotte. They searched Ray's dorm room, phone and car, as well as Makalo's apartment, phone, computer, car and home in Charlotte. Searches also gave law enforcement access to cell phone communications between Makalo and Southerland, and between Ray and Makalo.
Court documents indicate that drugs may have been a factor in the shooting. A search warrant states that "the victim has been involved with the sale of controlled substances in the past," and searches of Ray's phone and dorm room looked for evidence of any such activity.
In addition to records from the phones and laptop, the searches turned up some physical evidence as well.
From Ray's dorm room, investigators seized a digital scale, gun box, flashlight, ammunition, magazine, notepad, holster bag, shatter, money straps and Dell laptop.
From Makalo's car, a 2009 Chevrolet Impala, investigators took a toboggan hat, swabbings, green plant material, gel lifter and a vehicle door, recovering a cell phone and one empty shell from Ray's car, a 2014 Subaru Impreza. When they searched Makalo's home in Charlotte, they took a single pair of blue jeans.
The defendants are currently incarcerated at the Jackson County Jail, Makalo on a $500,000 bond and Southerland on a $1,000,000 bond. Makalo has retained attorney Joseph Carroll Bowman, of Marshall, as her attorney, while Southerland will be represented by court-appointed attorney Jim Moore of Waynesville.
The investigation is ongoing, with a long list of agencies involved. The Western Carolina University Police Department, the State Bureau of Investigation, the Jackson County Sheriff's Office, the N.C. Highway Patrol and the District Attorney's Office are coordinating efforts.
"We would ask the community to please exercise patience and understanding about the serious nature of this event and recognize our obligation to seek justice for the victim, the victim's family, our community and all involved in these tragic circumstances," said WCUPD Chief Ernie Hudson. "So far, the investigation indicates that this incident was isolated and not a random act."
Ray's funeral was held Saturday, Oct. 14, in Hendersonville. He leaves behind a long list of family members, including parents Victor and Beth Ray, his brother Levi, two grandmothers, a great-grandfather, six aunts and uncles, and two cousins.
In lieu of flowers, the family is requesting donations to www.gofundme.com/jacob-ray-medical-and-memorial-fund to help with medical and funeral costs. As of Tuesday afternoon, $8,335 of the $15,000 goal had been raised.