Archived Outdoors
Growing community: Church garden project brings neighbors together to grow healthy food
Wednesday, October 18, 2017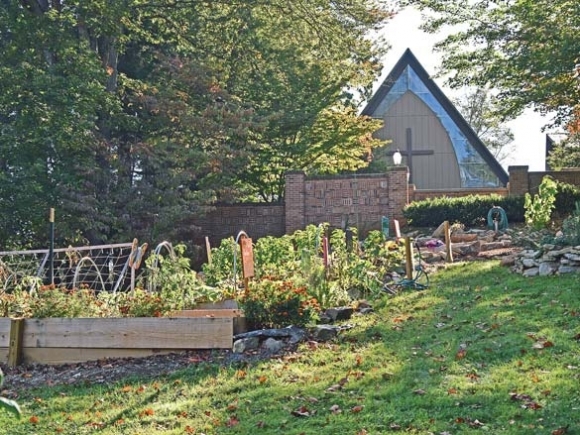 Two short years ago, the backyard of Waynesville's Grace Church in the Mountains was basically just grass, save for a single container bed at the top of the hill.
These days, the view is quite different. Six long container beds stretch out along the slope from the road to the church's back door. A scaffolding that held a tent of beans during the warmer months stands to the side, and at the bottom of the hill is yet another group of raised beds, built high at the end of a flat walkway so that people with mobility issues can still access and enjoy them. There's a toolshed, a gaggle of scarecrows and two in-ground beds dug directly into the land.
It's the home of the Grace Giving Garden.
"We decided, 'We have this land. It's just growing grass. Why do we have to grow grass?'" said Emily Chatfield-Lusto, who co-facilitates the garden along with fellow Master Gardeners Jim Geenan and Mary Alice Lodico.
So, they got to work — making plans, making beds, making connections. All the produce grown there, they decided, would help feed the more than 200 families that use the church's food pantry. But now, the produce goes to more homes than just 200.
"It just sort of took off," Chatfield-Lusto said. "This year we decided, 'Why don't we reach out to different community organizations and see if they want to come garden with us?'"
Teenage volunteers from Camp Hope in Canton helped dig up the back bed, and folks from Lifespan Incorporated Camp Hope, Grace Church and the Haywood County Master Gardener Volunteer Association built an accessible path to allow people in wheelchairs to reach the lower container garden. Meals on Wheels donated garden tools, and Haywood Waterways Association and the Southwestern N.C. Resources Conservation and Development Council donated a 1,000-gallon rainwater cistern, allowing the gardeners to water their plots without racking up a city water bill.
The contributions are many and spider out from there.
Chatfield-Lusto estimates this year's garden brought in about 2,500 pounds of produce. But this time, it's not just for the food pantry. Throughout the summer, kids from the Pigeon Multicultural Development Center, Big Brothers Big Sisters and Meridian Behavioral Health were there, as well as people from The Arc, planting seeds and pulling weeds.
"The big deal is this is their garden," said Chatfield-Lusto. "When the program was over and they had to go back to school, we said to them, 'This is your garden. Everything you planted is just getting ripe right now. Don't hide. Come in and pick it.'"
For many of these children, the experience was a first. Despite the fact that they'd by and large grown up in the mountains where gardens and farm fields are all around, some of them had never picked a tomato, never understood the fact that a big, beautiful pepper can grow from a single tiny seed.
There are also some children among the group who come from unstable family backgrounds, whose lives are full of uncertainty. Giving them a safe, beautiful place to come to, where the fruits of their labors are real and tangible, seemed like an important contribution, Chatfield-Lusto said.
"This is going to be a happy place. It's going to continue to be a learning place and a loving place, and I think that's what counts," she said.
For Chatfield-Lusto, the season was a success, and she's already thinking about what the next year could bring. A pizza-topping garden, perhaps?
"When they come back the next year, we don't want to do exactly the same thing, so what are we doing to do? We're going to teach them Chapter Two," she said.
That's a prospect that excited Chatfield-Lusto, a gardener since her childhood in West Virginia.
"I've gardened my entire life, and I feel at peace outside gardening," she said. "I just connect with the land. I love watching things grow."
She also loves watching others watch things grow.
"I love watching light coming into the eyes of the people when it connects," she said. "There's that moment when it connects with you and you go, 'This is something that I can do. This is something that goes beyond me out into the world. And I think that's important."
The garden is located on church property, but Chatfield-Lusto emphasized that she doesn't see it as a church garden. Rather, it's a community garden.
"It's everyone's," she said. "We want people in the community to know they can come in here and dig in the dirt."
There's something calming and unifying about kneeling in the grass, pulling weeds and harvesting vegetables and helping life-giving plants to grow. With all the hate and division evident in the world today, Chatfield-Lusto said, neighbors chatting over a garden row might be just the kind of healing that's needed.
"Everybody's hungry for something, and sometimes it's not food," she said. "But out here is a safe place for people to grow things and reach out to each other and break down barriers in the community. I'm really about that."
The backyard garden has grown leaps and bounds since it first began expanding two years ago, but the garden leaders are far from done. Their plans for the space are many and will count on the continued help of partners from across the community.
Eric Sollie is working with his masonry students at Tuscola High School to build a small amphitheater at the top of the garden area, and work is underway to transform the wooden garden containers into stone boxes, to prevent their having to be replaced every few years. Fruit trees have been planted at the bottom of the hill, and the garden facilitators would like to plant a pollinator gardens around the area to support monarch butterflies.
They're also re-examining the garden plan.
"We're trying to turn it into a four-season garden because there are things you can grow in the winter here, but the real challenge for us is to figure out how to get the most out of the land," Chatfield-Lusto said. "Tomatoes are great, but they take up a lot of space. They use a lot of water."
The more food that's grown, the more there is for people to eat, and the more comfortable those who helped grow it will feel taking home as much as they want.
"There's food insecurity, there's hunger, there's need everywhere you go," Chatfield-Lusto said. "If I can help people in some way, that's all there is."
Taste the harvest
A garden tour and delicious food will be offered Sunday, Nov. 5, at Grace Church in the Mountains in Waynesville.
At 9 a.m., the Grace Giving Garden's three facilitators — Mary Alice Lodico, Jim Geenen and Emily Chatfield-Lusto — will lead an informal discussion of their efforts in the garden this summer. Refreshments, chatting and photos — as well as a few activities in the hall for kids — will be included. Attendees will also get to see the garden's new rainwater cistern, raised beds, paths, benches and teaching amphitheater.
The church's regular 10:30-11:30 a.m. church service will follow, with a delicious Harvest Feast featuring crops from the garden held afterward. 828.456.6029.