Women in Business
One house at a time: Bug lady keeps WNC homes pest-free
Wednesday, October 18, 2017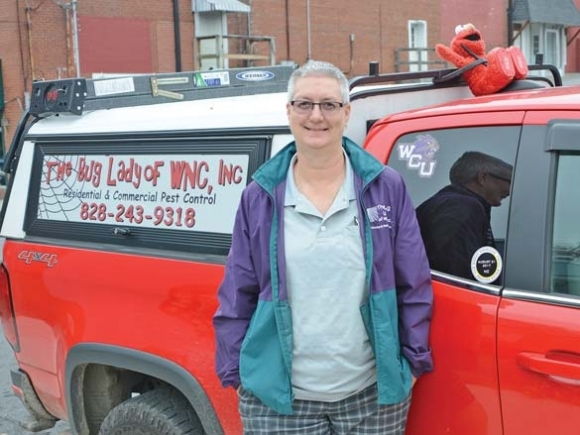 Before Karen Walston began running her first extermination route 16 years ago, she had no plans to become The Bug Lady of WNC. At the time, she was doing a part-time office job for a bigger pest control company, but when she asked for more hours she got more than she bargained for.
"They said, 'Women will pay more attention to detail. We'll put you on a route,'" Walston recalled.
Turns out, she loves the work, and something about the way she did her job resonated with clients. Before she knew it, her route had just about outgrown her.
Walston stayed at that job for just shy of 10 years, until a series of circumstances led her to launch her own business. She's owned The Bug Lady of WNC, Inc, for the past seven years and hasn't looked back.
"I'm on the road. My scenery changes every day," she said. "I service four counties — Jackson, Macon, Swain and Haywood. I'm around Fontana Lake. I'm above the clouds. I see all four seasons every day, just about. Everything is great about my job."
Walston's day starts at her home in Sylva, where she feeds her dogs and sets out in her bright red truck — nicknamed "Elmo" and adorned with a stuffed animal version of its namesake — for whatever route she's planned the night before. Much of her work is preventative, quarterly treatments to keep the roaches or termites or what-have-you from making an appearance. But Walston tries to plan her schedule loosely enough so that if she gets a panicked emergency call from someone with an infestation in the same area that she's working that day, she can fit it in.
Walston loves her job, but she also loves the fact that as a business owner she's in control of her own hours. She's home by 3:30 p.m. most days, and she has the time to spend many of her evenings over at Western Carolina University, cheering on her beloved Catamount teams. Being from the eastern part of the state, Walston didn't attend WCU, but she makes up for that fact with her enthusiastic support of today's teams.
"The other teams were getting mad because I wasn't yelling at their sports like I was yelling at women's basketball," Walston laughed. She took that to heart and started expanding her attendance.
People tend to panic over infestations, but part of Walston's job is to be the calmest person in the room, bringing with her expertise the assurance that the problem will soon be just a memory.
"People freak out over roaches, and it's never as bad as they think it is," she said. "It's always fixable. I just did a big cleanout and was out of there in three months. If you spend enough time upfront the first time you go, you start seeing them die off. Three months and I'm done."
Walston's work takes her to houses owned by wealthy second-homeowners and to the dwellings of people who can barely afford her services. She's outside in the fresh air and squeezing through crawl spaces. She treats empty homes owned by absent homeowners and knocks on doors opened by clients who have become friends over the course of years.
At this point, it's hard to surprise her.
"There's really nothing that strikes me as being out of the ordinary," she said. "It's all work. It's part of my job to do what I do, which is look at the houses, make sure they're doing what they need to be doing."
Another part of Walston's job description? Making friends with all the dogs she comes across.
"They call me the dog whisperer," she said.
She comes with pockets full of treats and keeps extensive notes on which dogs live at which house, which animals get scared if she wears a hat and who is frightened by her flip-up sunglasses.
"I will sit down and get to know the dogs as much as I will get to know the customers," she said. "They know I come with cookies."
Call the Bug Lady
Karen Walston lives in Sylva but services a four-county area for residential and commercial pest control. She is available at 828.243.9318 and This email address is being protected from spambots. You need JavaScript enabled to view it..