Women in Business
Recipe for success: Mixing women and wine always a good idea
Wednesday, October 18, 2017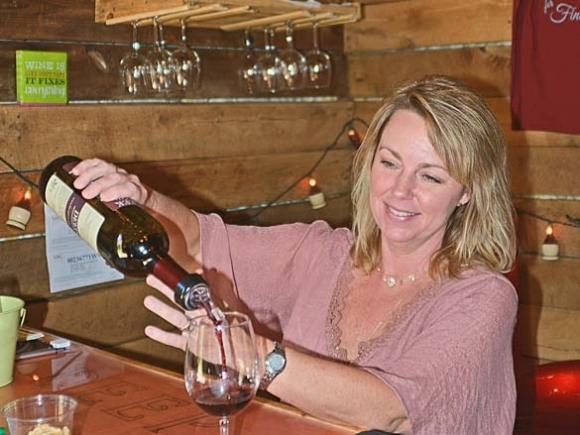 Heather and Robert Acton have it all figured out. Living on the outskirts of Swain County near the national park boundaries, they have found a perfect balance of business and pleasure.
The couple bought a piece of property just above their home off of Galbraith Creek Road and retrofitted an old barn into a winery and tasting room. It's definitely off the beaten path, but well worth the journey.
Enjoy the creek flowing and the winding narrow roads as you follow the signs to Deep Creek Winery. You'll know you made it when a German Sheppard named Roi — after one of the Deep Creek's wines — greets you at the barn doors.
Deep Creek Winery was born out of Robert's love of making wine and Heather's desire to do something different with her life.
"I was burnt out on my job as a physical therapy assistant and having his own winery has always been a dream of Rob's so we partnered together and I jumped on the bandwagon," Heather said.
Before opening the tasting room for sampling and events last year, the Actons ran Deep Creek Winery as a wholesale business reaching many grocery stores and wine shops across the region. As a winery and not a vineyard, they import some of the best grape juices from all over the world to Bryson City so Robert can figure out the tastiest recipes to suit any wine drinkers' palette.
"Rob has made wine for over a decade. He started at home with a wine kit and then did an apprenticeship with a professional wine maker to be able to put his own touch on recipes," Heather said.
While Rob has the big responsibility of making the wines, there's a lot more to running a winery after the product is complete. Heather is instrumental in marketing and advertising, planning tastings and events at the barn and getting their product into the right retailers.
"I'm a very good assistant — just like every good chef needs a Sui chef," she said. "My organizational skills come in handy with marketing and wholesaling to grocery stores and wine shops. I handle marketing and sales, manage inventory and do all the paperwork and billing."
Making the product is also a two-person job when it comes to bottling and labeling the wine — and of course no winery would be complete without an enthusiastic wine taster to make sure it's suitable for the public. Heather said she actually wasn't a huge wine drinker until she met Rob.
"I just never found anything I liked until I met him — he got me into good wine," she said. "There's definitely a big difference in having something made in a small batch instead of mass production."
And that's what Deep Creek Winery is about. All 10 wines offered — five white and five red — are made in handcrafted small batches. They offer a variety of wines ranging from sweet to dry and from light, easy drinking to full-bodied. And the response so far has been positive, Heather said. The more fruity wines like the Southern Hospitality — a peach infused California chardonnay — and the Sweet Summer Bliss — a strawberry infused white zinfandel perfect for spritzers and mimosas — have been popular sellers this summer.
"It's been a very lucrative business so far — no regrets about quitting my job to do this," she said. "For me personally I just love the independence of owning my own business — it's demanding working for other people. If you have a dream or hope in something step out and try it — nothing changes if you don't make a change."
For more information, visit www.deepcreekwinery.com.