Archived Arts & Entertainment
This must be the place: 'They won't know what route I'm going…'
Wednesday, October 18, 2017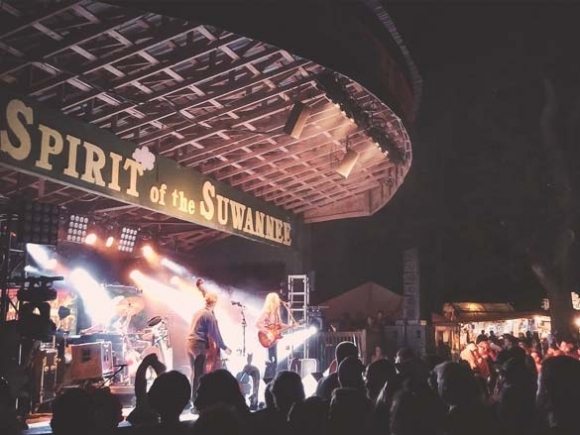 For a moment, I thought the dog was going to charge me.
Running along the quiet back country of Southwest Georgia, dirt roads that make up most of the escape routes into the abyss 'round these parts, I could see the small creature out of the corner of my eye. Once I realized he had stopped at the end of the driveway, my primal instincts disappeared, my eyes aimed further down the bright dirt path my feet playfully and joyously jogged atop.
Although it was mid-October, the temperature in the vast farm fields just outside of Albany, Georgia, hovered around 90 degrees last weekend. En route to the Suwannee Roots Revival festival at the Spirt of the Suwannee Music Park in Live Oak, Florida, my girlfriend and I had decided to make a stop at a friend's house, one who had packed her bags and left Western North Carolina earlier this summer, all in search of herself in the grand scheme of things.
But, come evening, the air lowered itself to the level of enjoyable porch conversations, beverages held high in celebration of a faraway rendezvous, candles lit in the cozy windows of the small cinderblock abode. She had her glow back, you could see it. A woman who left it all, only to once again try and build it back up. Her smile had returned, and so did her signature laugh. The three of us and her mother howled at the moon with the chatter of folks with lots to say and seemingly all the time in the world to say it.
Come Friday afternoon, we said goodbye, the nose of the big pickup truck aimed for the Florida border. We decided to take the back roads to get to Valdosta, Georgia, onward to Live Oak. It was surreal to whiz by endless cotton fields, abandoned bungalows: some vibrant and some long gone reminders of a past still fresh in the minds of those who never forgot, or are still in the midst of currently.
Rolling off Exit 451 of the bustling Interstate 75, the hot and humid swampland and bayou nature of the nearby Florida Panhandle revealed itself to us. Mossy trees. Dark waters. Blazing circle in the sky. Time slowing to a crawl, not out of laziness, but out of necessity, for survival and for optimum immersion into the things that make this area of the country so mysterious and full of that voodoo vibe of otherworldliness.
One of those "bucket list" venues, Suwannee is right up there with Red Rocks, The Gorge, Georgia Theatre, Radio City Music Hall, etc., where the sheer energy and ambiance of the venue, its atmosphere, world-class caliber artists and singular attendees all play a part in creating.
That force of nature, and of humanity, struck me as Peter Rowan's Dharma Blues took the stage Friday evening. Featuring bassist Jack Casady (Jefferson Airplane/Hot Tuna), the quartet spins the web of cosmic attitudes, in terms of love, loss, and why "it is what it is."
"The acoustic music, it's raw and right close to the bone, the most subtleties of all the musical approaches," Casady said afterwards. "You can approach the tone aspect of the instruments, the compositional aspects, all of that comes out in its purest form — it's really close to home."
So, as someone who was also not only a big part of the 1960s, but also politically involved, are you optimistic about the future?
"I'm always optimistic about the future," Casady said. "Every generation — every period of time — has its challenges, so to speak. You're always battling the good and evil in human nature. It doesn't matter if you're born in 1919, we'd be off to war in 1939. If you were born at the turn of century in 1900, you'd be off to the First World War. You're always dealing with human nature, and human nature has its strong and weak points — no matter when you were born."
A pillar of the Suwannee community (and greater Southeast music scene), a special Sunday showcase would be played in honor of the late, great Colonel Bruce Hampton, who passed away onstage during his 70th birthday celebration on April 30. A wildly eccentric cosmic warrior, Hampton kicked off the dreams and careers of innumerable marquee musicians. One of which was (and is) Oliver Wood, guitarist and vocalist for Americana powerhouse The Wood Brothers.
During their headlining performance Saturday evening, The Wood Brothers took a moment to pay their respects to Hampton, to his essence that remains the core of Suwannee and the mesmerizing magic swirling around the property with such ease. The band dedicated "Postcards From Hell" to Hampton: "I know a man who sings the blues / Yeah he plays just what he feels / Keeps a letter in the pocket of his coat / But he never breaks the seal… And if you ask him / How he sings his blues so well / He says / I got a soul that I won't sell / And I don't read postcards from hell …"
Teardrops could be seen and felt once one turned around to face the audience, in awe of the moment, the spectacle unique to the power of live music — the heart of Suwannee.
"[Bruce] was a real connector of people, for certain," Oliver Wood said afterwards. "To be very serious about the music, but don't be too serious about yourself, that's one of the things I picked up from him. He said once, half-kidding, but it sometimes is really more profound than you think — 'Never focus.' Which is weird to say, but I get it."
Life is beautiful, grasp for it, y'all.
Hot picks
1 No Name Sports Pub (Sylva) will host The Hooten Hallers (rock/blues) at 9:30 p.m. Tuesday, Oct. 24.
2 Lazy Hiker Brewing (Franklin) will host The Company Stores (Americana) at 8 p.m. Saturday, Oct. 21.
3 The Water'n Hole Bar & Grill (Waynesville) will host PMA (reggae/rock) at 10 p.m. Friday, Oct. 20.
4 Nantahala Brewing Company (Bryson City) will host Happy Abandon (Americana) at 8 p.m. Friday, Oct. 20.
5 Frog Level Brewing (Waynesville) will host Ed Kelly (singer-songwriter) at 7 p.m. Saturday, Oct. 21.