Archived Arts & Entertainment
What should I say? Greensky Bluegrass returns to WNC
Wednesday, October 11, 2017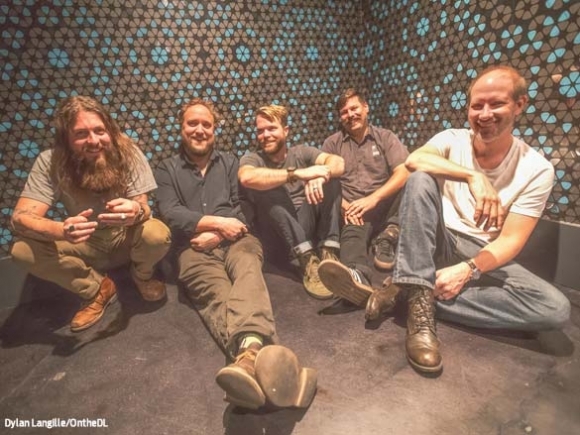 Why not?
Why not include Greensky Bluegrass in the sacred — sometimes stale and stuffy — pantheon that is bluegrass music? Why not include the Michigan group in the annual celebrations of string and acoustic music, which mainly originated in Western North Carolina and greater Southern Appalachia? Why not consider the quintet a direct descendent (a rebellious one albeit) of the original rebel himself — Bill Monroe?
It's the same kind of flack, or closed door nature, that groundbreaking acts like Old & In The Way, New Grass Revival and The Nitty Gritty Dirt Band (to name a few) all faced some 40 years ago, when the "long-haired hippies" were "going to ruin bluegrass music." And yet, guess what? Who are the pillars of the genre nowadays? Peter Rowan, Sam Bush, John McEuen, and so forth.
The beauty of the bluegrass lies in its limitations. Of which, a band can truly stretch those boundaries, or find new and exciting ways to play within the intricate framework of one of the great musical forms.
Since their inception in the early 2000s, Greensky Bluegrass have opened the door — a potent portal, if you will — for bluegrass music connecting to the modern world. With a tone that blurs description, and also influence, the acoustic juggernaut is pure fire onstage, a blend of old-time melodic styles and psychedelic rock gameplay. It's about creating new territory, rather than treading the "same ole, same ole," something one of their biggest inspirations — The Grateful Dead — pretty much invented.
The Smoky Mountain News recently caught up with Greensky Bluegrass upright bassist Mike Devol. He spoke of the interesting — and ever-evolving space — that the ensemble finds themselves in, what it means to be a string band in today's market, and why their sound always falls on deaf ears in terms of the bluegrass gatekeepers.
Smoky Mountain News: It definitely seems like [Greensky Bluegrass] have run around in a lot of different circles, or at least are welcomed in a lot of different circles…
Mike Devol: Yeah, I like that about being in Greensky. In different context, we fill a different role. With the [prog-rock Umphrey's McGee shows in recent years in Asheville], we go there, and for those listeners, and they're like, "Wait, a bluegrass band is opening up?" But, then they see [us] and they get why Umphrey's brought us out. But, when we're in the more traditional bluegrass environment, we're like the bad boy kind of rockers. It's a kind of interesting place to be in. As far as our trajectory, or our "thing," I think we've come to a place where we know who we are, we know what we do, and we're sort of exploring just what that means as we continue to write and develop new music, and our sound.
SMN: You have bluegrass at the core, but I feel, at the same time, you never want to be pigeonholed by the thing…
MD: Right. And we find we're kind of not, we're actually kind of excluded from any sort of a traditional bluegrass theme. Not that we're shunned in the bluegrass world, but we're certainly not recognized by the bluegrass community. But, the alternative bluegrass community, we're their poster child. In bluegrass, there's that ongoing debate, which we've decided we're not interested in having anymore — "What is bluegrass, and what isn't?" There's this certain [thing] in bluegrass, "If it ain't traditional, it ain't bluegrass." It's always such an interesting thing to me that they're [all] at the [International Bluegrass Music Association awards last week in Raleigh,] and our name doesn't get brought up, and yet we're selling out Red Rocks [Amphitheatre in Colorado]. You'd think they'd embrace us a little bit. The word "bluegrass" is in our name whether we are traditional or not. We're introducing a lot of people to the genre who maybe never would have before because they didn't come up in North Carolina. IBMA looks fun. I'd love to go there and pick, and listen to music, and participate. If they're not interested, in a sense, we've got plenty going on [anyways].
SMN: Where does your love of bluegrass come from?
MD: All the guys in Greensky, we come to bluegrass from the non-traditional doors — The Grateful Dead. For me, in the last several years, my love for the Dead has really blossomed. I was a Phish kid in college, and I loved how they played traditional bluegrass songs. From them, all of a sudden, you get into the jam band world, then there's Bela Fleck & The Flecktones, which is bluegrass, but really jazz. I remember [listening to] Alison Krauss & Union Station, and this is just great music. I love the textures of bluegrass. I'm a classical cellist by education. I was drawn to the way the string instruments create textures without percussion, and without one true rhythmic leader. For me, that texture was really appealing. From there, I met the dudes in Greensky, who were just dabbling themselves in Michigan at the time. Once I started digging in, I got hold of an upright bass, and went really down into the world of bluegrass. Listening to a lot of traditional bluegrass, historic bluegrass, J.D. Crowe and the New South records, Tony [Rice], Sam [Bush,] all of these bluegrass guys that become my heroes. And when I joined Greensky, they only had a few original songs and were playing a lot of bluegrass. From my first years in Greensky, we were a very bluegrass band, and that's kind of what we were going for. Then, at one point, we had to decide what and who we were, and we decided it wasn't us to go for this really traditional bluegrass thing. And then maybe we really didn't even have the skill set for it. But, we did have a different sound, and more progressive, more rock-n-roll sound, that we were going for. Since then, we stopped deciding what we are and what we weren't, and gone with who we are and what we know. Greensky is a type of band that has to be truly ourselves — we have to be us, or it [wouldn't] be genuine.
Editor's Note: If you'd like to listen to the entire audio stream of this interview, go to YouTube and search: "Mike Devol Garret K. Woodward"