Archived News
Bryson Senior Living close to completion
Wednesday, October 11, 2017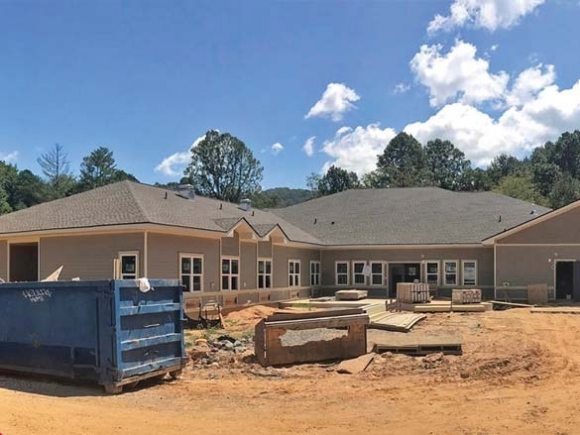 When Bryson Senior Living, an assisted living facility in Swain County, opens in January, a major void in the community will finally be filled.
Swain County has been without any assisted living facility for the elderly since Cornerstone Assisted Living in Bryson City closed in 2015. The closure forced about 30 senior citizens to be displaced — many Swain residents had to be moved to facilities in other counties farther away from their families.
A new company — Affinity Living Group — purchased the Cornerstone property located at 314 Hughes Branch Road, demolished the 65-year-old building last winter and began rebuilding a brand new facility.
With the grand opening a few months away, Bryson Senior Living is now taking reservations for its first residents and hopes those that were displaced in 2015 can return home to be closer to their families.
"We hope all the former Cornerstone residents can move back home with us," said Nicole Parton, Bryson Senior Living's executive director. "Once you see what we have planned, I think you will agree it was worth the wait."
Bryson Senior Living is situated on a tree-lined lot in a quiet neighborhood. The new building will be larger than its predecessor, housing 50 residents in private studios and companion suites. The companion rooms are much different than what most people have seen before and place emphasis on privacy and personal space.
In the front of the suite, residents share a foyer/living room and bathroom with a walk-in shower while still having their own separate bedrooms in the back divided by sliding barn doors. Rooms can be pre-furnished, or residents can bring their own furniture and décor. The building will also have modern, hi-tech amenities like an electronic call system, Wi-Fi access, and in-room cable TV and landline telephone service.
As a full-service assisted living community, Bryson Senior Living will cater to senior citizens who need assistance with daily activities like dressing, bathing, medication management and other personal care. The community will offer a dining program with three dietician-approved meals and snacks each day; a full activities program with events like social gatherings, games, outings and more; and regular housekeeping. Rates are all-inclusive, and Medicaid is accepted.
"I'm thrilled to be a part of this project," said Nicole Parton, a Bryson City resident who is transferring from a sister community in Dillsboro to work at the new facility. "It has been a long time coming, but it will be a great benefit to the families here for years to come."
The new facility, which cost about $6 million to complete, is estimated to add about 15 jobs to the community with potential for more in the future.
Parton has set up a temporary office for Bryson Senior Living's Welcome Center inside the Bryson City Federal Building at 50 Main Street. She is now accepting security deposits to hold rooms for future residents, and if eligible, past residents of Cornerstone will be given first priority.
For more information or to reserve a room, visit the office during business hours Monday through Friday or call Parton at 828.488.0024.
More details are also available online at the community's Facebook page, www.facebook.com/BrysonSeniorLiving.