Archived News
Déjà vu: candidates walk familiar path
Wednesday, October 04, 2017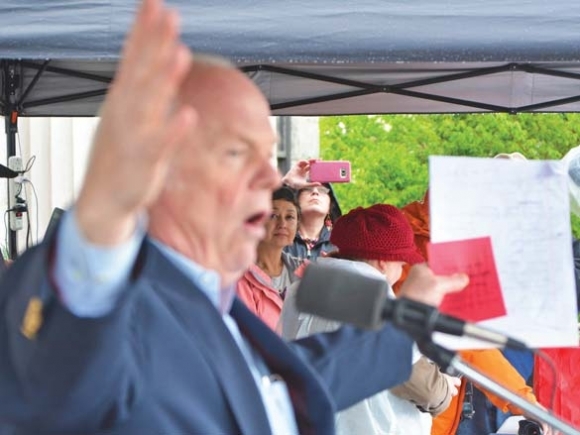 A spate of early announcements by local candidates hoping to gain seats in the North Carolina General Assembly may have voters feeling like they've been here before — because the candidates certainly have.
"I'm running again because my values are the same that they were in the last election and they have been for years," said Rhonda Cole Schandevel, the Beaverdam Democrat who failed to unseat Burnsville Republican Rep. Michele Presnell in 2016's District 118 race. "This community is my backyard. These are people I grew up with, went to school with, that I worship with, and I care about their wellbeing as much as I do my own."
"I'm running again because of what's really important in the state of North Carolina — good government," said Joe Sam Queen, the Waynesville Democrat who was unseated by Bryson City Republican Mike Clampitt in 2016's District 119 race. "Good government matters. Funding education at all levels matters. Health care matters."
The results of that 2016 election were affected dramatically by the hard-fought Presidential contest between Donald Trump and Hillary Clinton; Trump's victory, at least locally, buoyed Republicans across the board. But if the 2016 election was a referendum on Trump, what will that referendum look like in 2018? And how will it affect Queen and Schandevel?
The Trump tide
There is perhaps no better demonstrator of the effect Trump had on local Republicans than in Michele Presnell's district.
Presnell defeated Democrats Ray Rapp and Dean Hicks in 2012 and 2014, respectively. Both candidates earned 48.7 percent of the vote.
Some of Presnell's decisions haven't been well received by local leaders — the partisan school board flap and yet another rejection of an increase in Haywood's room occupancy tax, to name the most recent — which is why Democrats thought she was somewhat vulnerable in 2016.
Given that almost 50 percent of the votes in Presnell's district come from Haywood County, Shandevel was viewed as a strong candidate.
Indeed, Schandevel said while announcing her intention to face Presnell again on Aug. 26, state party officials told her she'd outperformed every other Democratic candidate on the ballot.
But Schandevel earned just 44.6 percent of the vote; making matters worse, Presnell's best performance came in Schandevel's home county of Haywood, where Schandevel won just 3 of 18 precincts.
Presnell topped her two prior opponents, Rapp and Hicks, by less than a thousand votes, but her margin of victory over Schandevel was more than 4,200 votes.
Not so coincidentally, it's estimated that about 3,000 more Republican votes were cast in Haywood County than would have been expected.
"It's absolutely true," Queen said. "They were angry for a reason, they just don't know who to be angry at."
Mike Clampitt's victory over veteran legislator Joe Sam Queen was likewise unexpected; in his two previous contests with Queen he earned 48.3 percent and 47.4 percent of the vote in 2012 and 2014, respectively,
In 2016 he improved to 50.4 percent due to a 1,400-vote swing in the results; Queen was the only North Carolina Democrat to win in Haywood County, but it still wasn't enough — he lost the closest legislative race in the state by less than 300 votes.
That election, however, occurred before Trump was inaugurated as the nation's 45th President on Jan. 20, 2017.
Since then, he's emerged as a polarizing figure to say the least. His opponents seem to be as vigorous as his supporters, and it's hard to say what net effect that has had on voters up to now, or what effect it might have after another year of administration failures and scandals, or accomplishments and victories.
"Although I believe there is still strong support for Trump among the Republican base in Haywood County, it's doubtful that many of the 3,000 new voters who cast ballots for the first time in 2016 will feel the same motivation to go the polls in 2018," said Myrna Campbell, chair of the Haywood County Democratic Party. "I've spoken with Democrats who are experiencing 'voter remorse' — many of them say their vote wasn't really 'for him,' but was against Hillary. My sense is these Democrats will reconnect with the Party in 2018."
Campbell added that she thought so-called "Trumpocrats" were simply reacting to a person, not to a party or to a change in their core values.
"They will gradually realign with the Democratic Party and we'll come back strong," she said. "On the local and the state level."
The same but different
Voter turnout during presidential election years is always higher; the thinking is, more people are attracted to the highly visible presidential campaign and end up voting in down-card races while they're at the polls anyway.
Higher turnout usually benefits Democrats the most, but the 2018 election is not a presidential election, and turnout can be expected to be a third less than last time.
Furthermore, from 2008 to 2016, Democratic votes declined 29.7 percent while Republican votes increased 46.5 percent.
Schandevel and Queen acknowledge those challenges, but remain enthusiastic.
"There's several different reasons for that," Schandevel said. "One of the main reasons is that I think Democrats are going to be more engaged in voting. They were complacent, a lot of people were complacent, and weren't excited about the top of the ticket and a lot of people like me got hurt."
"It's always different," said Queen, who's about to embark on his seventh legislative campaign, not counting primaries. "It's different every time. I didn't expect to lose last time but people listen and people learn. I'm listening and I'm learning."
Queen will formally announce his candidacy Nov. 9 at the Balsam Mountain Inn.
"I believe Schandevel and Queen are feeling optimistic about the 2018 election due to the activist movement that has re-energized the Democratic Party," Campbell said, adding that even with a "very active" voter outreach initiative in 2016, they're party is seeing plenty of new volunteers and also seeing existing volunteers pledging to work even harder.
"A record number of volunteer forms were submitted at our county fair booth this year, and our collaboration with the Progressive Nation WNC has definitely broadened our range of impact within the county," said Campbell. "Both Queen and Schandevel are closely aligned with Governor Cooper and I expect his statewide 'Break the Majority' initiative will have a positive impact on their campaigns."
Republicans including North Carolina Republican Party Executive Director Dallas Woodhouse believe that Presnell and Clampitt have more than proven their worth.
"Rep. Presnell and Rep. Clampitt have become key members of the Republican majority, capable of delivering solutions and results to the people of Western North Carolina," Woodhouse said. "Having worked with them closely, they never miss an opportunity to advocate for their constituents."
Clampitt says his biggest argument for re-election is that he's been more effective than Queen.
"I've had more traction in getting bills introduced that were passed, and more influence in identifying needs in Swain, Jackson and Haywood counties to help local farmers and fix infrastructure," Clampitt said.
He also said that his performance will speak to voters more than party affiliation or presidential popularity.
"Naturally, I'm concerned in any election, presidential year or not," he said. "I think people recognize the lack of traction Mr. Queen had in the past, of getting things accomplished for the district, and I think my record will stand."
Other Democrats have been rumored to be considering a primary challenge to Schandevel or Queen — candidate filing ends Feb. 28, 2018 — but regardless of who runs, the choice is clear, according to Woodhouse.
"Certainly voters have the opportunity to stick with members whose voices count heavily in Raleigh, or go with Democrat insiders that simply will not be able to deliver the kind of results the people of Western North Carolina deserve."