Archived Outdoors
Wildlife through a lens: Highlands couple explores the outdoors one photograph at a time
Wednesday, September 27, 2017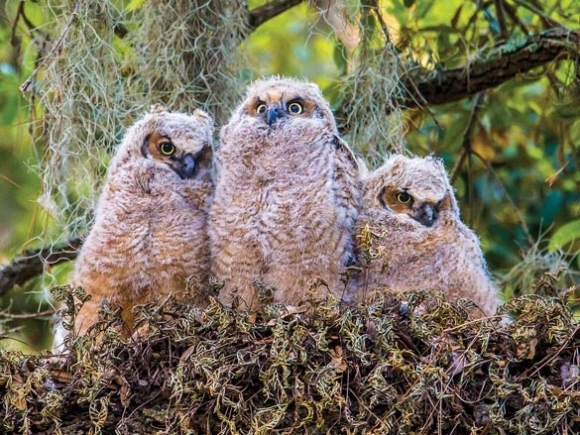 The years since retirement have been anything but dull for Highlands residents Ed and Cindy Boos. From Ecuador to Kenya to destinations across North America, they've traveled the world — camera bags in hand.
The resulting catalogue of photos, primarily depicting wildlife but also featuring plenty of landscapes, includes everything from a young elephant feeding from its mother on an African Savannah to a Smokies black bear giving a wave as it rolls on the ground.
"We won't pass up a good portrait, but we really like to get behavior," Ed said.
That's where Ed and Cindy, ages 70 and 68, make a good team. Ed specializes in still photography, while Cindy focuses on video footage. Together, their images tell a story.
But being in a position to tell that story is often a story in itself. Grizzly bears don't show up on request to demonstrate trout-eating or cub caretaking for eager photobugs. Birds don't hold their poses when performing courtship rituals until the perfect shot is snapped.
"You have to have a lot of patience because you can get to a site and you never know what's going to happen," Cindy said. "You have to be patient, bring a drink, bring a snack and wait it out. Maybe it will materialize, maybe it won't, but you still have that anticipation of what's going to happen."
Once, Cindy recalls, she and Ed were in Yellowstone National Park when they heard that there was a grizzly bear nearby feeding on a carcass. They pulled over where they saw all the cars stopped along the road and began walking up the ridge atop a thick layer of icy snow, Ed going first as he usually did, "so that if there's a snake it will bite me first."
But, unbeknownst to Ed, Cindy fell through the top layer and into waist-deep snow. It took her some time to get out, and when she did she got herself to a spot on the ridge that looked down on the Yellowstone River — and there was the grizzly, eating away.
"I was able to get such awesome footage of that," she said. "Just happened to be in the right place at the right time."
The grizzly finished feeding, turned around and walked back up the hill on the other side of the river. Ed and Cindy reunited and were walking out when they ran into a National Geographic photographer who was also looking for the grizzly — but unfortunately for him the window of opportunity had closed.
"I said, 'I'd be happy to sell you some of my footage,' which did not go over very well," Cindy laughed.
Over the years, Ed and Cindy have gone to great lengths to get some of the shots that are most important to them. They once waited 11 hours to get images of sandhill crane chicks hatching. Another time they hiked 5 miles roundtrip — in sand — to reach a sinkhole pond in Florida that holds as many as 150 alligators at one time.
And once, they traveled all the way to Maine so they could take a boat to Machias Seal Island, an uninhabited island full of puffins that includes a set of blinds with holes for camera lenses, just feet away from the birds.
"That's something we wanted to do really bad, for a really long time," Ed said.
But, after driving all the way from North Carolina, they discovered that bad weather had resulted in a three-day small craft advisory — they couldn't go out at all and had to drive back south with zero puffin pictures.
"We're pretty lucky with the weather and usually we are successful, but that was the one time we had no success at all," Ed said.
Still, they were determined. So last year they flew up to a different puffin photography hotspot, this time in Newfoundland, Canada. Conventional wisdom is that during the summer months in that region, there will only be about 10 days combined when it's not foggy and rainy. But during the two days they were there, sunshine prevailed.
"We were really lucky there," Ed said.
Both Ed and Cindy were into photography long before their 2002 wedding. Ed did sports photography, often shooting images for a small newspaper in the Tampa Bay area, and during the 1970s and 1980s Cindy worked in black-and-white photography. But for both of them the hobby had fallen by the wayside by the time they met, when both were working for the Polk County, Florida, school system.
But, upon retirement 13 years ago, they picked it up again with a particular focus on nature and wildlife.
"We both share a love of nature and we would rather be doing that than anything," Cindy said. "It's just our passion, and we love to share with other people. That's why we go to all the effort."
Ed and Cindy are members of the Highlands Plateau Audubon Society and frequently give presentations to that group and other birding groups in the area. They consider themselves amateur birders, but their patience and persistence in capturing images and video of the avian world has paid off by showcasing behaviors that are news to birders much more knowledgeable and experienced than Ed and Cindy.
"That's kind of exciting to be able to show people who know a lot more about birds than you do things they've never seen," Ed said.
But those results are a direct result of time put in — talking to other photographers, researching locations and just getting outside. During the four-month period they live in Florida each year, Ed estimates that they spend 70 to 75 days out on photography expeditions.
"The easy, fun part is getting out there and doing it," Ed said. "The hard part is having to review all that stuff and pick out the images. That's a chore."
But for both of them, the work is well worth the reward.
"It's just being out there and seeing the things that you see — that most people never see," Ed said.