Archived News
WCU total student enrollment tops 11,000
Wednesday, September 27, 2017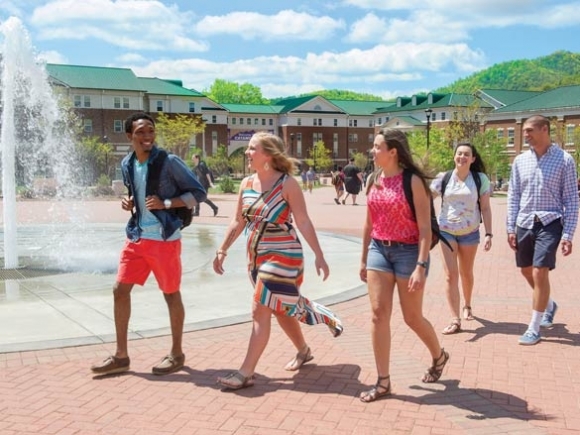 Records continue to fall by the wayside at Western Carolina University, as total student enrollment has surpassed 11,000 for the first time in the institution's history and as the GPA of the entering freshman class has hit an all-time high.
WCU's new total student count record of 11,043 comes just four years after the university's total enrollment topped 10,000 for the first time back in 2013. The 2017 fall semester tally represents the fifth year out of the past six that WCU has seen enrollment increases – a track record that bucks a national trend of enrollment declines at colleges and universities across the U.S. since 2010, according to figures from the National Center for Education Statistics.
Total student enrollment at WCU this fall grew by 2.2 percent, up 238 students from last year's total of 10,805. Over the past 10 years, enrollment at WCU has increased by more than 20 percent.
This year's freshman class totals 1,980, also a new record, and the high school weighted GPA of this year's freshman class also sets a high-water mark at 3.83.
The university received nearly 19,500 applications for enrollment in the freshman class for the 2017-18 academic year, with so many commitments from incoming students that WCU had to stop accepting deposits on May 1, which is national commitment day, Chancellor David O. Belcher said.
"This is a dynamic time in the life of Western Carolina University. We are enjoying a period of remarkable momentum. Enrollment is soaring, and WCU has become a destination university," Belcher said. "Not only are we getting more students, but they are coming to campus better prepared academically to meet the rigors of higher education."
The enrollment numbers are from official census statistics compiled by WCU's Office of Institutional Planning and Effectiveness. Although WCU classes began Monday, Aug. 21, enrollment is not official until after the 10th day of classes, referred to as "census day." Even then, the numbers are not considered final until any errors have been corrected and the files have been submitted to UNC General Administration.
Census statistics also show that the total number of students taking classes in Cullowhee increased by 1.73 percent, up to 8,397 this fall from 8,254 last year. Enrollment at WCU's instructional site at Biltmore Park grew 11.48 percent, with 641 students taking classes in Asheville this semester compared to 575 in fall 2016. Enrollment in distance education classes rose by 3.33 percent, to 2,046 students this year, up from 1,980 students last year.
While staff members in the Office of Undergraduate Admissions may be quietly celebrating yet another year of record enrollment, they are not resting on their laurels. Instead, with students at WCU now entering just their third week of classes, student recruiters already are sorting through applications for the 2018 freshman class.
To date, more than 3,600 applications for admission for next fall are in hand, said Mike Langford, director of admissions.
The Office of Undergraduate Admissions encourages prospective students to visit campus, either through attendance at one of several Open House events held throughout the year or by participating in weekday campus tours, to see if WCU is the right fit for them, Langford said.
The first of four Open House events for prospective WCU students and their parents is set for Saturday, Oct. 7. Additional events at WCU are scheduled for Saturday, Nov. 4; Saturday, Feb. 24, 2018; and Saturday, March 24, 2018.
Also, WCU representatives will be going on the road Monday, Sept. 18, through Wednesday, Sept. 20, to introduce WCU to prospective students during evening events in Greensboro, Raleigh and Charlotte. More information about Open House or WCU on Tour is available at the website visit.wcu.edu.