Archived News
Tourism, trade could grow with WNC railroad renaissance
Wednesday, September 27, 2017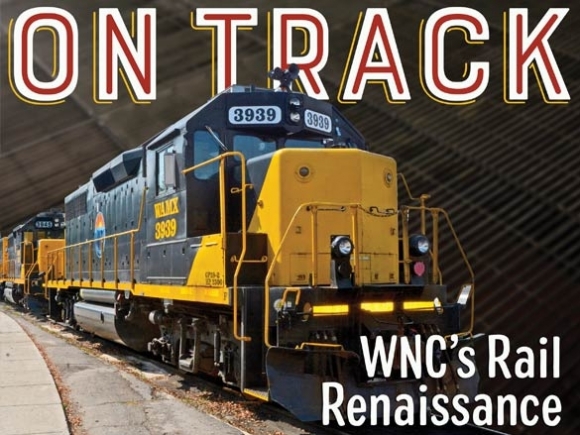 Long before the Oct. 3, 1880, arrival of the first scheduled train in Asheville, the American railroad has been romanticized in both story and song, on stage and on screen.
Trains took us to our baby, or away from our baby. Trains took us off to war, or home to peace. Trains opened vast swaths of the American West to settlement, bringing with them jobs, growth, trade and prosperity while quietly gliding over miles upon miles of cold steel rail.
But, when the last passenger train to leave Asheville lumbered eastward on Aug. 8, 1975, its lonesome whistle marked the end of an era in Western North Carolina.
Although nostalgic feelings for the old Asheville Special still endure, the advent of "just in time" shipping and ever-increasing locomotive efficiency has created a renewed focus on the economic and environmental benefits of ready access to rail networks.
Legislators and economic developers are eager to reap the economic benefits of the industry — as well as its effect on dependent industries and the communities they serve — but as with most things in mountainous Southern Appalachia, challenges with topography, timing and tender must be overcome if Asheville and points west are to see passenger and freight operations get back on track.
The last train from Asheville
When General Electric EMD-FP7 engine departed Asheville in 1975, it took with it more than just passengers — it also took with it a vital link to the outside world for Western North Carolina, which, west of Asheville, quickly becomes rugged, rural and remote.
The Southern Railway's Asheville Special, bound for Salisbury, included a domed coach car that hearkened back to a more lavish, opulent age of American rail while simultaneously offering passengers stunning views of the landscape slowly rolling past the aluminum-framed windows.
But the decline of American manufacturing and the increase in economic stagnation during the 1970s had conspired to make both the domed car and the train itself symbols of a time that had long since passed.
Substantial aggravating factors also signaled the entire industry's impending derailment.
See also: Regional leaders work for rail growth
"There had been a golden age of railroads, but as the interstate highway system developed, railroads began to lose market share," said Paul Worley, former director of the Rail Division of the N.C. Department of Transportation and current vice president of Mott MacDonald, an engineering and development consulting firm.
During the robber-baron era of American railroading in the late 1800s, federal, state and local governments encouraged expansion by liberally granting to railroads huge parcels of land that could be used not solely for trackage, but also for stations, industries or, in some cases, entire towns.
In return, railroads were required to serve those communities, even at an operating loss.
Almost a century later, as boom towns dried up, stagnation set in, long-haul trucking expanded and the entire Rust Belt sank into a slow decline, many railroads could no longer bear the strain.
Communities began to suffer when railroads made service cuts that, as in Asheville, have yet to be restored.
But in the waning days of President Jimmy's Carter's sole term, he signed the Staggers Rail Act of 1980, named for West Virginia Democratic Congressman Harley Staggers.
The Staggers Act dismantled significant portions of railroad regulatory structure, in place since the Interstate Commerce Act of 1887.
"That really began a change in the industry, and it has been very, very good for the industry," Worley said.
Freed from the now-onerous requirement to operate in discord with market forces, railroads became more successful by abandoning unprofitable lines, in turn devastating smaller communities but preserving the core of the nation's rail systems.
With those once-vital lines now hushed, railroads faced three options — sell them, rip them up, or let them lie.
Throughout the early 1980s, local governments fought abandonments, in essence begging railroads to remain.
"I think we went about 0 for 20," Worley said.
A number of Western North Carolina lines were abandoned, in some cases forever; it's estimated that today, more than 60 percent of all railroad track lain in the U.S. is gone.
But N.C.'s Rail Corridor Preservation Act of 1988 granted the NCDOT the ability to purchase railroads and preserve or revitalize critical rail corridors through condemnation.
NCDOT today owns over 100 miles of rail.
The Rail Division of NCDOT, where Worley served as director from 2013 until July 1 of this year, provides technical assistance to local governments and economic development groups to preserve freight and rail service to communities and customers across the state.
Current projects under the oversight of the Rail Division include a capacity-building project from Raleigh to Charlotte, including the construction of Raleigh's soon-to-open Union Station and a maintenance facility in Charlotte.
Further state assistance is also available in the form of the Freight Rail and Rail Crossing Safety Improvement Fund. First authorized in 2014, FRRCSI has provided $16 million in track improvements, $18 million in crossing and signal improvements, and $8 million in rail access improvements.
On a national level, the Federal Railroad Administration's Passenger Rail Investment and Improvement Act of 2014 requires states to compose a comprehensive rail plan every five years.
North Carolina's most recent plan predates PRIIA, and should be updated within the next two years; the 2013 plan lists among its current goals for Western North Carolina preparing the Murphy Branch of the old Western North Carolina Railroad — built between Asheville and Murphy with convict labor from 1881 to 1894 — for increased activity related to agribusiness and economic development.
The little engine that could
Although the Norfolk Southern — successor to Southern Railways, which absorbed the Western North Carolina Railroad in 1894 — closed the Murphy Branch west of Dillsboro in the mid-1980s, it didn't languish long; NCDOT's first purchase after the Staggers Act and under the Rail Corridor Preservation Act was that portion of the branch.
That purchase continues to have economic consequences that endures throughout the region.
"The real game changer was the Great Smoky Mountains Railroad," said Worley of the mostly-excursion carrier now based in Bryson City.
The GSMRR gained trackage rights between Dillsboro and Andrews from the NCDOT, but then purchased the track in 1996.
In 2014, Norfolk sold the Asheville to Dillsboro portion of the Murphy Branch to Kansas-based short line operator Watco, which also in 2014 created the Blue Ridge Southern Railroad.
Canton-based Blue Ridge Southern's largest customer is also one of Haywood County's largest employers, Evergreen Packaging. So close is their association that the BRSRR's office is located practically on the grounds of the century-old paper mill.
"If they need something, they just walk across the street, bang on the door and we service them," said Darl Farris, general manager of Blue Ridge Southern. "Evergreen is a demanding customer, and they have every right to be. We're an integral part of their business. We see them walk to work. We see them go. We hear the lunch whistle blow."
"They're of the utmost importance," said Zeb Smathers, an alderman in Canton where the Blue Ridge Southern Railroad is based and serves its largest customer, Evergreen Packaging. "They've been a great community partner since they've been here."
Watco is the nation's largest private owner of shortline railroads, operating 37. With 93 miles of track in WNC, its BRSRR connects with the NS in Asheville and also serves one of Jackson County's major employers, Jackson Paper.
Around 34 employees work for the railroad; all are based locally.
"We're part of this community," Farris said. "It's a lot more than a business. It's a lifestyle."
Excursion railroads like the GSMR also offer a lifestyle of sorts for rail buffs who travel to the region eager to re-experience — or, experience for the first time — what rail travel might have been like during the days of the Asheville Special, the California Zephyr or the Long Island Cannonball.
David Huskins is the president of Ridgetop Associates and does governmental affairs work for the GSMR; he says that a pre-recession economic impact report by Western Carolina University estimated $46 million in spending related to WNC rail.
With indirect spending in dependent and associated sectors like retail and tourism, that figure swells to $62 million.
Robert Van Camp, creator and producer of the Emmy-winning public television series Great Scenic Railway Journeys, attested to the economic opportunity present in excursion railroads.
"I've been covering this industry for 25 years, and when you combine passenger and tourist railroad operations, the economic impact is tenfold depending on the location and the operator," Van Camp said.
There are over 500 tourist railroad museums in North America; Van Camp said the attractions have experienced tremendous growth over the past quarter-century.
Special events like dinner trains or trips centered around popular entertainment like the movie Polar Express or the television show Thomas the Tank Engine also greatly bolster the excursion industry.
"More than 72,000 people visited the GSMR in 2016," Huskins said. "Those events [like the Polar Express] also happen in the slowest time in tourism here, which helps keep up employment during the offseason."
Excursion railroading is a $2.5 billion industry for operators alone, but the majority of operators are nonprofit groups that rely heavily on grants and volunteers. The average industry margin is just 6 percent.
The 2013 N.C. rail plan lists re-opening the currently unused Andrews to Murphy portion of the Murphy Branch as a mid-level priority with a six to 10 year timeline and a cost of more than $16 million, but Van Camp suggested Watco explore excursion trains on its own portion of the Murphy Branch.
"This industry is huge, and it continues to grow," he said.
Long train running
There are roughly 550 short line railroads in the U.S., with maybe 20 in North Carolina. While these short lines like the Blue Ridge Southern often perform important first mile-last mile service to customers, they still pale in comparison to the so-called "Class I" railroads.
Without these gigantic operators like the Burlington Northern and Santa Fe, Canadian National, Canadian Pacific, CSX, Norfolk Southern and Union Pacific, short lines would be little more than a loose confederation of isolated corridors that don't really connect to anything else.
Class I carriers bear the brunt of traffic across North America; across North Carolina, that traffic is borne by the NS and CSX, meaning that the two carriers have a vested interest in attracting, maintaining and encouraging the growth of local industry.
"Rail business is important from an economic development standpoint," said Jim Van Derzee, director of industrial development at CSX. "Only one in 10 economic development projects requires rail, but the ones that do, really do."
Van Derzee's job is to help industries find and develop rail connections, and there's plenty of opportunity for him to do so. CSX operates 21,000 miles of track across 23 states and the District of Columbia as well as in two Canadian provinces, and has access to two-thirds of the U.S population.
In North Carolina, CSX operates 1,800 miles of track and has major terminals in Hamlet and in Rocky Mount.
When rail-dependent economic development projects come to a community, they're usually of the type that brings high capital investment, a high employment count and relatively high wages.
Such projects, however, need developable contiguous acreage, access to utilities and proximity to interstate highways.
"Railroaders like nice, straight, flat, level land. We don' t have that here," he laughed. "When prospects come looking for a site, you can't say, 'Well, I'll find it for you.' You have to be ready, and the local economic development folks are always the ones who take the lead on finding those sites."
As an example, Van Derzee cited a 350-acre site in Cleveland County, near Shelby, that was the focus of substantial investment and endured many disappointments, but finally landed a major manufacturer and with it that "big fish" many developers spend a career courting.
Norfolk Southern, on the other hand, has been a pioneer in intermodal operations — containerized loads that can move from rails to river to roads to regional airports without repacking.
"We have the most extensive intermodal network in the Eastern United States," said Grant Cothran, manager of Intermodal Development.
With three regional hubs — Atlanta, Charlotte and Greensboro — the NS gives manufacturers that move commodities along its 20,000 route miles in 20 states an important competitive advantage.
Rail transport continues to be the most efficient means of moving freight across land; a ton can travel 450 miles on just one gallon of fuel. It's four times more efficient than trucking, produces 75 percent less greenhouse gases and keeps more than 300 trucks from damaging county roads with their heavy loads each day.
That may be one of the biggest advantages in any nation's rail infrastructure — the burden it lifts from the nation's highway infrastructure.
The American Society of Engineers recently gave the U.S. transportation infrastructure a grade of D-plus; highway demand has reached or exceeded capacity in many areas, producing 7 billion hours a year wasted in traffic and $200 billion wasted in time and fuel.
The ASE estimates that it would take more than $4 trillion just to refurbish infrastructure to meet current demands.
"This system is not without its challenges and we all know that," said Bill Henderson, chief commercial officer of Arrow Materials Services. "We've reached a point in this country where we've kicked the can down the road long enough."
Arrow is in the business of transloading — moving commodities from rail cars to warehouses or other transportation modalities within the nation's transport infrastructure of airports, highways, pipelines and seaports.
"Wall Street is demanding that Class I carriers reduce cost structure and optimize multimodal conveyance," he said. "It's precision railroading."
While fracking and relatively cheap domestic energy have created a supportive environment for U.S. manufacturing and therefore the rail industry as well, the continuing decay of the nation's transportation infrastructure may be what ultimately sidetracks the growth of a robust rail economy in WNC.
In grading that infrastructure, the ASE gave railroads a B, but as with any such system so intricately interconnected, it's only as good as its weakest part.
One of President Donald Trump's campaign promises that may yet see strong bipartisan support is his $1 trillion infrastructure proposal, which would leverage $200 billion in direct federal spending into $1 trillion over the next 10 years.
"Crumbling infrastructure will be replaced with new roads, bridges, tunnels, airports and railways gleaming across our beautiful land," he told Congress Feb. 28.
While Trump's proposal alone may not bring back the days of the Asheville Special, Norfolk Southern's Cothran is nevertheless optimistic about the future of railroading along the Murphy Branch.
"All of WNC is very well positioned to leverage that we've built," he said.