Archived News
Vintage trailers take to Maggie Valley
Wednesday, September 27, 2017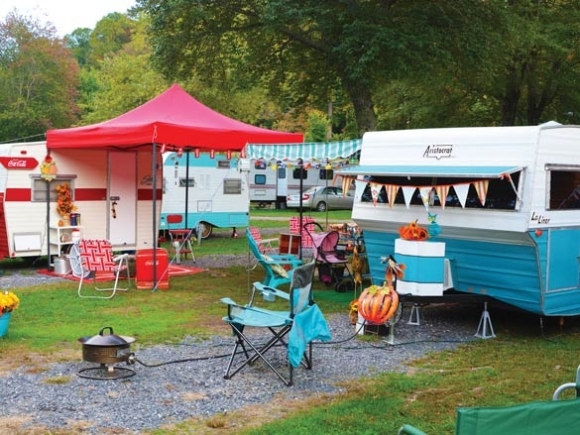 Aloha. Aristocrat. Forester. Shasta. Spartan. And of course, Airstream and Winnebago.
These iconic trailers all monikered with brand names evocative of a spirit of freedom, self-reliance and arboreal relaxation, but in the end of what they all symbolized was a piece of that middle-class American dream peculiar to the postwar period in American history.
That era saw an expanded Interstate highway system offer nearly limitless recreational opportunities to young working families who couldn't afford airfare or a ticket on the Chattanooga Choo Choo, but could afford a small tow-behind with just enough room for the spouse and kids to sleep soundly after a full day of seeing the sights.
Today, vintage trailers are all the rage again; they're affordable, practical and even fashionable, but it's the camaraderie and the nostalgia that keeps these tin-can tourists together, and keeps them coming back to Maggie Valley's Stonebridge RV Resort, year after year.
"We love vintage trailers. It's just a really fun group of people to be around," said Gatlinburg resident Jeff Hale.
Hale and travelling companion Lisa Bernard, of Norris, Tennessee, brought their vintage 1968 trailer to the Soco Road park to participate in the Southern Vintage Trailer Association's "Fall into Vintage" rally Sept. 21.
"The great thing about this group is that when we do our public open houses, all of the money goes to charity," Bernard said.
The event's $5 entry fee allowed patrons access to a few dozen vintage RVs, trailers, campers and other such vehicles, with the money going for the fourth year in a row to local conservation group Haywood Waterways Association.
Haywood Waterways Executive Director Eric Romaniszyn characterized his organization's relationship with the group as "great," and that almost $2,500 was raised by the group this year — money that will be spent on youth education programs like Kids in the Creek.
"They keep coming back, and they like youth education," he said. "Everyone I've met has been super nice."
That amity seems to pervade even the vehicles themselves.
"It's a camper, but it's what she represents — it's freedom, adventure, relaxation, connecting to nature and you get to see a lot of places a lot of people don't get to see," said Jody Bitzenhofer, who with her partner Joanna Payne owns a brilliant yellow can named "Miss Daisy."
"She is a 1968 Shasta 1500 that we basically spent 18 months tearing down to the frame, and then built her up with my father," Bitzenhofer said. "We've taken her across country twice now, 10,000 miles per trip, and once before we rebuilt her."
Miss Daisy was purchased for $2,900 but took another $10,000 to get her into her current immaculate condition; since then, she's been everywhere from Banff to Maine, trips during which Bitzenhofer and Payne may spend up to five weeks living inside.
The barrier to entry for those hoping to experience the lifestyle Bitzenhofer and Payne share with Miss Daisy can be surprisingly low; currently listed on www.vintagecampertrailers.com is a fully restored1961 Trailblazer that withstood over 50 inches of rain during Houston's Hurricane Harvey with no leaks.
Unfortunately its owners didn't fare as well — the pink, orange and yellow trailer was "priced to sell fast" at $12,500.
Bitzenhofer and Payne also take Miss Daisy on about 15 shorter trips from her High Point home each year to regional destinations like Hot Springs, Myrtle Beach, and Jekyll Island.
"We even pull this out of our garage and sleep in it in the driveway sometimes, and have picnics in her," Payne said. "If you're having a bad day, it's a great place to eat dinner."
The interior of Miss Daisy has been lovingly restored to its period glory, including all the accouterments, like dishware.
"Daisy's very sentimental to us," Bitzenhofer said. "She's taken on her own persona. She even has her own Facebook page."
It's iconic, well-maintained trailers like Miss Daisy that draw the crowds that pay the entry fees, said Kimberly Hoke, a Spartanburg resident who serves as a coordinator for the group.
"This our eighth annual fall event, and our platform is to do this for charity," she said of the group, which is not an actual business, charges no membership fee, and doesn't even handle the charity cash. "That stays in the community, 100 percent of it. We never touch the money. It all stays in the community."
The allure, she said, is simple to understand.
"It's nostalgia. It's part of our history. My trailer is a 1969, and I also have a 1948. When you walk in, you take a breath. There's something about it, about stepping back into a time when life was just generally less stressful," Hoke said. "I have people who come in to my trailer, and they'll sit on the couch, and I'll turn around and they'll be in tears because a cup, or something reminded them of their grandfather, their aunt, or whoever. It's not just about a trailer, it's about a whole feeling."