Archived News
Brunch battle brewing in Canton
Wednesday, September 20, 2017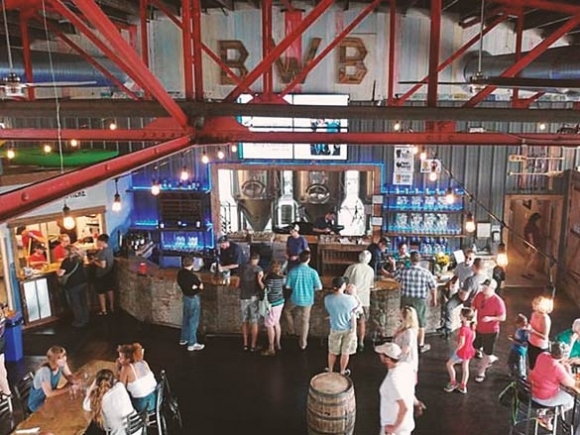 Over the past few years, Canton has made its case as a progressive, pragmatic, scrappy mill town fighting to attract new investments and new residents.
And from the revamped Labor Day festival to the revitalized downtown to even simpler statements like becoming a living wage-certified government that now recognizes the existence of "alderwomen," it's largely been winning that fight.
However, that progressive reputation could be in jeopardy, as what might have been a simple up-and-down vote on a revised brunch ordinance instead appears poised to become a contentious, drawn-out affair pitting religious opponents against economic proponents.
Ready, set, stop
The agenda for the Sept. 14 Canton town board meeting included a proposal to "review and consider" a brunch ordinance for possible adoption.
Things got off to a slow start, however, when Alderwoman Carole Edwards admitted that she'd failed to prepare for the meeting by reading the new state law.
But even before that, during public comment at the beginning of the meeting, Pastor David Vos of Canton Wesleyan Church told the board he wasn't exactly keen on the idea.
"While interested in prosperity, sometimes that value comes into conflict with others," he said, admitting he had struggled with the issue.
The next person to address the board showed no signs of struggling with the issue; Pastor Roy Kilby of Bethel Baptist Church has been one of the area's best-known anti-alcohol crusaders for the past several decades.
"I want to encourage you to vote against this ordinance," Kilby told the board, calling the abuse of strong drink a "scourge" on society."
"In my profession as pastor and minister of the gospel, I come in contact with people who are victims of alcohol abuse. When one starts out, they do not plan to become a victim or cause others to become a victim of alcohol abuse. They're just looking for a good time," he said.
Kilby continued by saying that passing the ordinance would desensitize children to the harmful affects of alcohol because they would likely be present in restaurants where alcohol is sold, and that business owners who avail themselves of the two extra hours on Sunday morning are less concerned with the good of the community, and more concerned with their own personal gains.
Those who support the ordinance, Kilby warned, "become party to those" who are addicted to alcohol.
Seeking to subvert claims that the ordinance might be financially beneficial, Kilby offered an alternative route to a stronger economy.
"I'd rather that Canton be known not as a successful town, but as a good town," he said. "And if we will do that that is good for our community and our families, it will be a prosperous and successful town."
All ears
After Edwards' non-starter, Alderman Zeb Smathers asked for a public hearing on the matter, which isn't required for passage of the ordinance.
"This is one of those great opportunities to hear from the community," Smathers said.
That opportunity won't come soon, but there doesn't appear to be a rush; Canton is home to few bars, and few restaurants serve alcohol.
Nathan Lowe, owner of Southern Porch, said that his restaurant currently opens at 11 a.m. on Sundays, and that there are always people waiting for noon to come so they can order a drink, but he doesn't see opening any earlier if the ordinance passes.
Even the town's newest watering hole, BearWaters Brewing, isn't really poised to pounce on the "brunch bill."
"It doesn't really affect us one way or the other," said Kevin Sandefur, co-owner of BearWaters. "I mean, we open at noon anyway. Maybe we'd entertain the idea of opening earlier."
BearWaters' move from Waynesville to the banks of the Pigeon River in downtown Canton wasn't without controversy, either; Sandefur said that children from the Bethel Christian School across the street had, under Kilby's direction, picketed his establishment in the past.
The brewery's response was to print employee T shirts asking, "What would Jesus brew?"
Such antagonism over alcohol is still typical in Canton; Edwards has made her feelings known on the expansion of alcohol in the past (she's generally against it) and Kilby told The Smoky Mountain News last December that one needs look no further than Asheville to see that alcohol leads to homosexuality.
Canton Mayor Mike Ray has also flirted with conservative positions on the expansion of alcohol in the town.
But most Canton officials — and hopefuls, as the November election draws near — still appear genuinely eager to hear from their community; the rest of the board agreed with Smathers' suggestion to hold the public hearing, which will likely occur Oct. 12.
Two Canton town board candidates that regularly attend Town Board meetings made their positions known should the issue fall to them; neither Mayor Ray nor Alderwoman Edwards filed to seek reelection, and Smathers is running for mayor unopposed.
"Right now, I'm going to have to see what the community says about it," said Carl Cortright, an unaffiliated candidate running for one of two open seats on the board. "Me personally, as a member of this community, I support it, but I'd be interested to see what other people have to say about it. Public comment is a good thing, but it needs to be the complete community, and not just select members of it."
Kristina Smith, a registered Democrat also seeking election to the town board, said that her decision would come down to what happens in the public hearing.
"You're voted into the office by the people, and that's the point of having the public forum — to hear what the public has to say," Smith said.
But on the larger issue of religion and its influence on government, Smith was candid, if circumspect.
"I think it's very important to remember the separation of church and state. And it's Constitution Week, so the irony isn't lost on me there," she said. "I think it comes down to remembering that this is a set of people's values, and they're going to bring that to the forum. But ultimately it comes down to what the public has to say, and if that's where they want to go, they deserve to be heard."