Archived News
Puppy party postponed: Proposed Waynesville ordinance told by board to sit, stay
Wednesday, September 20, 2017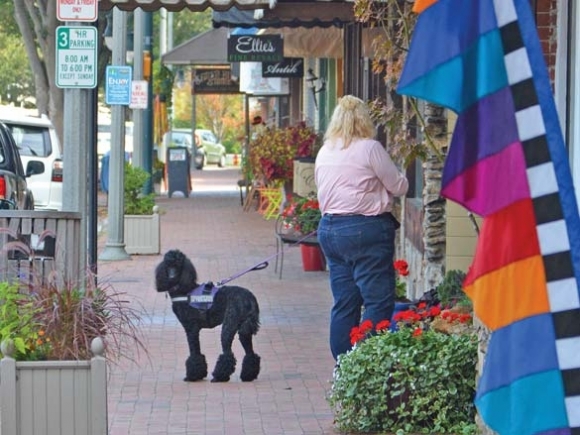 Daytrippers with dogs are driving demand for an amendment to Waynesville's pet policy at fairs and fests, but owners might not get the bone they've been begging for.
Changes to Waynesville's 15 year-old policy — authored by then-Alderman Gavin Brown and current Alderman Jon Feichter's mother, Libba — were proposed at the Aug. 22 Board of Aldermen meeting, during which a public hearing was slated for Sept. 12.
As with a host of potentially controversial matters like NCDOT plan for Walnut Street renovations and the so-called "brunch bill" (see Waynesville brunch ordinance sends message, page 6), Mayor Gavin Brown and the board often entertain an abundance of public input to ensure all have had their say.
When the public hearing concluded, just one person — Country Club Drive resident Kenneth Martin — had spoken on the issue, saying he and his wife were for the changes, which would allow not just dogs but all animals under the physical control of an owner or handler on a leash, chain or other like device to attend the town's increasingly popular festivals.
Mayor Pro Tem Gary Caldwell said he had "no problem" with the changes and said he'd noticed Main Street merchants putting out bowls of water for four-legged visitors; Town Manager Rob Hites said that he'd explored the possibility of converting downtown's decorative water fountains to include a lower basin that would provide the same.
Alderman Julia Boyd Freeman said the public input she'd received was split 50-50, but she expressed concern for families travelling with animals and appeared to be in favor of the changes.
Alderman Leroy Roberson, however, said his concern was that animal waste would become a problem.
Jon Feichter — apparently conducting an experiment in governance via Facebook — said that just as in the case of the brunch bill on whether to sell alcohol in restaurants before noon, he'd posed the question on the popular social media network.
"As much as I hate to say it, because I am a dog person, I have to oppose this," he told the board.
Feichter spent the rest of the hearing interjecting with potential compromises, like partnering with an animal services organization for pet sitting services, or designating some — but not all — events as animal-friendly.
With Caldwell and Freeman for but Roberson and Feichter against, the rare circumstance during which the Mayor of Waynesville casts a tie-breaking vote might have occurred; what did occur, though, is a succinct summation of how Gavin Brown carries out the duties of that office.
"I have a feeling this is going to pass right now," said Brown, a Main Street resident who can be seen walking his small dog several times a day, each day. "But I'd rather have a 5-0 vote than a 3-2 vote."
In tabling the matter, the board then directed town staff to look into the practices of other municipalities.
But if the board utilizes any of the best practices implemented in neighboring municipalities, a loosening of the existing ordinance is far from assured and a 5-0 vote that makes everyone happy may not be possible.
"There are some rare exceptions, such as if the event is related to supporting animals, like the Halloween charity dog costume contest or something like that, but as a general rule, unless the event has some reason animals need to be involved it's common sense that our standing policy is no pets at special events," said John Fillman, an economic development specialist with the City of Asheville.
Asheville has even produced a 28-page special events guide outlining the rights and obligations of festival organizers and attendees; within it is an elaboration on the city's pet policy in the form of a short YouTube video published in 2010.
"The environment at a festival is very active, very crowded — a very high-stress environment for a pet that a pet can't possibly understand," says Brenda Sears, an Animal Services Officer with the City of Asheville who appears in the video.
The video further states that because of asphalt heat, dropped food, tripping hazards and noise concerns, pets just aren't a good idea at festivals.
"We assume they're enjoying it as much as we are, but actually it can be painful to them," says Dr. David Thompson of the Animal Hospital of North Asheville in the video. "I think a lot of the noise that's just inherently part of a festival is not good for pets."
South of Asheville, Hendersonville has a policy more reflective of the type of solution Feichter seems to be after.
"We originally prohibited animals at festivals and didn't allow them at all," said City Manager John Connet. "Now, we allow it based on the event sponsor. The event sponsor has the choice to allow animals if they so desire. If they do not, they are required to hire off-duty officers to enforce it, if our officers aren't already involved."
In Sylva — home to the annual Greening up the Mountains fest — dogs are welcome, but the issue has been broached in the past.
"The only thing we have on animals in our ordinance is a leash law, probably from around 2012," said Paige Dowling, the town's manager. "Around the time of Greening up the Mountains, the town considered not allowing dogs at festivals. It was controversial and it was tabled, and hasn't been brought back up since."
Possibly as a result of the town's welcoming stance, the presence of animals isn't shrinking.
"We are seeing more and more dogs at festivals, and at Concerts on the Creek," Dowling said. "There's definitely a trend with millennials wanting to bring their dogs to festivals, and also empty-nesters."
Franklin's policy is similar to that of Sylva; as such, it may be generating more concern and, consequently, potential changes in puppy policy.
"Yes, that may be something that we look at sometime, because we've had some complaints, particularly about big dogs at Pickin' on the Square," said Franklin Mayor Bob Scott. "But those have been just isolated complaints."
Scott, like Waynesville Alderman Caldwell, has also seen merchants in his town's quaint retail district welcoming dogs by placing water bowls outside their shops.
"I'm a dog lover, and I just haven't seen that there's any problem," Scott said. "Maybe three complaints in three years, so I don't consider that there's been any problem at all."