Archived News
WCU rededicates Brown as newest dining facility
Wednesday, September 20, 2017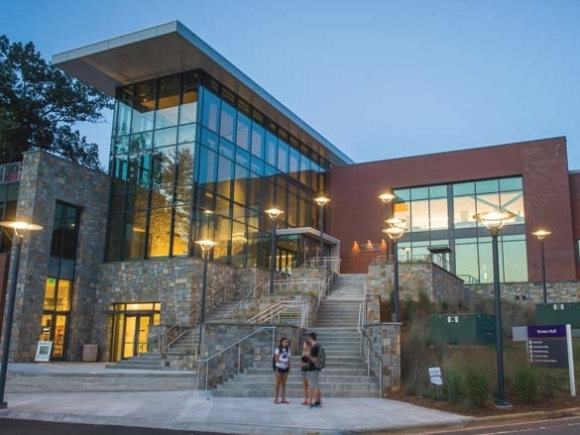 With a steady stream of hungry students filing by in search of dinner, members of one of Western Carolina University's founding families gathered Thursday (Sept. 14) to take part in the official rededication of a renovated campus building originally named for one of their kinfolk.
Relatives of Frank H. Brown, a longtime faculty member whose name was bestowed upon a then-new campus cafeteria some 57 years ago, joined university officials and representatives of WCU's food service partner for a ribbon-cutting ceremony at what is now Brown Hall. The expanded structure of brick and native stone, which opened in time to begin serving meals to students this fall semester, was constructed upon the bones of the 1959 original building.
After undergoing a $22.5 million renovation and expansion, the structure is today home to modern student dining facilities, a convenience store and offices for the departments of Residential Living, Campus Services and Student Community Ethics.
Before wielding a pair of oversized scissors and calling members of the Brown family forward to help cut a purple ribbon, WCU Chancellor David O. Belcher reminded those in attendance that the Brown family has been associated with WCU from its earliest history as an institution.
Frank Brown's father, R. Hamilton Brown, was one of the "Noble Nine," the group of trustees from the late 1800s who worked with founder Robert Lee Madison to create the school that evolved into WCU, while his son, Frank Brown Jr., twice served as acting president of the university in the early 1970s.
And Frank H. Brown himself was among the original 18 students to enroll in the fledgling school, going on to earn bachelor's and master's degrees in science at N.C. State University. "He returned to his home in Cullowhee to serve, with distinction, as a professor of chemistry from 1908 to 1950 — 42 years of devotion to the cause of education and 42 years of service to the school that he and his family knew, loved and nurtured," Belcher said.
"As Western Carolina University embraces its forward trajectory and prepares to welcome the students of today and tomorrow, it will be the touchstones to the past, like Brown Hall, that remind us that we stand on the shoulders of those whose service we must honor and remember," he said.
Dining operations moved out of the structure in 2010 when Courtyard Dining Hall opened its doors in the central campus area, but the continuous increase in student enrollment since then has created demand for additional food service venues.
The hall boasts a mountain retreat-style dining setting called The Lodge and a food court with up to eight service stations offering complete meals; a stand-alone full-service Starbucks; and the first Steak 'n Shake west of Asheville. Brown Hall's features include an exterior fire pit and water feature; a large, two-sided fireplace; wooden ceilings and giant community tables made of reclaimed wood; and a rooftop terrace offering outdoor dining.
Scott Lamond, resident district manager for WCU's food service partner, Aramark, said the company was eager to invest in the renovation of Brown because the company realized the impact the building would have on the overall campus experience for today's students and the role it would play in attracting the students of tomorrow.
"This past weekend, we had some coaches touring athletes and parents through this building, and I will tell you, the moment they stepped through the doors, their eyes lit up and I think the decision was already made where they would be going. That was the 'wow' factor we were looking for as a recruiting tool for the university," Lamond said. "I cannot tell you how many times I have heard while giving tours 'this is not the Brown Cafeteria that I ate at.'"