Archived Opinion
Questioning the relevance of Confederate statues
Wednesday, September 13, 2017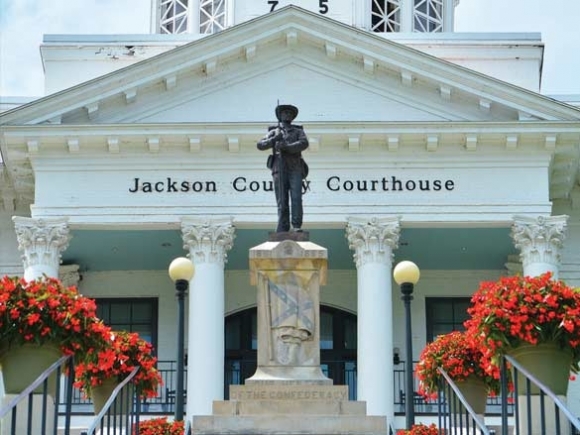 By the faculty of Western Carolina University's Department of Anthropology and Sociology
Recent events in Charlottesville, Virginia, demonstrate the inability and unwillingness of the U.S. to deal with issues of race and racism. When neo-Confederates, neo-Nazis, the Ku Klux Klan and other white supremacist groups freely assemble to promote not free speech but violence in the face of a Confederate statue being removed, we must question the purpose of these monuments in our communities.
While Gov. Roy Cooper has called for the removal of these monuments pending an analysis of cost and logistics from the Department of Natural and Cultural Resources, that indefinite timeframe is not good enough. Monuments and memorials to the Confederacy should fall throughout the South, including the one on the steps of Sylva's old courthouse. Yet, in 2015, the N.C. Legislature and then Republican Gov. Pat McCrory signed into law what effectively amounted to a ban on removing Confederate monuments in our state. That was a mistake that should be corrected immediately.
The timing of the bill, passed on July 20 and signed into law on July 23, is telling. On July 10 of that year, South Carolina removed the Confederate battle flag from its statehouse grounds 23 days after Dylann Roof murdered nine black people as they prayed in church. Calls for South Carolina to remove the Confederate flag from statehouse grounds were made when numerous photos of Roof with the Confederate flag surfaced after the massacre. Despite the inevitable backlash throughout the South, including Sylva, then South Carolina Gov. Nikki Haley succeeded in removing the flag. So why would North Carolina (and recently Alabama) move to ban the removal of Confederate memorabilia from public places, which has occurred in New Orleans, Baltimore and elsewhere?
The long answer is rooted in a past we often forget, are not told or do not care to remember. We often are told that Confederate monuments are about "history," "culture" or "identity." We are told that we would be losing or forgetting something if we remove these memorials. We are told that, because no one alive today was involved in the Civil War, bringing attention to these monuments only further reinforces racist ideas of the past. On the surface, these all seem like rational and compelling arguments.
Yet beneath these surface arguments there also is a history of how these monuments came to be and why they stick with us. We must first and foremost recognize that the history, culture and identity we speak of is about the causes and consequences of the Civil War. In the years after that war, the South embarked on a rewriting of its history that plagues us still today. In that revision of history, we encounter narratives of Northern aggression, states' rights, just causes, valiant rebellion, benevolent slave owners and loyal slaves. So pervasive have been these narratives that few even challenge them or see them as a problem.
However, historians are in agreement that the Civil War was fundamentally about slavery. Most notably, the 1861 Cornerstone Speech by Confederate Vice President Alexander Stephens openly explains that the Confederacy was founded on African enslavement and that this was justified because of their racial inferiority to the white man. Edward Baptist, author of "The Half Has Never Been Told," explains that, contrary to popular belief, slavery was not about to die out when we went to war with ourselves. Instead, Southern slave owners were looking to expand slavery into new territories and extend their slave-owning rights into Free States. Somewhat ironically then, it was Northern states that felt they needed to protect themselves from the aggressive efforts to expand slavery into states that had abolished it. This is why the Civil War was fought, but at the base of it was a fear in the North that slavery would eventually expand to poor and working class whites.
Now, how do you have whites fearing slavery in the North and whites, most of whom did not own slaves, fighting for slavery in the South? We assure you it was not for the full equality of African-Americans, as many Northern states were curtailing the rights of free blacks. Instead, we might look toward what sociologist W.E.B. DuBois calls the "psychological wages of whiteness." DuBois explains that, during the time of slavery and after the Civil War, even the poorest whites gained status and privilege from the social position of black Americans.
This meant that poor whites still had access to things like schools, jobs, public office, voting rights, gun rights, police protection and public respect in general. It meant that, even though slave labor undermined wages for Southern whites, they could still aspire to become wealthy slave owners. For DuBois, whiteness was not about race per se but rather it was a form of payment, privilege and power over those who were at the bottom of society — African-Americans. For Northerners, this means that the fight was about a fear of eventually being in the status of a slave (African-American) For Southerners, it was about maintaining power and economic control over black Americans. These are two sides of the same anti-black coin.
After the Civil War and the short period of Reconstruction, the South engaged in what can only be called a rewriting of historical events. It is in the late 1800s and early 1900s when we see the aforementioned arguments supposedly validating the South's position in the war emerge. Douglas Blackmon, author of "Slavery by Another Name," explains that from 1900 to 1920 movies such as the original "Birth of a Nation," books such as "The Leopard's Spots" and plays such as "The Clansman" contributed to a rewriting of Southern history. Items such as these valorized the Confederate cause, espoused notions of maintaining white purity and provided fuel to the effort to remove the rights of black communities after slavery through Jim Crow laws.
It also was during this time that memorials and monuments to the Confederacy arose — Sylva's was installed in 1915. In such an environment, violence against black communities became commonplace, and more than 4,000 African-Americans were lynched throughout the 1900s. Many black communities throughout the South, Western North Carolina included, were forced to move elsewhere. These monuments were not an attempt to educate us about the causes of the Civil War, but rather to miseducate us. They represent the reassertion of white supremacy against the gains of Reconstruction. Few, if any, of these monuments declare that the so-called Lost Cause was morally wrong or even what it was actually fought for. Reading the inscription on Sylva's monument, you might think that it was white Southerners who were enslaved. More to the point, they make normal a skewed version of history that prevents us from creating communities that can be accepting to increasingly diverse populations through our own ignorance.
Confederate monuments are used by politicians today in the same way they were used more than 100 years ago. They are used to push racial and class divides amongst people who might otherwise find common ground. They normalize a status quo that benefits those who have benefitted and continue to benefit the most, while perpetuating myths that make those at the bottom think they really can make it to the top. This is why we are told we must build walls, create bans, deport, punish, incarcerate, and enforce law and order all on or against our fellow human beings.
We are told these things by both of our political parties to varying degrees. This is why those who are most subject to these policies keep protesting and demonstrating. These groups are not in power, pass no laws and yet nevertheless they persist in trying to tell us, all of us, decade after decade what must be done to make our society a truly just one.
In Sylva, we do not have the racial diversity of other towns, and that may make it seem as though this argument does not matter, but it does. What we memorialize in public spaces tells people what we value. It matters because when we are ignorant of the past we are likely to arrive at poor moral decisions, and these decisions have implications for violence, both physical and psychological, in our country. It matters because these are questions of being clear about where we have been as a community, state and nation. And it matters because our collective future is only as bright as we can face and address these realities. We should not let a bad law stop us from doing what is right.
This column represents the shared opinion of the 17 faculty members in the Department of Anthropology and Sociology at Western Carolina University.