Archived News
Political climate makes future uncertain for aspiring dentist, DACA recipient
Wednesday, September 13, 2017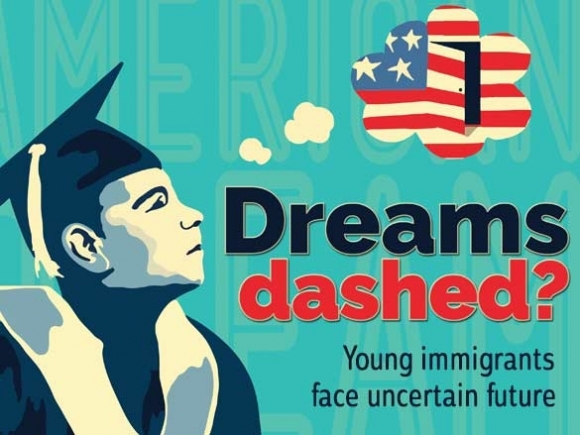 At 21, Teresa Luna holds two associate's degrees, a freshly minted diploma in dental assisting from AB Tech and dreams of one day becoming a dentist. Add in the fact that she's been full-time as both a student and an employee for the past two years, and it's safe to say that Luna is the epitome of the self-motivated achiever.
SEE ALSO:
• The clock is ticking on DACA
• Teenage DACA recipients call America home
But Luna is also an immigrant, having made the dangerous illegal crossing from Mexico as a child and applied for the Deferred Action for Childhood Arrivals program when the Obama administration created it in 2012. Now, the program is on the chopping block, and Luna is worried about what that could mean for the future she's worked so hard to build.
"A full-time job plus being a full-time student, it's a lot," Luna said. "I feel like I worked really hard for it, and knowing that it could end and then what am I going to do — this is already home, basically. I don't know anyone back in Mexico. I don't know if I could find a job in my field over there."
Luna was in the middle of her fourth-grade year when she and her older sister left their hometown in Mexico to meet their parents in the United States, one year after an unsuccessful first attempt at the border crossing. Ushered by one of the human smugglers known as coyotes, they walked through the desert for two weeks straight, running out of food and water toward the end.
"We walked day and night," she said. "You only slept for two hours maybe the most. Then you get up again and walk until you rest for five minutes, and then you have to get up because you can't stay in one place for a long time. I remember being so tired that I was just walking through cactuses, so I was full of little thorns."
It was hot during the day and freezing at night, and when they finally made it across the border to the house that was to shelter them until they left for Tennessee, the homeowner's neighbor called to threaten alerting the police. So they had to move again.
"They had to load us into a dumpster truck at night and lay us flat, and wherever the truck ended, they had to start a new layer of people," she said.
Conditions in the next house were terrible — the food was awful and the living space was infested with biting bugs. But, perhaps the most difficult moment of the journey came days later, when the van dropped Luna and her sister off at the rendezvous with their parents in Tennessee. Luna had never met her dad before, or her two sisters who had been born in the U.S. In this world of the unfamiliar, even the faces that were supposed to be her anchors were those of strangers.
"My mom left when I was either 4 or 5, and she left with him (Dad), so they did send pictures, but that time I was mad because why do you want to leave your kids behind and go to a different place?" Luna said. "When we got to the point where we were going to meet them, they asked me if that was my dad, and I was like, 'I don't know. I don't know who that is.'"
Adjusting to America
It was a hard transition, learning to live with her parents and younger sisters for the first time. Luna battled loneliness, her friends in Mexico far away. And when she started school — fourth grade — she had to somehow learn curriculum that was being taught in a language she didn't know at all.
"It was scary," she said. "The teachers and everyone was talking, and I was just sitting there like, 'I have no clue what's going on. What are you guys talking about?'"
She got some help from a couple kids in school who spoke Spanish, and the teacher, who Luna described as an "amazing person" set her up with Rosetta Stone in the computer lab and a student helper to drill flash cards with her. Fifth grade was a lot easier than fourth, and at the end of sixth grade Luna faced the state End-of-Grade Test for the first time — after being exempt for the first two years, she would now be tested on everything a native-born American sixth-grader would be expected to know.
She passed them all, even the reading test. Her proficiency grew throughout middle school, and then she applied for — and was accepted to — the Haywood Early College. The DACA program was created in the midst of her time there, meaning that she could actually receive an associate's degree in return for her work. Afterward, she set her sights on step one of her dream to become a dentist — a diploma in dental assisting.
"I would love to work with kids with cavities, and I want to raise more awareness in the Hispanic community, because I feel like there's not a lot of awareness," Luna said of the reason for her interest in the career. "Mexico, the first time I went to a dentist was when I was like 8, and dentists don't go to schools quite often … I just want to help people."
For Luna, however, helping people in that particular way will prove quite expensive. DACA doesn't allow her to get in-state tuition or federal student loans — her attendance at AB Tech cost $4,500 per semester. In preparation, she got a full-time job at Haywood Vocational Opportunities in her last year of high school, attending classes in the mornings and then working 3 to 11:30 p.m. each night, studying afterward until 3 a.m. or so. When she began the AB Tech program, she got a production job at Giles Chemical instead, working 5:15 a.m. to 7 p.m. Friday through Sunday and attending school Monday through Friday.
"It was really hard, but I had to do it," Luna said. "There was no other way."
Fear for the future
The sleepless years of work and school were just building blocks in her brick-by-brick plan for the future. But the recent uncertainty surrounding the DACA program has poked holes of fear and distress in that hope-fueled dream.
"I don't even know what to say, really," Luna said. "I'm just really upset about it."
Since DACA came back into the news, she said, anti-immigrant rhetoric has popped up more frequently on her Facebook feed. The comments aren't directed at her personally, but she's found them disturbing all the same.
"It's that fear that you have working with people like that, because you don't know what they're going to do about it," Luna said. "What if they call the cops on you, or ICE on you? You're not safe."
She bristles at many of the popular talking points from people opposed to DACA — that DACA kids are taking American jobs, or freeloading off of American taxpayers. Of the 20 people who started with her at Giles one year ago, she said, 18 of them have quit already. She gets taxes taken from her paycheck and has to pay a $500 renewal — plus lawyer fees — every two years for her DACA renewal. Tuition is always out-of-state, even at a local school in the region where she's lived for 11 years, and no financial aid is available.
The Luna family — which includes her parents, two Mexican-born sisters, three American-born siblings and her sister's two American-born children — has been in close discussion about what to do if DACA ends and the personal information they've willingly given the American government leads Immigration and Customs Enforcement to their door. Would they all go back? Would they leave the American-born kids behind somehow so they could pursue opportunity here?
They've decided that if something happens, they'll all go back, even the American-born children. The family wants to stay together, and besides, how do you leave your 6-year-old behind with no hope of ever seeing him again? For the kids, Luna said, neither choice would be fair — either they grow up without their parents or they grow up without the privileges their American birthright should give them.
"It would be really hard for them if they have to go back," Luna said. "I hope they don't."
It would be hard for her, too. She would love to go back to Mexico, but only to visit — not to live. Now, her life is in America. Her family is in America. Her dreams are in America. After building her future based on the opportunities here and the promise of DACA, all she can do is wait while Washington, D.C., decides what her future holds.