Archived News
Main Street shuffle: Businesses move in, out of Waynesville core
Wednesday, September 13, 2017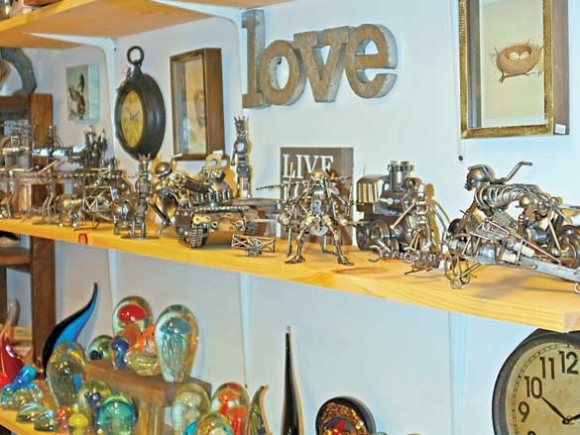 Waynesville's popular Main Street shopping district has seen some changes over the years, and as time goes by, everyone from retailers to restaurateurs have moved in, moved out and moved about the strip.
But as some move in seeking the increased foot traffic and increasingly festal atmosphere of the district, others move out citing high overhead and low benefit of the town's Municipal Service District.
"We were looking for somewhere with more walking traffic than we have here, because we have almost none," said Allison Lee, co-owner of Blue Ridge Books at 152 South Main Street since 2007.
Although located in the MSD — which, under the auspices of the Downtown Waynesville Association collects an extra 50 percent in property taxes from property owners and uses the money to both market and revitalize the area — Blue Ridge Books doesn't really benefit from it, according to Lee. The store is located outside the main shopping district — which for the most part ends where Main Street intersects with Church and East streets — and thereby misses out on the majority of foot traffic.
"I don't know that we particularly gain very much for that," Lee said. "I don't know that I can name ways that this tax has helped us. But if the street is closed for a festival people don't venture out, and most of our local customers — which we do have — don't want to be downtown in traffic. So on what is a busy festival day, our business will drop 30 to 40 percent. We just don't benefit from those types of things in the downtown area."
Beginning Nov. 1, the bookstore will seek new digs in Hazelwood — outside the MSD — and will hopefully be open by Dec. 1.
The MSD and its higher overhead isn't the prime reason Lee and co-owner Jo Gilley are making the move, but it's certainly part of it.
"Hardwood floors," Gilley laughed. "All bookstores should have hardwood floors."
Blue Ridge Books' new space — located in Hazelwood at the corner of Hazelwood and Brown avenues — was once home to a bank and, most recently, Anastasia's Ales.
"There's really good visibility because those avenues are pretty busy," Lee said. "It's slightly smaller, but we are not going to be doing the coffee and snacks and the large seating room. There will be chairs scattered around, but everybody is welcome to go to Smoky Mountain Roasters — which is next door — and grab a cup of coffee and come on over."
Lee said that the Town of Waynesville's recent effort to repave, enlarge and decorate the Hazelwood parking lot was a big influence on their decision.
"We were looking for walking traffic, parking and to reduce our overhead. We're kind of a part of downtown Waynesville, but not really. We don't get traffic and business very much from there, but we were worried that if we moved there [closer to the heart of the strip] that we would sacrifice parking."
The owners of another local business not far from Blue Ridge Books cited similar geographic challenges and are also making a move — or, more accurately, an expansion.
"We did feel that we were missing a bit of the tourist market, so we opened that new location, also to drive more traffic up here," said Gabriel Munoz, who with Jose Gonzalez has owned Main Street Mercantile at 101 S. Main Street since November, 2015.
"Waynesville's always been on the map for us," Munoz said. "Back 15 years ago, we came to this area and fell in love with it, and felt that this is where we needed to be. We tried to have it all come together, literally from Dillsboro to Black Mountain, but it just wasn't happening."
Over Memorial Day Weekend, Munoz and Gonzales opened J. Gabriel Home and Gifts in the heart of the strip at 62 N. Main Street, just blocks from their existing shop.
Munoz thinks that despite not realizing much foot and festival traffic at MSM, his business does benefit from the DWA's efforts.
"Absolutely," he said. "Nothing hurts. It all helps. The more tax dollars we can bring in, the better it will be."
Gail Guy works at both of Munoz's stores.
"It's been very good," Guy said. "We've had a lot of people downtown, but you'll see a lot more when the festivals come up."
Returning visitors to Main Street might be surprised to find local watering hole The Tipping Point closed, but DWA Executive Director Buffy Phillips said there's been plenty of interest in the space and she doesn't expect it to be vacant for long.
She also said that the space formerly home to Antik — an antiques and furniture store — won't be vacant for long, either; the shop is expected to reopen soon in the same space.
And as for Anastasia Ales — the Hazelwood brewing shop soon to be occupied by Blue Ridge Books — the owners plan to bring the Main Street shuffle full circle when their Blue Ridge Beer Hub opens soon at 4 N. Main Street.
That's the space upstairs in the building at the corner of Main and East streets.
But one lingering vacancy — just outside the MSD — still shows little sign of progress: the former Walker Service at 136 Depot Street, just down the hill from Tipping Point, remains empty despite its prominent, highly visible location connecting Main Street with Frog Level.
Despite the "for sale" signs being removed from the property last month, property records from Haywood County show no change in ownership.