Archived Arts & Entertainment
Disconnected from a connected world
Tuesday, September 12, 2017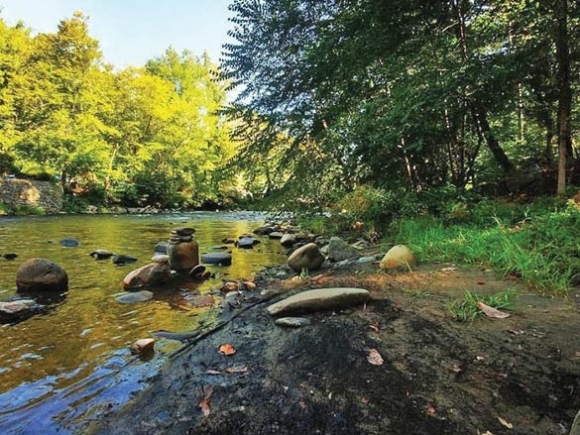 Ugh.
The moment my girlfriend handed over my soaking wet smart phone, a shiver of isolation ran up my spine. That's the last time I try to sneak a water bottle of cheap domestic beer in her purse into a bluegrass show, let alone have my phone also in said purse for "safe keeping."
I dried off the device with my shirt and held it in my hand, trying to make sense of it, racking my brain for whatever technological knowledge I may (or may not) have acquired along the journey of life. The phone flickered on and off, with the screen ultimately going black for the better part of last Saturday afternoon.
As a journalist, and one who specializes in arts and entertainment for an entire region, my job — and life (like a lot of y'all out there, too) — revolves around these small handheld devices, our lifeline to the outside world, to friends and family. When it craps the bed, now what? Back to the Stone Age? Back to our lives pre-2007 (launch of iPhone)?
After a couple hours of figuring out the next step with my phone, whether to replace it (a costly endeavor) or track down the extensive insurance policy I supposedly have, it was decided to just enjoy the weekend and "deal with it" come Monday morning.
With the rusty, musty pickup truck aimed for Cherokee on Saturday evening, I kept subconsciously reaching for my phone in my center console. It wasn't there, though it always was before, where I would constantly grab for it to check messages from my publisher, news editor, fellow journalists, or folks in community trying to reach me about an upcoming event or question about a current new story. Not to mention the usual barrage of messages from my parents, sister, young niece and old friends way back up on the Canadian border.
That night, legendary rock act Foghat was to take the stage at the Cherokee Blue Ridge Run at the Cherokee Fairgrounds. My girlfriend and I had (at the last minute) been able to book a campsite nearby amid the overflow of out-of-towners from Florida escaping Hurricane Irma (let alone the thousands of bikers looking for lodging, too).
At the campsite, atop a river bank within an earshot of the fairgrounds, I felt awkward without my phone to check messages or to take a photo and post it of our picturesque view and outdoor getaway. I even wanted to take a photo of my beer can on the picnic table with the flowing river in the background (#PabstBlueRibbon #GreatSmokyMountains #LifeOfAJournalist).
Heading into the Foghat show, I got up right next to the stage, as close as I could, to see and listen to one of my all-time favorite rock bands. It was surreal to watch these four guys (some probably grandfathers) rockin' out, a tight and loud ensemble that never once came across as a nostalgia act. I kept wanting to reach for my phone to capture the moment, maybe even record the sound as it happened, but my pocket remained empty, the phone back at home, taken apart and trying to dry out.
About halfway through the performance, that "urge to capture" subsided, where I found myself simply enjoying the moment for what it was — a moment in time. And not trying to record or cover the spectacle, as a fan and as a journalist. I was there, truly part of the scene, just like I (and most of you readers) used to be, before smart phones and the inundation of digital technology in the 21st century.
Come Sunday morning, the thought of rolling over and immediately reaching for my phone had all but vanished from my body. I got up, cleared the campsite, found breakfast, and motored down to Brevard for the Mountain Song Festival. I hadn't missed out on anything, seeing as where I currently was — camping, live music, etc. — was where I wanted to be, and in full attention.
Grabbing a seat in the backrow of the Brevard Music Center, I settled in for a special 50th anniversary show by the Nitty Gritty Dirt Band. The genre-bending country/bluegrass group took their positions onstage and kicked off a mesmerizing rendition of The Byrd's classic "You Ain't Goin' Nowhere."
I sat there, captivated by these legendary musicians, and didn't care who in the grand cosmos knew about it, or the fact that I was there, or if they'd "like" the post or "share" it, because it was my moment ("our" moment to those also in attendance), as I tapped back into my primal sense of being "present" for the present, you know?
It's now Monday afternoon, and though I had initially wanted to take care of the phone issue this morning, I've yet to leave my desk and head for the Verizon store. I don't have an urge to get there as fast as I can to get back "on the grid."
I want to submit this column to my publisher, head to the nearby gas station, grab a six-pack, relax into my recliner, and listen the sounds of raindrops and wind from Irma outside my window, the melodic words "I don't care how many letters they sent / Morning came and morning went / Pick up your money / And pack up your tent / You ain't goin' nowhere…" spilling out of the speakers.
Life is beautiful, grasp for it, y'all.