Archived Outdoors
Team Ruebel hits the trail: Hiking is a bonding force for father-daughter duo
Wednesday, September 06, 2017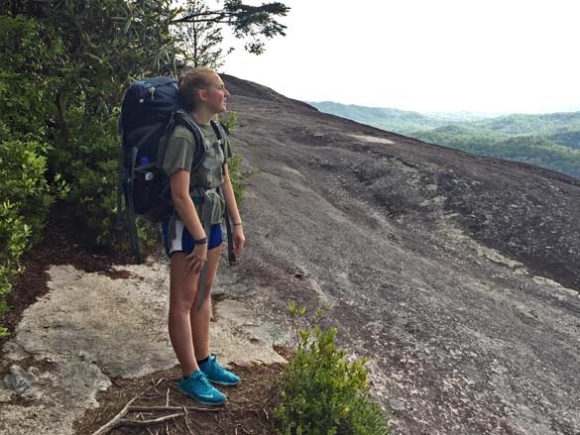 Once Jay Ruebel started seeing the billboard, which advertised the 28.3-mile Trailblaze Challenge hike, it seemed like he couldn't stop seeing it.
Jay likes challenges, and he knew who he wanted to conquer this one with — his 16-year-old daughter, Gracie. Jay's wife and other daughter both enjoy short hikes, but Gracie's the one who's into long excursions and multi-day treks. It's how they hang out.
"In the last year or so she and I have not hiked so much together, which is part of the reason why when I saw this I immediately thought of her," Jay said. "I also thought, 'How cool would this be to spend the whole day hiking with your daughter?'"
So, he went to an informational meeting and then pitched the idea to Gracie.
Getting ready
It was an easy sell. Gracie was excited about both the hiking and the cause. The event raises money for the Make-a-Wish Foundation's work granting wishes for children in Western North Carolina who have life-threatening illnesses.
"I have no idea what I want to do in college or a career and I think I've narrowed it down to something with nonprofits. So when I found out there's an aspect related to Make-a-Wish — a nonprofit — I thought that was awesome," Gracie said.
However, the pair — registered as Team Reubel — soon found they'd have to do more than just hike. Participation requires each person to raise $2,500 for the foundation, so Jay and Gracie have to come up with $5,000 between them. Neither of them is that concerned about being able to complete the hike — fundraising is the more daunting task.
So far, they've mostly just been circulating their fundraising page among friends and family on Facebook, but the father-daughter team has an action plan now that the summer season is over — they're hoping more local businesses might be willing to consider a donation with a lull in the tourist rush.
"I've always been sort of introverted and don't want to go around asking people for money, but then you're like, this is for a really good cause. The kids are specifically just Charlotte west and we're going to hike this 28 miles as our part of it," Jay said. "I think a lot of people when they hear that, they're willing to contribute something."
On the physical side of preparations, both Jay and Gracie are pretty active people already — Gracie's a member of the dance team at Triple Threat Performing Arts Academy in Sylva and Jay regularly runs 10- and 11-mile routes. But this fall they're hoping to fit in as many weekend hikes as possible before the big day Oct. 14.
They're both feeling confident.
"I've done four days in a row of averaging 12, 13, 14, 15 miles a day with a full backpack on my back, and that was fun and I liked it and I really didn't want to stop," said Jay. "And yes, this is 28 miles but I'm not going to have that (backpack) and the atmosphere is going to be very celebratory."
"It's so much of a mental thing, hiking, and just being in that kind of atmosphere will just push you to completing it," Gracie added.
Shared love of the trail
Hiking is an important part of life for Jay and Gracie, but the two are relatively new to the sport. Five years ago they were living in suburban Texas, far away from anything resembling a mountain.
"If you had told me six years ago, 'You'll be living in North Carolina and hiking multiple nights in the woods,' I would be like, 'No, I'm not. Why would I do that? I don't have to do that and why would I do that?'" Jay said. "For whatever reason I just consider it fun."
It's beautiful and peaceful in the woods, and it feels good to disconnect from the wired world. Life is simpler there, and the physical challenges are rewarding.
"I never really saw extensive amounts of nature, and so when I moved here and I saw mountains and all this, I had a whole reality check on outside and how beautiful it is," Gracie said.
"If we can do something like that, just the two of us, we enjoy it," Jay added. "It's not work. You're outside, you love nature. We love to explore, push ourselves. It's just nice to be able to share that with my teenage daughter."
They've done father-daughter trips together, and Jay's also gone along on Gracie's trips with Wilderness Trail, a summer backpacking ministry headquartered in southwestern Virginia. Put together, those experiences have given the two a unique understanding of each other, an insight into what makes the other tick that they might not have earned through off-trail experiences.
"Gracie is very determined," Jay said. "I remember hiking once where she had a new pack and we hadn't exactly fitted it properly, and she was getting blisters. The parental side of me was trying to get her to stop so we could take if off, and she wanted to keep going. I could see how much pain she was in with each step, but she wanted to keep going."
"I'm just very proud that she's my daughter," he continued. "It's very cool to have those experiences with her, because a couple years from now she'll be in college."
For her part, their hiking adventures have helped Gracie to know her father beyond his role as a parent or authority figure. In particular she thinks of a two-night hike they did along the Appalachian Trail in the Great Smoky Mountains National Park and a conversation they had with a German man who was thru-hiking the 2,190-mile trail.
"He wanted to know all about our government and how it was set up, and it was interesting listening to my dad having that conversation," Gracie said. "I learned more about his beliefs and interests."
Also, Gracie said, off-trail her dad can be pretty structured and something of a "cleaning freak," — it's fun to see him in a context that forces a more laid-back attitude.
"It's hard to be a clean freak when you hike," Jay laughed.
The Trailblaze Challenge
The Trailblaze Challenge is a single-day, 28.3-mile hike along the Foothills Trail on Oct. 14, starting at Upper Whitewater Falls in Jackson County and ending in Oconee, South Carolina.
The weekend begins in Georgia on Friday, Oct. 13, where participants eat a hearty meal and then go to bed early, setting their alarms at 2:30 a.m. to be on the trail by 4 a.m. The Trailblaze Challenge is an extremely organized affair, with support stations every few miles offering food, water and bathrooms so the hikers don't have to carry any heavy packs.
The goal is for everyone to be done by 5 p.m. or so, with dinner at the hotel and a special event Sunday morning.
Each hiker raises at least $2,500 to support the Make-a-Wish Foundation — and specifically children in Western North Carolina. The Foundation's goal is to grant the wish of every child diagnosed with a life-threatening medical condition.
Trailblaze Challenge hikes are held every spring and fall.
To donate to Gracie and Jay Ruebel's hike, visit http://trailblazechallenge.kintera.org/fall2017/teamruebel or send a check with "Team Ruebel" in the memo line to Make-A-Wish at 1131 Harding Place, Charlotte, N.C. 28204.