Archived News
'Trickle-up': The grassroots greening of government
Wednesday, September 06, 2017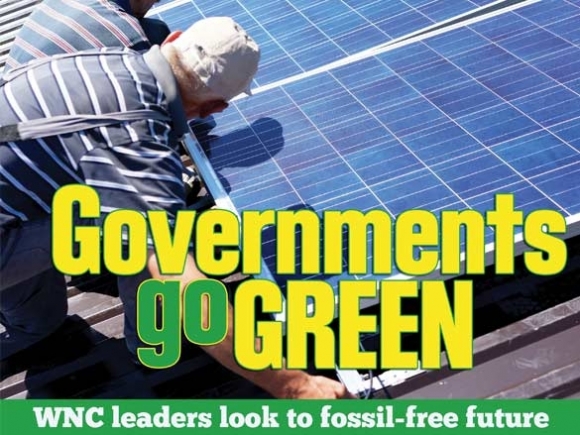 The proposition is simple — establish a transition from fossil fuels to 100 percent clean energy by 2050 or face climate calamity, according to the N.C. Climate Solutions Coalition.
Working in support of the former is retired Haywood County schoolteacher Susan Williams, who for months now has been circulating a resolution to Haywood County's local governments calling for support.
In doing so, Williams has learned that her grudging successes are beginning to add up across rural Southern Appalachia, where many still can't afford the large upfront investments and long payback periods renewable energy sources often demand, despite North Carolina being named America's second-largest solar generating state in 2015.
SEE ALSO: Green government efforts continue in WNC
But along the way, the teacher became the student and Williams learned lessons far more vital — lessons about how local governments respond to the demands of their citizens, and the power of those citizens to make change from the ground up.
The green scene
The resolution itself is a simple template declaring support for "a state and national goal of 100 percent clean energy by 2050" and asserts that the global average surface temperature has risen 1 degree Celsius since 1880, primarily due to "human-caused fossil fuels emissions."
The 2015 Paris Accords — from which President Donald Trump intends to withdraw — seeks to limit that rise to less than 1.5 degrees above pre-industrial levels, but carbon dioxide concentrations greater then 400 parts per million have contributed to 16 of the hottest years on record occurring during the last 17 years.
Studies by the International Monetary Fund, Duke University and Stanford University cited in the resolution all point to the economic risks associated with human-induced global warming, as well as the job creation benefits that would follow the expanded utilization of green energy.
"The Stanford study demonstrates that in North Carolina, many jobs would be created to support wind and solar development," Williams said. "And everybody knows we need jobs."
Historically, a sizeable chunk of Haywood County's jobs are tied to the environment through the tourism industry.
"People come to this area expecting the air to be crisp and clean," she said. "People want to see lots of fish, they want to see beautiful and rare wildflowers on hikes in the Smokies — they want to see all of these amazing aspects of the natural world that are bringing tourist dollars here. We will destroy the goose that laid that golden egg if we don't protect our Earth right here."
Visitors to Haywood County aren't limited to just seeing, either; the county's burgeoning craft brewing and distillery scene as well as its robust agricultural sector make it easy to taste Haywood County as well.
"One of the first thoughts that occurred to me was the successful opening of BearWaters Brewing in Canton," Williams said.
According to BearWaters, 90 percent of beer is water; although the nuanced and exotic flavorings that come with different combinations and varieties of hops, malts and yeasts often steal the show, the water is what determines the ultimate character of beers.
"It's everything, obviously," said Kevin Sandefur, co-owner of BearWaters. "It's the reason the whole industry is booming in Western North Carolina, because of the water quality."
BearWaters sources its waters from Canton's Rough Creek watershed, which, according to the North Carolina Department of Environmental Quality are "unique and special waters having excellent water quality and being of exceptional state or national ecological or recreational significance."
"It's pristine," Williams said. "For now."
Williams also said that an additional economic benefit in the form of a savings could be realized in health care.
"Particularly for things like asthma," she said. "There are lots of issues due to airborne pollutants. That's a savings, but of course your health is not something that you can actually measure in money."
The green queen
Williams is not exactly an unlikely messenger.
"Teachers explain," she said.
Raised in Louisiana, Williams moved to Hawaii at a young age, where environmental awareness became interwoven with the rich tapestry of her life over nearly five decades.
"I think that when I moved to Hawaii in the early '70s I realized there was an Earth movement and an eco-based movement that I wanted to be a part of, just as a supporter, if nothing else," she said.
As it would happen, Williams moved to Hawaii in 1970, the year of the very first Earth Day.
After a return to Louisiana, she moved to Fines Creek with her husband in 1980, became a teacher at Erwin Middle School in 1981 and after 10 years there, taught language arts and gifted programs at Waynesville Middle School until she retired in 2010.
"When we first moved up here, there was a lot more ozone in the atmosphere and we had these issues with our views, for example," she said. "I have seen an improvement."
That improvement comes after years of advocacy by regional organizations like air quality watchdog Canary Coalition, where Williams found initial support, meeting with director Avram Friedman.
Friedman asked Williams if she needed help or wanted to operate under the auspices of the Canary Coalition as she embarked on her tour of municipalities.
"No, Avram, I think I just want to go in as a citizen," she said. "I think I can just explain why this is important, and we'll see what happens."
Little towns, big feet
A similar resolution was introduced by Massachusetts Democratic Sen. Edward J. Markey in the waning days of President Obama's lame duck period, but never made it out of the Senate Committee on Energy and Natural Resources, chaired by Sen. Lisa Murkowski, R-Alaska.
On Mar. 16 North Carolina State Rep. Pricey Harrison, D-Greensboro, introduced into the Republican-controlled North Carolina House of Representatives HR 401, titled "A House Resolution supporting a state goal of one hundred percent clean energy by 2050 and the creation of green jobs."
Just four days later it was shuffled off to the Committee on Rules, Calendar and Operations of the House.
"It's where things go to die," Williams said. "I am hopeful that Pricey and/or other representatives will be heartened by the success of this resolution in towns just like Canton and Clyde — little towns that are standing up on big feet and saying 'Raleigh, if we can take a stand and say that this is important for our state, then so can you.'"
Little towns like Clyde and Canton weren't the first to consider such a stance, but were perhaps emblematic of the greater issue afoot, as was the town of Boone in nearby Watauga County.
Boone became the first municipality in the United States to pass the resolution in January 2016 and was followed in Western North Carolina by Sylva on April 13, led by Avram Friedman.
Around that time, Williams contacted Waynesville Mayor Gavin Brown, who suggested she present her case at the Haywood County Council of Governments meeting — an informal gathering of Haywood County elected officials and administrators — on April 24.
Asheville passed the clean energy resolution in June, as did Waynesville, thanks to Williams, Brown and the enthusiastic Board of Aldermen; during the meeting, the usually reserved Alderman Jon Feichter asked rhetorically, "Who would be against this?"
Macon County as well as the Town of Franklin then passed the resolution in July, as did Haywood County's Town of Canton, where Alderman Dr. Ralph Hamlett gave an impassioned speech demanding immediate adoption of the resolution when the possibility of letting the issue linger arose.
"He put it beautifully when he said that this is 'government that trickles up,'" Williams said. "When local governments have the courage and the voice to stand up for what is right, then eventually so do state governments, and it has to ultimately find its way to Washington, where the will of the people will be heard."
The will of the people brought Williams to the Town of Clyde Board of Aldermen meeting Aug. 10, just as it had brought her to Waynesville and Canton prior.
Home to just 1,200 people, Clyde lingers in the shadows of its larger, more up-and-coming Haywood County neighbors like Canton and Waynesville, but is a growing geographical lynchpin in the county economy.
"We're not asking the town to buy Teslas or bring in windmills," Williams said to Aldermen Frank Lay II and James Mashburn during the meeting; Mayor Pro Temp Jim Trantham sat in for ailing Mayor Jerry Walker, and Alderman Dann Jesse was absent.
Lay deduced the resolution was about sending a message and said as much, calling it "aspirational."
"It's about sending a message to both state and local residents," Williams agreed.
"Like a lot of things in government, it's aspirational, and that's OK," Lay said.
Mashburn followed, stating that although he still represented voters who made a living in the fossil fuel industry, he would second Lay's motion and vote to adopt the resolution.
"We've got until 2050," Mashburn said.
Trantham then opined that the transition away from fossil fuels was inevitable.
"Like it or not," he said, just before the resolution passed unanimously.
Canton, Clyde and Waynesville are but three of the five local governments in Haywood County; Maggie Valley and Haywood County both learned of the clean energy resolution back in April at the Haywood COG meeting, but have yet to formally hear it.
Williams contacted Maggie Valley Town Manager Nathan Clark, who holds a master's degree in sustainable development and said he also shared Williams' passion for clean energy, calling the objectives of the resolution "greatly needed" in an email to Williams.
But Clark also shared his concerns that it was an "empty resolution" that was "without any tangible course of action to help achieve the clean energy objective."
He then suggested Williams appear at the town's agenda-setting meeting Aug. 8 to discuss implementation strategies before coming before the board Aug. 14.
Williams said communications then broke down, but Clark doesn't want people to think the town's not interested; Williams will appear on Maggie Valley's Oct. 9 agenda.
"I applaud Mrs. Williams for bringing this resolution to our attention," he said, adding that he hoped a dialogue with Williams and the board would result in some concrete, internal recommendations on how the town could actually move towards the goal.
The Haywood County Board of Commissioners likewise has yet to hear the resolution formally.
Williams emailed the county about it in mid-July; after consideration during commissioners' Aug. 1 agenda-setting meeting, it didn't make the Aug. 7 agenda because commissioners wanted more time to study the supporting documents Williams had submitted.
"It won't be on any of the upcoming agendas," said County Manager Ira Dove. "But we do have some time on this."
The nonpolitical, logistical issues of presenting such a resolution are just as important as the political aspects, but many — or, rather, most — Americans aren't aware of how, exactly, one goes about fostering change on a local level.
Williams wasn't at first, but Hamlett's comment about "trickle-up" government supports the idea that almost all catalysts for change — especially in the environmental movement — are local.
"I have learned some humility I think, and some respect for our local lawmakers and people who work for the public. It's often a thankless job, long meetings, lots of tedious details to attend to, but I was listened to and supported," Williams said. "I have felt empowered as a citizen and have felt in partnership with these local governments. We are all in this together."