Archived News
Green government efforts continue in WNC
Wednesday, September 06, 2017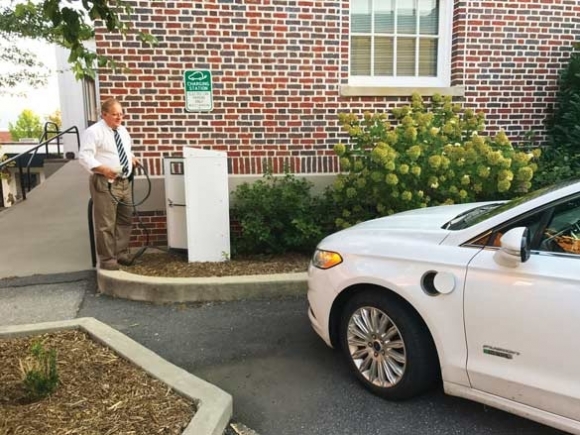 Although the clean energy resolution circulating through many local governments of late has been alternately called "aspirational" and "empty" by some, a quick survey of some of the Western North Carolina municipalities that have adopted the resolution shows that while a few have long been in the business of greening up government, others may just use the resolution as an impetus to start doing so.
"That's something we've just begun to look at," said Franklin Mayor Bob Scott.
Home to fewer than 4,000 people, Franklin lacks the resources of some of its better-funded neighbors, but that doesn't mean the town hasn't been dreaming of a cleaner, greener future.
"We've focused on fuel efficiency and electricity savings," Scott said, mentioning a possible solar farm on the old landfill.
Aside from trepidation about the lack of space for an expansive solar generation operation, Scott says that storage of surplus power — generated as direct current — is a continuing concern. Modern electrical grids operate on alternating current.
If the town's demand for solar doesn't rise to the level of what it can supply, it'd be a huge, expensive waste of money.
Regarding fuel efficiency, Scott said that the town has encouraged the use of bicycles with its recent pedestrian and bicycle plan, and has placed bike racks throughout the town.
The town has also considered installing electric vehicle charging stations for public use, but has thus far had trouble justifying the cost.
Franklin does have some hybrid cars in its fleet, but no electric vehicles like Waynesville has.
"We have two [hybrid] Toyota Priuses, a Ford Fusion and a Chevy Volt, which is completely electric," said Waynesville Town Manager Rob Hites. "That's four either crossovers or completely electric cars. And then all of our gasoline vehicles are equipped with a propane switchover, so we use propane as much as we possibly can."
And Waynesville's environmental efforts don't stop in the town parking lots.
Waynesville is what's called an "electric city," meaning that it buys electricity from a supplier and then resells power to local customers.
That power is cleaner than ever, and doesn't involve the burning of fossil fuels.
"We have a state-mandated goal," Hites said. "Up to 6 percent of our energy has to be green, and then on the other side, 100 percent of our energy is nuclear. We are buying from Santee Cooper's nuclear unit, so there's really no fossil fuel involved in the production of our electricity."
Neither the energy-efficient vehicles nor the clean power generation occurred as a result of the green energy resolution, however. Both initiatives had been implemented long before Susan Williams began advocating for the resolution.
Waynesville's also long had energy-efficient switches and low-flow toilets in many, if not most of its facilities.
"Our previous managers have been very conscious of the environment," Hites said. "I think the city's been very responsive to the need to reduce greenhouse gasses."
Hites also said that it's possible that Waynesville's history of environmental awareness hasn't quite gotten the notice it deserves.
"I think we were pretty early on into the cleaning up of the environment," he said. "Sometimes you don't get as much credit when you have an old program as when you announce a new program with the ribbons and all that."
New programs and ribbons may be exactly what's in Canton's future; the town has little in the way of environmental achievements, but Canton's presumptive Mayor Zeb Smathers — who is running unopposed in November — says he'd like to see that change.
"For us, our ambition should always be to try to do better — I don't care if it's economic development, infrastructure or the environment," Smathers said. "The question is, 'What can we do to leave this town better than we found it?' That ought to be the obligation of every pubic official across the spectrum, regardless of politics."
Smathers and other Canton officials had helped Evergreen Packaging find the money to convert to cleaner boilers some years back, but simpler solutions — like replacing an aging vehicular fleet and continuing the town's periodic paper shredding days — are also a good start.
"We've made more environmentally conscious decisions lately than we have in a long period of time prior to this," he said. "This Earth is a God-given treasure, so it's our obligation."