Archived News
Swain County adamantly opposes wilderness designations
Wednesday, September 06, 2017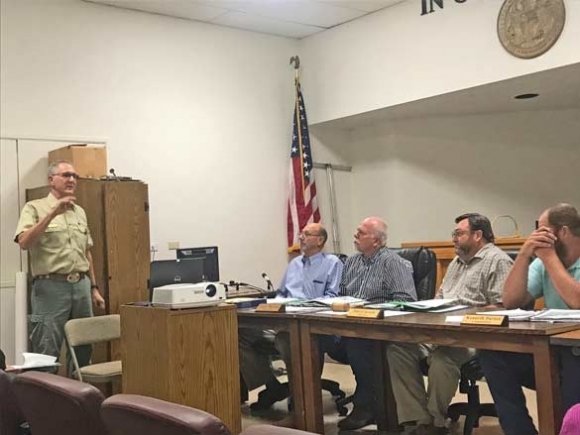 U.S. Forest Service rangers got an earful from Swain County residents last week during a public hearing regarding the proposed Forest Management Plan.
District Ranger Mike Wilkins of the Nantahala National Forest was fully aware of what he was walking into as Swain County residents have a long and storied history with the federal agencies that took over much of Swain's land in the 1900s to create the national park and forests.
Many Swain residents — especially those who have property abutting national forest lands — are fearful the new Forest Management Plan will further reduce their access to certain parts of the federally protected land. Worse, some fear the government may take more of the county's private, taxable land.
"Our property borders Forest Service land and we've had our issues — it's not easy to be the neighbor of the Forest Service," said Linda Dills. "They did a new survey in 2009 and took a little more of our property and that's been the history. It's been hard on our family. All we want to do is protect what was handed down to Bill (Dills) and our family — we value that."
It's those kinds of personal stories that leave many local families feeling betrayed by the U.S. Forest Service and unwilling to trust federal agencies.
"I like Mike," said Bill Dills. "I just don't trust him."
Wilkins nodded that he understood and didn't take Dills' position personally.
Swain County commissioners have already passed a resolution opposing any new wilderness area designations in the proposed Forest Management Plan, and many residents during the meeting echoed their disapproval. Haywood and Macon commissioners have also passed similar resolutions.
Created under the Wilderness Act of 1964, wilderness areas require congressional designation and are intended to be places where "the earth and its community of life are untrammeled by man, where man himself is a visitor who does not remain."
Certain restrictions apply to wilderness areas, including that no mechanical or motorized equipment — the definition covers everything from bicycles to chainsaws to automobiles — is allowed. Structures cannot be built, nor can temporary roads.
"You close all roads, no mechanized or motorized equipment, and horse trails and hiking trails are designed to be remote," Wilkins said about wilderness areas. "But 5 percent or less of my district is wilderness."
Wilkins assured residents and commissioners that the Forest Service has not made any wilderness designation recommendations at this point. The process for updating the Forest Management Plan, which is a federal requirement, began back in 2014 with public input meetings. During those meetings, many members of the public asked that certain areas be examined as possible new wilderness areas.
"Folks told us a lot of places where they want it or where they don't want it but it all has to be studied," Wilkins said.
He said they started with a list of 53 areas people wanted considered for wilderness — many were immediately thrown out based on criteria the area must meet while about a dozen moved on to the next level of consideration. But still. Those 12 could also get thrown out as possibilities or the Forest Service could make a number of other alternative recommendations for those areas.
After explaining the timeline and process for the Forest Management Plan update, Wilkins opened it up for questions.
Bill Dills had many loaded questions for Wilkins. In reading the few draft chapters of the management plan that have already been released, Dills said it seemed like there was "a lot of leeway for the Forest Service to do what they want."
Dills asked if the stakeholder group that is still active in providing feedback to the Forest Service regarding the management plan included any adjacent property owners. He also asked if the Forest Service cared about the opinions of adjacent landowners.
Wilkins said the stakeholders group included conservationists, environmentalists, different hunting groups, loggers, outdoor recreation folks and more to create a broad spectrum of views from across the region.
"Local input is extremely important to us, but all citizens own the national forest together so I answer to everyone when it comes to input," Wilkins said.
Swain Commission Chairman Phil Carson asked why the stakeholder committee lacked representation from Swain County, but no one could give him an answer.
"We don't have any power — we just advise," said Jim Gray, a member of the stakeholders' committee representing the Ruffed Grouse Society. "But we have said we won't sign on to wilderness designations in a county that is opposed to it."
Dills thanked commissioners for opposing more wilderness designations. In his opinion, turning an area into wilderness is basically giving up all control over how that portion of the forest is managed.
"No one has control over wilderness other than the Forest Service," he said.
Charlene Hogue, a member of a nonprofit group called the Freedom and Land Rights Coalition, said she was opposed to any wilderness designations and was sure most hunters are as well.
Wilkins said he was unaware of any wilderness areas within the national forest that didn't allow hunting.
However, most game animals prefer younger forest habitat, much of which is the result of activities forbidden in wilderness areas, such as logging.
Hogue said the Dills were being too nice about what had happened to their family land. She said the Forest Service took an additional 100 acres from their pristine property during the border dispute.
"My dad was contacted about cutting trees down to make a parking lot for (Appalachian Trail) hikers but he knew it was their land and he wouldn't do it," she said.
Not only is it an issue for property owners, but Hogue said losing more private land to federal agencies would put more of a hardship on the county's already limited tax base.
Residents are also concerned that Congress will look favorably at making more wilderness designations to cut back on the federal funds allocated to road maintenance within national forests. If more areas become wilderness, roads within those areas wouldn't need to be maintained for vehicle traffic, and if roads aren't properly maintained, they are more likely to meet the criteria for wilderness areas.
Wilkins admitted that his road maintenance funding had been cut by 50 percent in the last seven years, but feels certain the cuts have leveled off to current levels, which is barely enough to grade the roads in his district twice a year. He said the roads are maintained well enough that passenger vehicles can pass through but the minimum standard is that high clearance vehicles — including emergency vehicles — should be able to pass.
"Road maintenance dollars is a huge issue — the N.C. Gaming Commission has been helping out some and fee collection is helping but it's a limited resource," Wilkins said. "We've leveled off — we're tight but I think were holding on pretty good."
Before the public hearing ended, County Clerk Cindi Woodard read a letter from Rep. Mike Clampitt, R-Bryson City. Clampitt stated in the letter he was also opposed to more wilderness designations, as it would be detrimental to local counties and economies.
A final draft of the Forest Management Plan is due to be released next summer. Wilkins said the public would then have another 90 days for public comment. He added that the final draft should be easier for people to understand, comparing management areas to land zoning designations that show what activities can happen where.
Forest planning documents are online at www.fs.usda.gov/goto/nfsnc/ncprevision.