Archived News
Community talks under way in Bryson City
Wednesday, September 06, 2017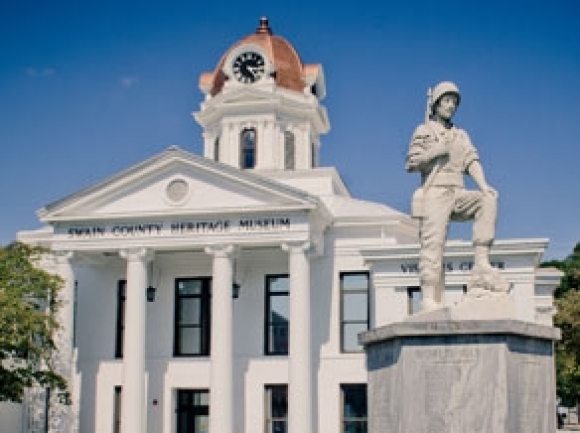 Don't let the quaintness fool you — the small town of Bryson City has plenty of challenges and opportunities facing it as it tries to maintain its rich Appalachian identify while also dealing with the growing pains tourism has brought in the last several years.
Joe Rowland, owner of Nantahala Brewing, wanted to bring these issues and possible solutions to the forefront by organizing Smoky Mountain Voices — a public forum for community members. "We wanted to provide an forum for our local and extended community to come together and get to know our neighbors. I hope that by providing the opportunity to get to know the diverse group of people who call these mountains home, we will help encourage us to come together as a community regardless of race, religion, education, etc.," he said. Moderated by The Smoky Mountain News' A&E Editor Garret K. Woodward, the bi-weekly series will touch on everything from local politics, tourism, music and culture.
Since it's a municipal election year, the first two Smoky Mountain Voices events held in August featured two candidates running for Bryson City Board of Aldermen. With two seats up for re-election this November, incumbents Janine Crisp and Rick Bryson will have three challengers — Ben King, Lisa Anthony Weeks and Robert Brian Duplak.
King and Weeks have both been guests during the series so far.
King, 28, is a Swain County native and co-owner of Bryson City Outdoors on the corner of Main and Everett streets. He has a marketing degree from Western Carolina University and spent a year in California working with the American Red Cross before returning to his hometown to start a business.
King said he decided to run for aldermen after attending several board meetings in the last year and noticed the lack of community input on important decisions. He also noticed how slow moving a town government can be with decisions being tabled until the next meeting and the next.
"A lot of people who live and work here don't have time to go to these meetings," he said. "But if I don't know what's going on and how the town is being run, then I don't have the option to change it."
While he wants to be a voice for many of the local business owners who don't live in the town limits and therefore don't get a vote, he also wants to be a voice for the younger generation of people living and moving into the area. Bryson City is relying more on outdoor recreation and tourism as manufacturing jobs fall by the wayside, but not everyone is OK with moving in that direction. King said the town is split into those who want to pursue more tourism opportunities and those who want things to stay the same.
"We face growing pains with residents embracing tourism, which is what we need to sustain ourselves in town," he said. "If we don't start thinking 10 years into the future we might have a problem."
For King, finding common ground will take multiple viewpoints coming to the table. He said there are about 1,100 registered voters in Bryson City, only 200 to 300 cast a vote during the town elections.
Weeks also grew up in Bryson City. She said she's been excited seeing the town grow and develop over the years. Like King, she is running because she wants a seat at the table when important decisions are being made. It was the Fry Street closure issue in particular that made her take notice of how the town government is being run. With support from the Swain County Chamber of Commerce, the Great Smoky Mountain Railroad asked the town to relinquish its right of way to Fry Street so that the street adjacent to the train depot could only be accessible to pedestrian traffic. The town denied the request, which has caused a rift between many local business owners and the board of aldermen.
"I think (closing Fry Street) is necessary to keep the guests in our town safe," Weeks said. "The train is a big economic influence in this community. We need to have a conversation and work collaboratively together to grow. I see a lot of us versus them and that saddens my heart."
Weeks also wants to see more openness in town government and to see the board members welcome open conversation among local residents and business owners.
"We need to create a vision," she said. "Being open enough to have a conversation to say 'this is what I'm scared might happen' or 'this is what I want to see' I think will held the situation."
Smoky Mountain Voices forums are held at 7:30 p.m. on the second and fourth Monday of the month with a different speaker. Charter schools is the topic of the next event, which will be held Sept. 11 at Nantahala Brewing.