Archived News
Schandevel to challenge Rep. Michele Presnell again
Wednesday, September 06, 2017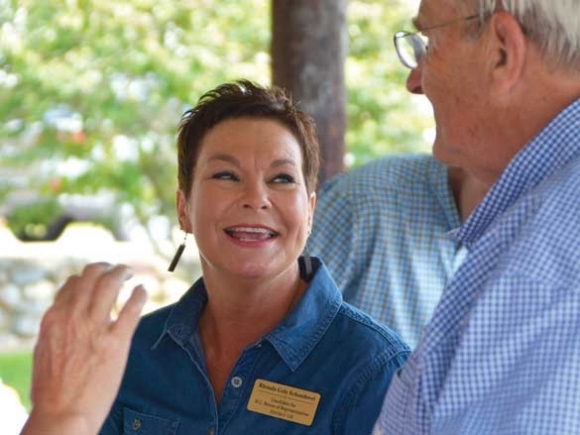 After a disappointing loss to an entrenched incumbent in 2016, Beaverdam's Rhonda Cole Schandevel announced Aug. 26 that she'll again be a Democratic candidate for the North Carolina General Assembly in House District 118.
"With the bills and the legislative actions that Michele Presnell has taken up last year that have worked against Haywood County, I think that's going to make a difference for Rhonda this time," said Myrna Campbell, chair of the Haywood County Democratic Party.
Presnell, R-Burnsville, is in her third term and represents Madison and Yancey counties as well as a portion of Haywood County. Only 18 of Haywood's 29 precincts (and half of Ivy Hill) are in Presnell's district, but almost 48 percent of her 2016 votes came from those precincts.
Unseating Presnell should prove difficult for Schandevel, who saw Presnell earn her greatest margin of victory in Haywood County. Schandevel won only three Haywood County precincts.
Presnell won her first two terms with slightly over 51 percent of the vote each time, but bested Schandevel in 2016 with 55.4 percent.
In thinking about her decision to run again, Schandevel said that her passion for the people in the 118th district has never waned, but after the state's Democratic caucus got back to her with some data, it reignited her desire to serve.
"It took a while for the in-depth numbers to come back," Schandevel said. "Their exact words were that I had a crushed every other Democratic candidate on the ballot."
She said that evaluation was based primarily on performance, but thinks that fundraising had something to do with it as well; regardless, Schandevel said that the endorsement was indicative of the quality of her campaign as a whole.
Although the race will likely feature many issues spotlighted in the past — notably Presnell's opposition to a room occupancy tax increase for Haywood — Campbell alluded to and Schandevel confirmed that another grievance against Presnell may get some serious airtime this go-round.
"The school board partisan race is a huge issue," Schandevel said of Presnell's March attempt to make school board races in Haywood County partisan.
That effort didn't pass but did enrage local school board members from both parties who said Presnell hadn't even consulted them on the matter.
Whether or not that issue gains any traction for Schandevel, she knows she needs to generate even more interest in the race than she did in 2016.
"We're going to get people out to vote," she said. "In 2016, people were just not excited about the campaign like they should've been."